New Version of ON1 Photo RAW Fully Integrates Its Resize AI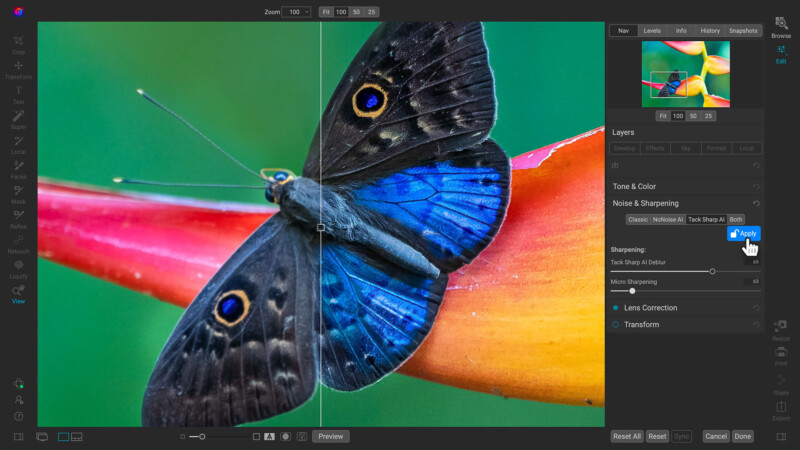 ON1 has announced a new version of Photo RAW that will include all of the improvements to Resize AI it announced last month as well as other enhanced features and an improved user experience.
Version 2023.5 is set to release in early June and ON1 says that the integration of Resize AI is one of the most significant updates to Photo RAW. It includes the new Face Recovery AI model that the company says can detect faces and enhance them with "realistic detail" which is ideal for upscaling old photos or cropping a person or headshot out of an image and upscaling it to super-resolution.
"Users can turn this feature on or off for each face and control the overall strength to blend best with the original photo. It also includes AI-based noise reduction for photos with high noise or JPG artifacts," ON1 says.
In addition, ON1 adds that the RAW processing engine for the platform has been upgraded with what it calls new processing algorithms that supposedly create more natural shadows, fewer edge artifacts, and allow for more predictable slider adjustment.
The company says that the Refine Mask brush has also been improved to make it much better at masking challenging areas like hair and tree branches. Additionally, ON1 has added a new Encircle option inside Refine Mask which allows editors to draw around the borders of an object or region to add or subtract from a mask. It can also be sued to create a new detailed mask with the stroke of a brush.
ON1 Photo RAW will also see two new options for Mask AI. The Curves control in the Effects module now includes a dropper tool to set and adjust points directly in the photo. Zooming and panning the preview as well as adjusting tool properties such as brush size can now be accomplished simultaneously with the scroll wheel for what the company describes as a faster, more natural workflow.
ON1 says that the update will also add support for new cameras and lenses and include a few bug fixes and several performance enhancements.
As mentioned, the update will be available sometime in June and is free for current owners of the software.