A Photographer Turns a Lens on His Family's Appalachian Background
With a unique merger of family, folklore, and nature, photographer Riley Goodman cleverly captures the soul-stirring, antiquated environment revealed in an Appalachian community.

In Goodman's evocative photo series titled
From Yonder Wooded Hill
, the memoir-esque, part folklore-riddled image compilation gives viewers an intimate glimpse into the photographer's artful upbringing while also highlighting a climate-changed terrain.
"By combining folklore and family with my relationship to the Patapsco River Valley of Maryland where I was raised, the photographic series was born. Additionally, a major inspiration for the work came in the aftermath of the 2016 flooding of Ellicott City, Maryland. Examining the cyclical nature of flooding in the river valley opened my mind to not only the effects of climate changes but also those same more metaphorical cycles that play out through familial generations" Goodman tells PetaPixel.
With a history as a creative aficionado stretching back to his childhood, Goodman became enthralled with photography, with it becoming his dominant conduit of creative expression during his freshman year at VCUarts,
"I was struck by photographers like Walker Evans and Alex Prager, and filmmakers like Tim Burton,[…] I quickly discovered the storytelling abilities that photography could provide to my practice […] I became fascinated with a way of communicating those mediums' evocations through the use of a camera. From there I turned a hobby into my main artistic practice. My first photobook, From Yonder Wooded Hill, was published in April of 2022, which was a great moment in feeling like I made the right decision in pursuing the medium." Goodman shares.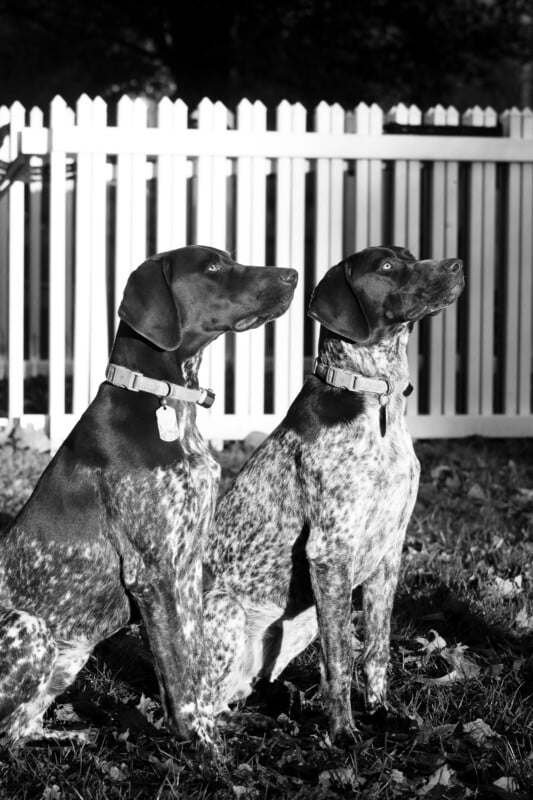 Inspired by familial folklore—which was rooted in a reverence for the landscape, working-class perseverance, promises of abundance, and a sensitivity to the 'spirits'—Goodman also took inspiration for the project from the women in his family.
"[…] While I am not Appalachian myself, my upbringing was largely informed by the way of life and thus influential in my art making […] From Yonder Wooded Hill at its core was inspired by my family. I come from a lineage of strong women whose Appalachian backgrounds put folklore and storytelling at the forefront of my childhood."
In the intriguing yet mindful curation of images featured in From Yonder Wooded Hill viewers experience a form of generational documentation, excavation of the communities, topography, and otherworldly atmosphere and 'lore' of the past, as Goodman explains,
"Lore is simply a historical account to a faction of folk whose way of life may not have made it into the history books […] By thinking of these stories we know, and maybe ones we infer from mere scraps or details of information from others, it becomes an enthralling line to tread as both a historian and an artist."
Goodman adds, "Blending lore with historical accounts invites the viewer to question authenticity while still remaining in reality. Through this process the work remains grounded, but forces a second or third examination to determine what is "true" – if truth can even be quantified. I often strive to create a timeline that rather than occurring linearly, is happening simultaneously— with stories rippling out and bobbing to the surface when people choose to pay attention."
Goodman showcases hauntingly beautiful shots of people, decaying infrastructure, and vintage heirlooms, all pointing to a subtle urgency to remember and appreciate elements of an unintentionally—and at times— intentionally forgotten past.
Images were shot in the Patapsco River Valley of Maryland and in Cass, West Virginia, the latter where Goodman's grandmother was born. Archival Materials also depict a boarding school on a Native American reservation in Cherokee, North Carolina, Where his grandmother was sent.
To manifest the focused tone, mood, and overall vision for the series, Goodman positioned himself in familiar and unfamiliar sites. Locations that would best help him visualize the array of 'supernatural' stories that were told to him throughout his childhood. It also helped the photographer to re-approach familiar tales with new lenses, sparking his own distinctive and innovative approach to communicating the accounts.
"In this way, the photographic process became therapeutic as my family and I examined our heritage," he tells PetaPixel.
Bright images of rubble, abandoned factories, and forestry engulfed in mist, delightfully plays with the dual mystique and realism of the environment, but also point to greater narratives.
The images—which were at one point an undergraduate senior thesis, that was to be a wall gallery— with the addition of archival materials, Goodman felt a book would better encapsulate the greater narrative or curiosities he hoped to invoke.
"This change in form allowed for a greater story to be told through the addition of archival imagery and text. Rather than variations, I think as I gathered content for the book I was more so surprised by new stories that emerged. Tales of ghostly encounters, customs, and distant relatives emerged and allowed for my imagination to further run wild as I compiled and constructed imagery to tell the full narrative." he says.
Goodman began his series shooting with a Canon Rebel T3i, admitting it was a good starter, but shifted to a Canon 5D Mark IV, favoring the image quality,
"As someone who enjoys printing my photographs largely, it translates very well. I am admittedly not a gearhead by any means, but I enjoy a reliable piece of equipment that produces a great product– which the Mark IV has been for me." Goodman says.
Picturesque and engaging, excerpts From Yonder Wooded Hill, not only manage to stir the imagination but beckons the embrace of a kind of borrowed nostalgia and lingering gaze of its viewers.
"From Yonder Wooded Hill tells the story of my family, and those who live and work in a specific region. I hope viewers take away a personal understanding in relation to themselves. We're all privy to the universal experience of our relation to community and place, despite each of our unique differences. Additionally, I hope viewers ponder their relation to the supernatural. At the end of the day for me, it doesn't matter to argue whether, for example, ghosts are real. Instead, I'm more fascinated by the cultural importance of passing down stories as such through generations."
Goodman is grateful for the support and assistance from the community that has assisted in the construction of From Yonder Wooded Hill,
"[…] my family, and the wonderful folks at Fall Line, along with Megan Fowler of Brown Parcel Press, who worked collaboratively with me on the design and construction of the book. We wanted to reference familial photo albums and timekeeping books to put the book right at the intersection of a fairy tale and a field guide."
As for what's next on the horizon for the narrative photographer, since 2020 he has been working on a series that explores his relationship to his current home in Richmond, Virginia,
"Referencing the hardiness of its leaves in tandem with the delicacy of its flowers, To Cultivate A Magnolia examines the folklore and history of Richmond and greater Virginia, the endurance of the American Civil War, the complexities of queer identity, and the moments of reflection that come as we age."
For more from Riley Goodman, make sure to visit his website and Instagram
---
From Yonder Wooded Hill by Riley Goodman is available from Fall Line Press for $65.
---
Image credits: Riley Goodman