Jackery Solar Generator 1500 Pro Review: Power To The People
The Jackery booth at the Consumer Electronics Show was attention-grabbing, with solar panels and battery power systems laid out in various outdoor dioramas. Each setup was designed to highlight Jackery's Portable Power System and its Solar Generator line.
A Jeep topped with solar panels and a glistening silver Airstream brought back memories of my camping trips to mountain bike and how I could have used a zero-emission power supply to recharge devices.
Even before COVID, people worked remotely, using technology to get work done from anywhere. Several of the creators I know had already begun living and working in converted Sprinter vans and other vehicles, and COVID only increased the scope of remote work acceptance.
Sure, you can power your gear off your vehicle's battery, but then you need to run the engine to recharge the battery, which is a non-eco-friendly system.
But YouTubers living in a van down by the river aren't the only ones that can benefit from a sustainable power supply. I have assisted on many commercial shoots that used gas-powered generators to recharge batteries and power some lights. A solar-based power system would have been better for the environment but easier to use, eliminating the need to carry gasoline or diesel, and could operate entirely silently.
For wedding photographers and videographers, wildlife and landscape photographers, sports shooters, and anyone else who needs to work far from an outlet, a solar-driven power system is an expense that will pay for itself immediately.
Design and Build Quality
Jackery started selling solar panels and battery backup systems nine years ago, and it has since sold more than two million units (according to its public sales data.) The lineup has grown to include nine power stations (the battery system by itself) of various capacities and nine configurations of Solar Generators, which is a power station plus one of the solar panels.
I tested the Jackery Solar Generator 1500 Pro, a combination of its 1500W power system, the Explorer 1500 Pro, and a 200W solar panel. The solar panels can be daisy-chained, providing additional input power. When access is available to a power supply, the unit can be plugged in and recharged via AC power.
All of Jackery's systems feature fast charging and the 1500 Pro charges from empty to full in under 10 hours from the 200W SolarSaga panel alone. Of course, this charging speed requires a fully-sunny day (and 10 hours of sun at that), but that's still an incredibly short recharge period.
The SolarSaga panels are segmented and can be arrayed in several ways to maximize access to the sun best. A single weather-proof cable connects to the SolarSaga and plugs into the back of the Jackery Explorer Pro 1500 Pro. The rear also has a jack for AC power input.
The 1500 Pro weighs just under 38 pounds, but the attached carry handle makes it feel lighter since it's unnecessary to grab it by the bottom and hold it in front of you. Jackery claims this unit is 20% lighter than competing systems with the same capacity.
Much of the portability comes down to size. The Jackery Explorer Pro 1500 Pro is only 15.2 inches wide, 10.58 inches deep, and 12.11 inches tall. Back in the 1980s, I had a boom box that was bigger than this.
The front of the unit has an impressive selection of power jacks. There are Dual PD100W jacks, three 1800W AC outlets, two USB-C charging ports, and a 12V car "cigarette lighter" jack.
There's also a very bright LED light set into the face of the unit, which was helpful but tended to point at my eyes in the dark since it's on the front of the device.
During the testing of the unit, we had an unexpected blackout, so we had a spontaneous real-world experience of the system. We connected all of our devices to the Jackery Explorer Pro 1500 Pro, our WiFi router, and several lights, and we kept everything charged and working overnight.
Jackery also boasts about its safety (important when transporting a high-power battery around you), and the unit has an outer casing of "the highest UL requirements" and fireproof material.
Plugging In
The front of the unit is where the connectors are found, but the highlight of the unit's design is the bright, clear display that shows both input and output power, charging times, and remaining battery life (at the current usage).
The display is bright enough to be seen in sunlight, and it's the best interface I've seen on a power system. There's no guessing about how long you'll have juice or how long it will take to charge back up.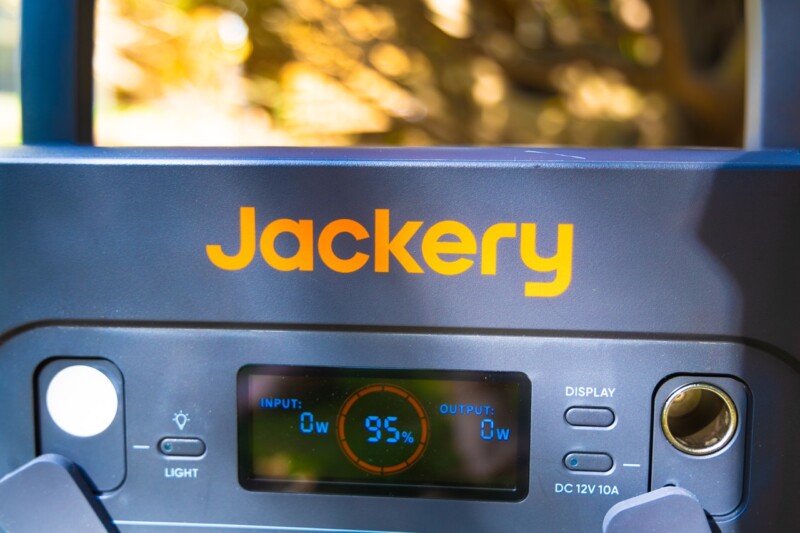 Keeps On Keeping On
One of the things I've been doing with the system between outdoor shoots is using the Jackery Explorer Pro 1500 Pro as a battery backup system for several 3D printers I'm testing. While the printers take very little power if the power goes out, a job can be ruined, so it's nice to have a secondary use for the kit.
This weekend my town had a street fair that featured a lot of arts and crafts vendors, and it amused me to think that I could bring 3D printers to a street fair and create output with nothing but the sun.
In addition to our sudden blackout, I've used the Jackery Explorer Pro 1500 Pro during a video camera test, leaving the unit in the back of my car and powering my laptop and battery chargers. It would be a perfect solution for location shooters.
I also connected the Jackery to my dryer (gas heat, but electricity for the drum and operation) and a fully charged Jackery Explorer Pro 1500 Pro. It would have gotten nearly six hours of runtime from the system.
Jackery provides some other power use estimates on their site, including running a hand drill for three hours, powering a mini-fridge for 10.5 hours, charging an iPhone 63 times, and running a microwave for 70 minutes.
Here Comes The Sun
The Jackery Solar Generator would be an excellent portable-power solution, but coupling it with high-capacity solar panels makes the unit ideal for backup power and power on the go.
The Jackery Solar Generator 1500 Pro costs $2,699 for the power unit and the 200W solar panel. This isn't inexpensive, but to put it in context, a Honda 1800W gas-powered generator costs $1,200 and spews fumes.
Are There Alternatives?
Jackery isn't the only company making solar-driven generators. Electronics maker Anker, for instance, has several systems at a lower price: the Anker 767 system is a 2048Wh generator with two 200W solar panels and costs $2,899. Its closest matching unit to the 1500W Jackery is Anker's 1229 Wh model, which comes with three 100W solar panels and is $2,000.
I can't compare the build of the Anker system to that of Jackery since I've never used the former, though the company is known for its high-quality accessories.
Should You Buy It?
Yes. While I can't make a decision of every customer, the Jackery Solar Generator delivers on all of it promises.