Sennheiser's EW-DP Wireless Mic System Keeps Quality but Shrinks Size
Sennheiser recently announced its fifth-generation Evolution Wireless microphone system for filmmaking and video applications.
The new Sennheiser EW-DP digital ultra-high frequency (UHF) wireless microphone system features a revised, more portable design and promises "unmatched audio quality."
The system comprises a stackable EW-DP EK receiver, bodypack transmitter for clip-on mics (EW-D SK), a handheld transmitter (EW-D SKM-S), and a plug-on transmitter (EW-DP SKP). Like other members of Sennheiser's Evolution Wireless Digital family, the EW-DP system features low latency of 1.9 milliseconds and offers users a wide 134 dB dynamic input range. Sennheiser claims that this range allows users to record "everything from a soft whisper to a loud scream" without distortion.
Beyond important performance specifications, Sennheiser has designed the EW-DP system to be easy to use.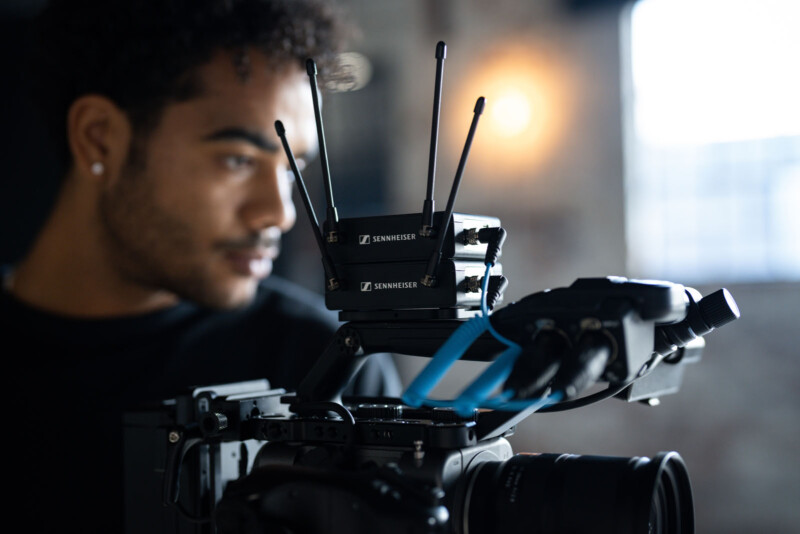 "On set time is the most valuable asset. Therefore, we designed EW-DP to be intuitive and fast to set up and helps you to troubleshoot your system. EW-DP provides the reliability and consistency that you need in stressful filming situations and time-sensitive working scenarios," says Tobias von Allwörden, head of Sennheiser's Audio for Video portfolio.
As part of the goal to make EW-DP accessible, its components feature an "innovative magnetic stacking system," and the system can be remotely controlled via Sennheiser's Smart Assist app.
According to Sennheiser, EW-DP is the first portable wireless system that includes magnetically stackable receivers with a user-facing OLED.
"Though sound is decisive for the overall quality of a production, it is usually not the first priority on set. More often than not, freelancers will work without a dedicated audio person. There are enough challenges on set, so we embarked on developing a UHF audio system that would require minimal attention and give the videographer peace of mind," explains von Allwörden. To that end, Sennheiser worked closely with filmmakers, camera operators, and content creators when designing the EW-DP.
The EW-DP includes automated frequency coordination, ensuring that videographers can get up and running quickly without needing to select free frequencies manually. The receiver automatically finds an open frequency and syncs with the transmitter using Bluetooth. This process can also be controlled using the Smart Assist app.
The app also includes what Sennheiser calls "Smart Notifications." If there's an audio issue, the system aims to automatically detect it and alert the user with information on how to address it. There are alerts for audio clipping, low battery, occupied frequencies, muted transmitters, and unlinked devices, all possible explanations for unexpected issues. The app then walks the user through how to fix the problem(s).
The EW-DP receiver can be powered by various solutions, including a BA 70 lithium-ion battery, two standard AA batteries, or a USB power bank. The system delivers a precise battery read-out to give users an idea of when they'll need to replace a battery or charge the device. Battery life is up to 12 hours on the transmitters and up to seven hours on the receiver when using the included BA 70 rechargeable battery.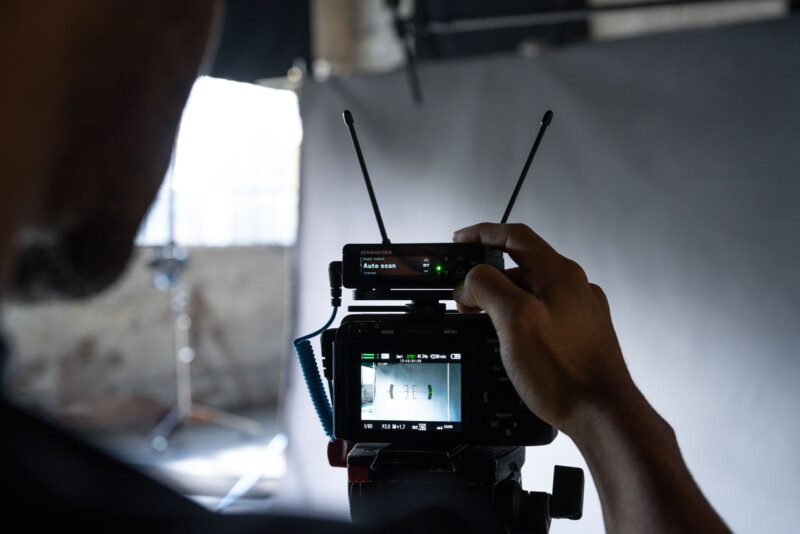 The plug-on EW-DP SKP transmitter Sennheiser has announced will be available in October. With +48V phantom power, the device will turn any wired XLR microphone into a wireless mic. It promises to be a versatile tool for creators. The plug-on also includes a microSD card slot to record 24-bit, 48 kHz onboard audio, providing a safety net for videographers.
At present, three sets are available. The EW-DP ME 2 SET includes a bodypack transmitter and the ME 2 omni-directional clip-on (lavalier) microphone. The EW-DP ME 4 SET has a cardioid clip-on mic for noisier environments. Finally, the EW-DP 835 SET includes a handheld transmitter with a cardioid MMD 835 dynamic microphone head. Each set is $699.
All sets include a magnetic mounting plate kit, a BA 70 rechargeable battery, two standard AA batteries, a locking 3.5mm TRS to 3.5mm TRS cable, a locking 3.5mm TRS to XLR cable, and a USB-C charging cable for the receiver.
Full specifications for each EW-DP component and the available sets can be found on Sennheiser's website.
---
Image credits: Sennheiser