Republicans Launch Entirely AI-Generated Ad Attacking President Biden
Just hours after President Joe Biden announced his reelection campaign for 2024, Biden's primary opposition, the Republican National Committee, also known as the GOP, launched an attack ad "built entirely with AI imagery."
The ad's description on YouTube explains that the video is an "AI-generated look into the country's possible future if Joe Biden is reelected in 2024," perhaps signaling that the upcoming presidential election campaign season will utilize AI technology in ways that the 2020 election didn't.
The video opens with an AI-generated victory celebration showing President Joe Biden and Vice President Kamala Harris, including what Engadget describes as "far too many teeth." Current AI technology has difficulties with teeth.
For viewers who don't see the video on YouTube and read the description, the video itself has a "Built entirely with AI imagery" disclaimer in the top left corner.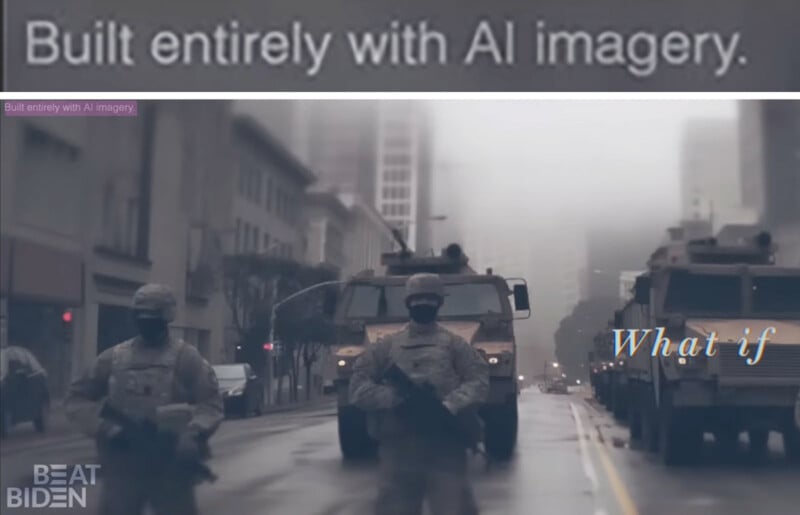 Following the fake victory party, hypothetical "what if?" scenes play out in the ad, positing scenarios in which China invades Taiwan, the United States suffers an economic collapse, illegal immigration runs rampant, a crime wave shuts San Francisco down to outsiders, and a worsening drug crisis.
The ad's talking points are familiar refrains that the GOP utilizes when criticizing the president. They will likely be continued areas of focus leading up to next November's election, where Joe Biden will face off against a yet-to-be-named republican candidate.
Every generation has a moment where they have had to stand up for democracy. To stand up for their fundamental freedoms. I believe this is ours.

That's why I'm running for reelection as President of the United States. Join us. Let's finish the job. https://t.co/V9Mzpw8Sqy pic.twitter.com/Y4NXR6B8ly

— Joe Biden (@JoeBiden) April 25, 2023
This new video isn't AI's first foray into the political sphere. Last month, ahead of Donald Trump's arraignment in New York City, AI-generated images made the rounds, delivering a sobering reminder that while some AI-generated pictures are obviously fake, others can be used to mislead and deceive people, perpetuating false or otherwise dangerous narratives.
Midjourney has gone so far as to ban the phrase "president Xi" from its generative AI platform, attempting to prevent users from creating likenesses of the Chinese President Xi Jinping. So far, he's the only world leader whose likeness is banned on Midjourney.
While political ads in the US are already consumed with a grain of salt by many viewers, having long been a source of extreme hyperbole, the Venezuelan government has reportedly used AI-generated television presenters to spread disinformation and sow nationalism among Venezuelan civilians.
It will be interesting to see how burgeoning AI technology shapes elections worldwide, including the US presidential election next year. The U.S. Chamber of Commerce has recommended expanding regulation over AI, albeit for primarily economic reasons.
AI technology remains generally unconstrained, and many of the limits placed upon it are by the AI companies themselves. Interestingly, earlier this month, President Biden, the new target of AI political ads, Biden said that the dangers of AI "remain to be seen."
The White House's Blueprint for an AI Bill of Rights released last fall has not yet resulted in significant changes to the legalities surrounding the use of AI.
Freedom of speech is foundational to the United States, so it will be intriguing to see how freedom of speech and expression interacts with AI technologies in the coming months and years.
There does seem to be something fundamentally different between using AI to show hypothetical situations and create imagery, such as how the GOP has utilized it in its new video, versus people using AI to make it appear that someone has said or done something they didn't say or do, such as the deepfake video of a principal saying racist things that high school students created earlier this year, which authorities determined "broke no law."
Policies and legislation surrounding AI have yet to be able to keep up with the pace at which AI technology is improving and being proliferated. No indications suggest that will change anytime soon, so it's reasonable to expect AI-generated ads from all sides moving forward, whether AI is used to deliver positive messages in favor of a party or a politician or used within negative campaigning.