X-Ray Photo Series Shows Everyday Objects in an Incredible, Unique Way
Commercial photographer Andrei Duman has been chipping away at his X-ray series for about a year now. When not doing work for clients, Duman likes to experiment with personal projects and this one aims to showcase the products people use in daily life in a fresh, new way and show what's beneath their "skin."
The Motivation Behind the X-ray Project
"I was fascinated with the way the internal mechanical arrangements, the wiring, and contraptions you normally do not see showed up when exposed to X-rays," Duman tells PetaPixel.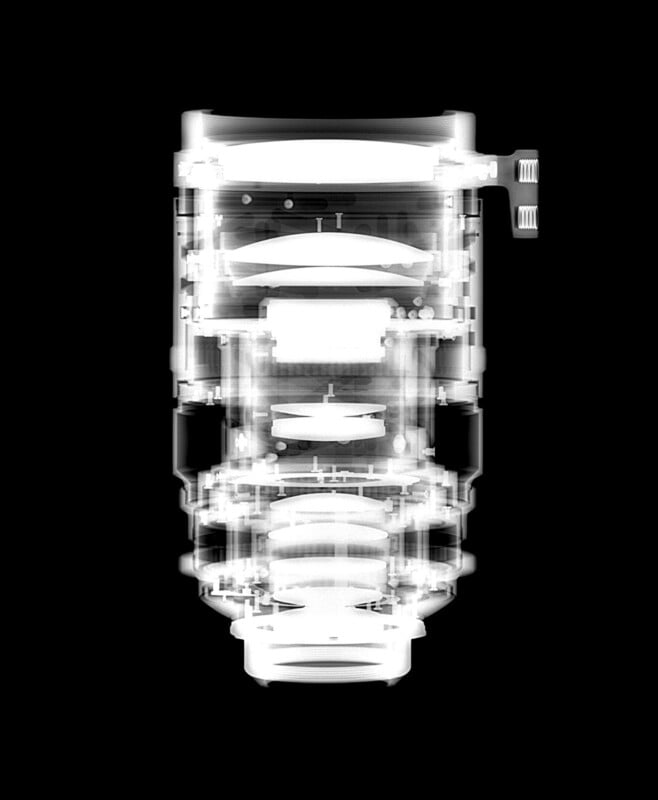 One of the more time-consuming parts of the project has been selecting the right products to expose to X-rays. Duman has photographed LEGO, video game consoles and controllers, general technology products like drones and headphones, a wide range of Apple products, and more.
Finding the Right Items is Challenging
"The process of choosing the right items and finding them was quite time-consuming," Duman says. For example, it took him a long time to find all the different iPhone models, as some of them are now quite old, and people don't often keep them after a few years.
Duman wants to ensure that the X-ray project isn't just a random collection of items but rather that there's a pattern to the things he photographs. It was essential to find different objects that people often use, even if they're not necessarily "everyday" objects like smartphones and computers. For example, Duman photographed an electric keytar, a cassette, a collection of television remotes, many different children's toys, his foot inside a sneaker, and much more. The diversity of subjects is astounding.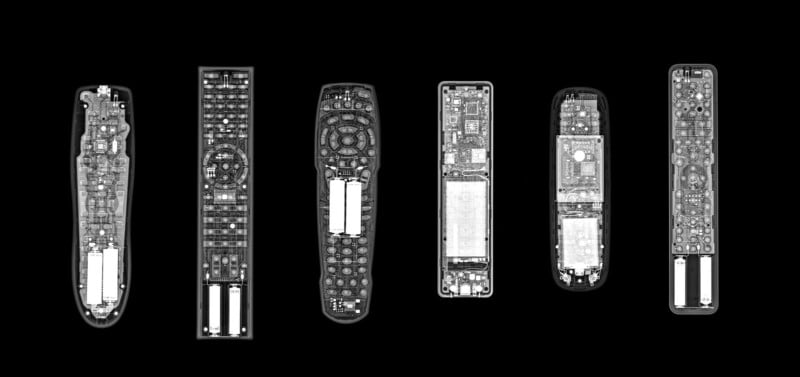 Overcoming Practical Limitations
The only artistic limit is Duman's imagination. However, there are practical limits he must overcome. The tablet he uses to capture X-ray images is around 64 x 64 cm (25 x 25 inches), so there are size restrictions. Further, it's not possible to focus stack the X-ray images.
"Believe me, I asked," Duman tells PetaPixel.
The introduction of human elements to the series is a relatively recent addition. The human factor is an excellent addition, but PetaPixel asked Duman about any safety risks. "The device has multiple settings for different body areas, such as skull, shoulder, hand, femur, clavicle, foot, etc., and these all have different amounts of radiation that get generated when the X-ray image is taken."
It took Duman some time to dial in the correct settings for different objects. Ultimately, the machine's "foot" setting delivered the most consistent results. While focus stacking wasn't possible, Duman has used compositing in "a few instances" when items combine thin plastic and heavy electronics. These occasionally required X-ray captures at different intensities, which were then composited during post-processing.
Image Processing
Duman uses Capture One to perform minor edits and global adjustments and Adobe Photoshop to apply the finishing touches. "For the most part, post-processing was fairly straightforward, with only small adjustments needed. The most time-consuming aspect was masking the items and changing the background to black."
However, some items were larger than the tablet and required multiple shots of different sections that needed to be stitched together. Duman says that these were the most problematic and challenging shots.
"This became especially problematic when we were doing LEGO that needed multiple images. Due to the way the individual bricks show through when stacked, it would be almost impossible to line up the sections correctly," Duman explains.
However, the LEGO shots were well worth the effort. "The angle of the way the X-ray shoots straight down means that the bricks have an almost 'in motion' feel to them, and they fall away from the viewer in multiple directions. I loved the effect of that because it feels dynamic," Duman tells PetaPixel.
Duman's Favorites
PetaPixel asked Duman if he has a particular favorite X-ray image.
"I love all of the series for different reasons. The Apple products are fascinating to see what's on the inside, which is the same for all the other tech ones. I was interested to see things we use daily and usually take for granted. I wanted to look internally but in a different way. How many people have thought about their Roomba's inner wiring and mechanics?"
The video game consoles were a fun way to tackle the familiar in an unfamiliar way and connect with a wide range of viewers. However, some old consoles have proven challenging to find, including the ColecoVision, Commodore 64, and Sega Pico, to name a few. If any PetaPixel readers have antique game consoles, including the ones listed, and would like to let Duman borrow them for X-ray images, they should contact him.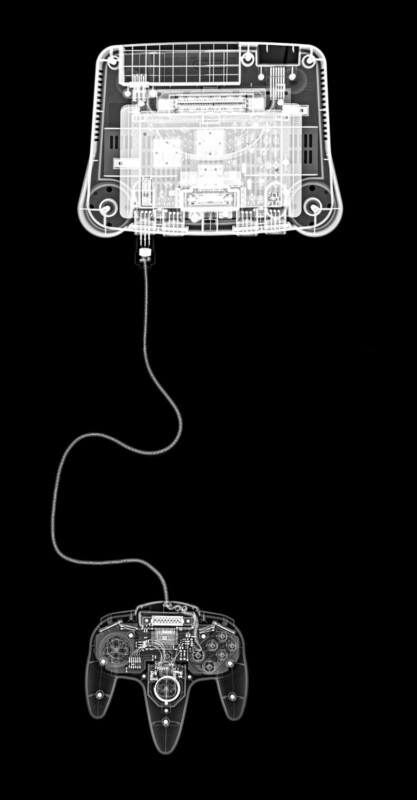 The Spirit of Cooperation
While Duman has required help to track down numerous items for his series, he's also worked with fellow artists. For example, he worked with supremely talented and renowned sculpture artist Nathan Sawaya to X-ray Sawaya's Yellow LEGO sculpture.
Sawaya graciously allowed Duman to take the original build, which has been toured worldwide, and X-ray it. Because of the sculpture's size, he needed multiple images, and it was the single most difficult and time-consuming image in Duman's X-ray series.
More from Andrei Duman
More of Andrei Duman's X-ray images are available on his website, along with the rest of his commercial and personal photography work. He can also be found on Instagram.
Duman's commercial work is highly technical and detail oriented, and that applies to his personal projects as well. Last year, Duman wrote on PetaPixel about his incredible macro bug photos.
---
Image credits: All images courtesy of Andrei Duman