Artist Refuses Prize After His AI Image Wins at Top Photo Contest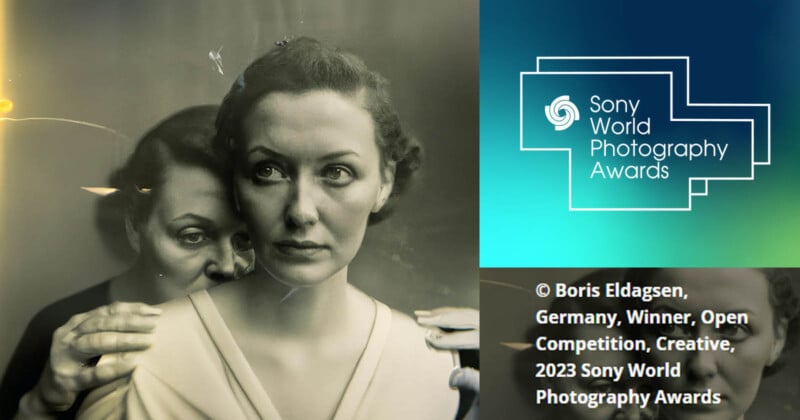 A photographer has stirred up fresh controversy and debate after his artificial intelligence (AI) image won first prize at one of the world's most prestigious photography competitions. He has since declined to accept the prize while the contest has remained silent on the matter.

Berlin-based "photomedia artist" Boris Eldagsen participated this year in the World Photography Organization's Sony World Photography Awards, a leading photo contest that offers prizes that include $5,000 cash, Sony camera equipment, a trip to London for the awards ceremony, and/or worldwide publicity through a book and exhibition.
Eldagsen submitted an image titled THE ELECTRICIAN to the Creative category of the 2023 Open competition. It picture appears to be a portrait of two women captured with a photographic process from the early days of photography.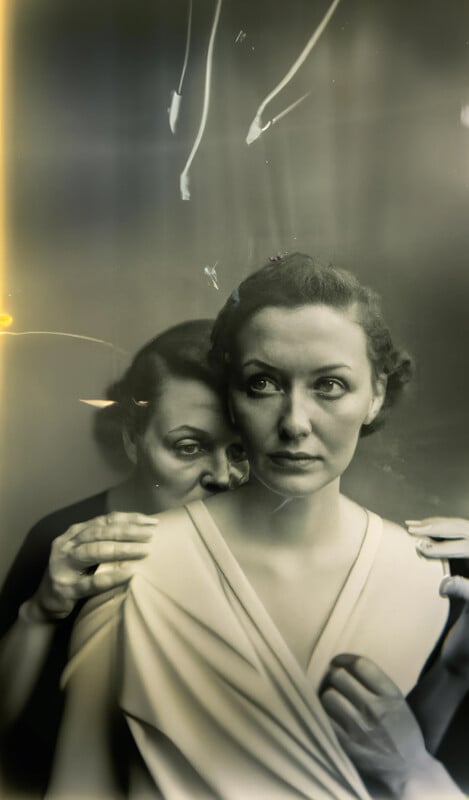 The photo is part of a series titled PSEUDOMNESIA: Fake Memories that Eldagsen has been working on since 2022.
"PSEUDOMNESIA is the Latin term for pseudo memory, a fake memory, such as a spurious recollection of events that never took place, as opposed to a memory that is merely inaccurate," the artist writes on the project page. "The following images have been co-produced by the means of AI (artificial intelligence) image generators.
"Using the visual language of the 1940s, Boris Eldagsen produces his images as fake memories of a past, that never existed, that no one photographed. These images were imagined by language and re-edited more between 20 to 40 times through AI image generators, combining 'inpainting', 'outpainting', and 'prompt whispering' techniques.
"Just as photography replaced painting in the reproduction of reality, AI will replace photography. Don't be afraid of the future. It will just be more obvious that our mind always created the world that makes it suffer."
1st Prize in the Creative Category
The photo went on to not only be shortlisted in the Creative category, but judges selected it as the overall winner of that category.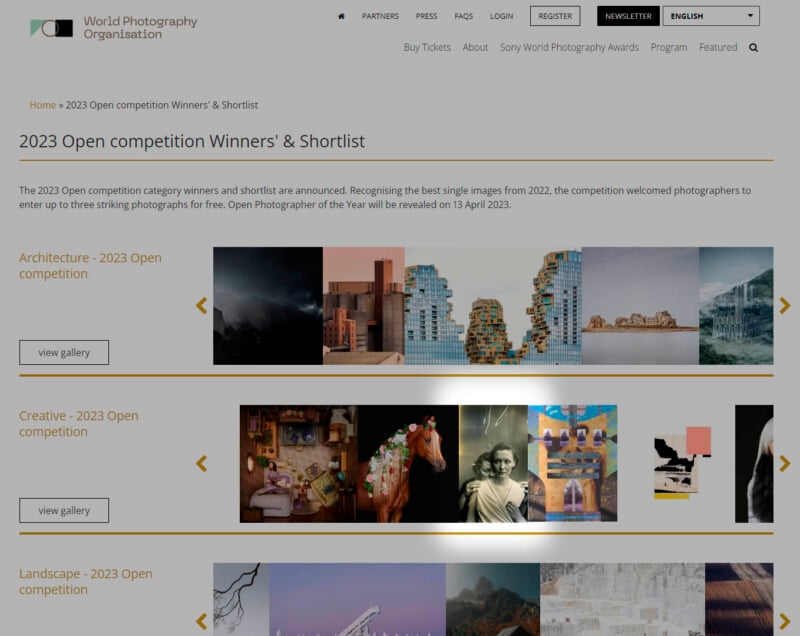 When the winners in the Open Competition were announced on March 14th, Eldagsen took to his blog to share his views of the win and of AI.
"I am very happy that I won the creative category of Sony World Photography Awards 2023 / Open Competition / Single Image," he wrote last month. "I have been photographing since 1989, been a photomedia artist since 2000. After two decades of photography, my artistic focus has shifted to exploring the creative possibilities of AI generators."
"The work SWPA [Sony World Photography Awards] has chosen is the result of a complex interplay of prompt engineering, inpainting, and outpainting that draws on my wealth of photographic knowledge. For me, working with AI image generators is a co-creation, in which I am the director. It is not about pressing a button – and done it is. It is about exploring the complexity of this process, starting with refining text prompts, then developing a complex workflow, and mixing various platforms and techniques. The more you create such a workflow and define parameters, the higher your creative part becomes.
Eldagsen says that he calls his work "images" and not "photographs" since they are "synthetically produced, using 'the photographic' as a visual language." He also says that he is trying to bring this distinction to the forefront in the photo contest industry so that separate awards can be created for AI images.
"Participating in open calls, I want to speed up the process of the Award organizers to become aware of this difference and create separate competitions for AI-generated images," the artist says.
Eldagsen's win has been controversial, with photographers bemoaning the fact that an image created without any camera or light managed to take a top photography prize over actual photographers.
Refusal of the Prize
Eldagsen added a note to his website yesterday announcing that he was refusing the award and prize of Sony camera equipment. In an open letter to the contest's organizers, the artist explained that the whole thing had been an experiment and effort to accelerate the conversation about this subject.
"Thank you for selecting my image and making this a historic moment, as it is the first AI-generated image to win in a prestigious international PHOTOGRAPHY competition," Eldagsen writes. "How many of you knew or suspected that it was AI generated? Something about this doesn't feel right, does it?
"AI images and photography should not compete with each other in an award like this. They are different entities. AI is not photography. Therefore I will not accept the award."
Eldagsen writes that this whole incident has shown that the art world has been ill-prepared for the rapid advancement of AI image generation technologies, which has exploded onto the scene this year through projects like Midjourney and DALL-E.
"I applied as a cheeky monkey, to find out, if the competitions are prepared for AI images to enter. They are not," he states. "We, the photo world, need an open discussion. A discussion about what we want to consider photography and what not. Is the umbrella of photography large enough to invite AI images to enter – or would this be a mistake?
"With my refusal of the award, I hope to speed up this debate.
"Having been a photographer for 30 years before I turned to AI, I understand the pros and cons of this debate and will be happy to join the conversation."
The World Photo Organization has yet to make a public statement about Eldagsen's win and the ensuing controversy — PetaPixel has reached out for comment and has not yet heard back — but all mention of Eldagsen's image and win have quietly disappeared from the competition's website and from the exhibition.
The gallery page for the Creative category no longer lists any entry as the "Winner".
---
Update: Eldagsen actually traveled to London from Berlin on his own dime to visit the exhibition that is being held at Somerset House and to attend the awards ceremony put on by the Sony World Photography Awards.
"I paid [for the] flight, hotel, and a rented tuxedo," the artist tells PetaPixel. "A €800 [~$800] bill to say no to $5,000 [worth of] Sony gear."
Not only did Eldagsen attend the ceremony, but he also crashed the main stage uninvited and spoke briefly to the audience to deliver his statement in person.
"As I have never been to a SWPA award ceremony, I expected to have a short moment on stage, as an open competition category winner," the artist explains. "But I didn't.
"They only asked the overall open competition winner on stage. Then they had dinner break. After dinner break before the 2nd part of the show started I went straight to the host. Told her that my image was selected as a winner for the creative category / open competition and if I can say something.
"As she was taken by surprise I did it anyhow. That's it. No response. The 2nd part started, the show must go on.
"I stayed until the end. No one from SWPA or CREO approached me, no one was interested in communicating with me."
Only after his Kanye West-style interruption of the ceremony did he find that he had been scrubbed entirely from the website and exhibition.
The World Photography Organization has not yet responded to PetaPixel's request for comment.
---
Update on 4/18/23: World Photography Organisation tells Motherboard that while it was aware that AI was used to create the image, Boris had "deliberately" misled them by telling them it was "co-created" with AI. Here's a statement provided by a spokesperson:
The Creative category of the Open competition welcomes various experimental approaches to image making from cyanotypes and rayographs to cutting-edge digital practices. As such, following our correspondence with Boris and the warranties he provided, we felt that his entry fulfilled the criteria for this category, and we were supportive of his participation. […]

We recognise the importance of this subject and its impact on image-making today. We look forward to further exploring this topic via our various channels and programmes and welcome the conversation around it. While elements of AI practices are relevant in artistic contexts of image-making, the Awards always have been and will continue to be a platform for championing the excellence and skill of photographers and artists working in the medium.