Photo Competition Slammed for 'World's First' AI Image Contest
A prestigious photography competition has drawn criticism after it held the "world's first" AI image awards.
The Ballarat International Foto Biennale handed a "promptographer" $2,000 for her AI-generated picture of two sisters hugging an octopus. But this has not gone down well with genuine photographers.
"Odd that a photo festival would include AI fake and stolen imagery in their lineup," writes Matthew Abbott, one of the many disgruntled photographers who made his feelings plain beneath the winners' announcement on Instagram.
"It would be like allowing a cheap counterfeit fashion label a stage at Paris Fashion Week."
Brisbane-based photographer Glenn Hunt writes: "This isn't photography. Associating AI with a 'photography' festival is incredibly disrespectful to photography and photographers."
"AI should not be included in a photography prize or exhibition. At the core, it's graphics produced by AI utilizing photography that is already created by others," adds photographer Kaz Djordjevic.
The creator of the bizarre image, Annika Nordensklold, admits that: "None of the places, people or creatures in my prompts exist in the physical realm" and that they "were conjured from the sum of human experience."
Nordensklold acknowledges that her pictures make people feel uncomfortable.
"I understand the fear of AI and find it somewhat healthy. But I see it more like a colleague I am working with," she says.
"Many people say my pictures make them uncomfortable … When I explain that AI creates them as a kind of collage… many laugh, others are distressed and find them disgusting."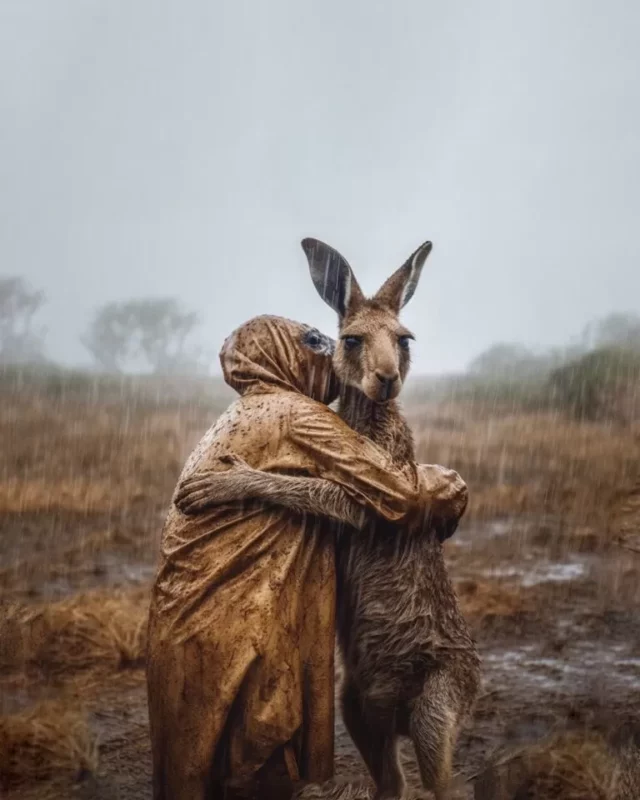 One of the judges of the contest, named Prompted Peculiar, is Boris Eldagsen who shot to fame after he won a prize at the Sony World Photography Awards with an AI-generated image which he later declined. The German artificial intelligence (AI) artist is credited with coining the term "promptographer."
In an interview with the Syndey Morning Herald, Elgadsen bizarrely claims he is the "Che Guevara of analog photographers."
"At the time, I was considered a fire starter in the photography world in opening up this conversation on 'promptography'," he says.
"Now the default position for when you look at pictures online will be to assume they are artificially generated — rarely are they fact-checked … which presents a problem for picture editors, photographers, developers, AI experts, and social media consumers the world over."
The contest also held a People's Choice Award which was won by an image of a "robot intermarriage" made by Hanna Silver. Highly commended images include a kangaroo hugging a person in the rain and a robot taking a selfie.