When Wedding Photographers Are Challenged to Shoot Other Genres
2,692. That's how many full wedding ceremonies wedding photographer Matthew Solis alone has photographed in the past five years, and yes, you read that number right.

As strange as this must sound, our Las Vegas wedding chapel,
Chapel of the Flowers
, is actually considered a "low volume" chapel by comparison to others on the Las Vegas Strip and with that said, we still average about 20 full wedding ceremonies per day.
Virtually all of those ceremonies receive one or two photographers and a videographer. In spite of that volume, we still take a tremendous amount of pride in delivering great quality photos with a super fast turnaround (our team of on-site post processors routinely burn the midnight oil to edit thousands of photos for our couples to view within 24 hours of their ceremony).
When you shoot this many weddings though it can definitely be challenging to stay creative in what you do and still deliver great wedding photos. Our department comprises over 25 people here at Chapel of the Flowers and most of our photographers have been shooting here for several years now.
When you shoot this many weddings, sometimes it's easy to lose sight of the fun of not shooting them as well, so we work to challenge our team to get out of their comfort zone as much as possible and do fun, creative shoots outside the chapel. Learning to work with unique models, backgrounds, and lighting ultimately will make you a better wedding photographer, so every now and then we issue a challenge to our photographers to go shoot things outside the norm.
Several weeks ago, we challenged our photography team to randomly pull a topic out of a hat and they had 30 days to go do that shoot. This article is the result of that challenge! Some of these were easy, some were very difficult… and that was the point.
Of course, during the month we were all out doing these shoots, Las Vegas was plagued with some of the worst March weather we've seen in years. With rain, snow, and high winds on almost a daily occurrence, many of these shoots became quite difficult to accomplish, and yet virtually everyone in our department rose to the challenge.
In addition to creating some very cool images, this was also a great lesson in teamwork as well, as many of the photographers in our department also acted as models, served as assistants, and helped with the editing as well. Here is what they were tasked with, what they produced, and a description of how they shot it:
Jasmine Abila
Challenge: Pick a remote location and do a photo shoot with a model and either an exotic car or a motorcycle. (She did BOTH!).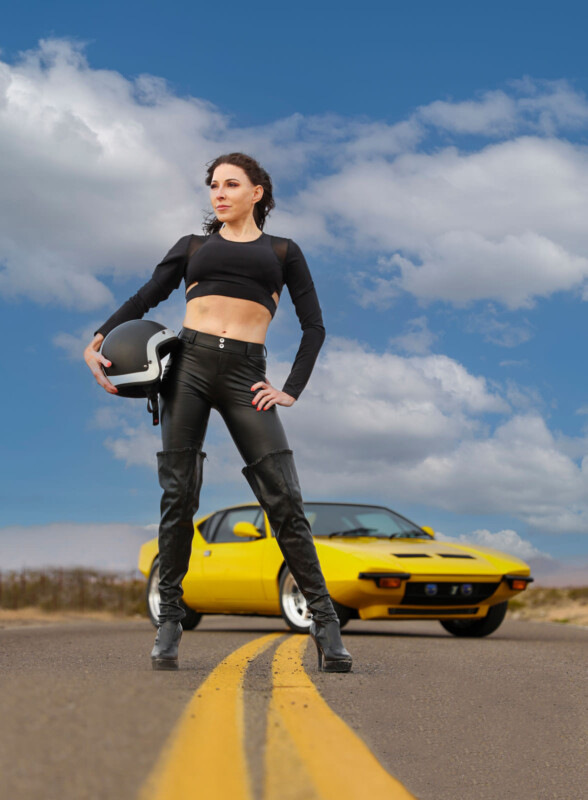 Meeting new people, trying new things, and the weather not being completely ideal (it was 40 degrees outside and 30 mph winds during the shoot). I'm not seasoned with photographing vehicles and this took me outside of my comfort zone. I realized working the lines from the pavement markings, the geometry of the vehicles as well as placement of Selena, the model, made for a fun shoot.
Shooting from a low perspective gave an empowering look to both Selena and the vehicles. The vibrancy of the car and motorcycle popped among the desert landscape. It was a pleasure working with a model who knew exactly how to work her body and who felt comfortable trying anything that was asked of her. As you can see, she made that motorcycle look as comfy as a bed. She endured 40-degree weather and strong winds. We did the shoot about 40 miles outside of Las Vegas on an abandoned road.
Shannon Oleson
Challenge: During the golden hour, shoot a model wearing or holding something bold and unusual (angel wings, a large sword, umbrella, etc.) Edit the image so that the shadow on the ground is different than the model.
Admittedly, this didn't turn out to be anything close to how I planned it. I was able to accomplish something a little close to the goal and knowing what I know now about putting this together, I'm probably going to do this again under better and more controlled circumstances.
Brianne James
Challenge: Using a large piece of glass, support it using legs, chairs, etc., put various objects on top of it, and shoot it from underneath.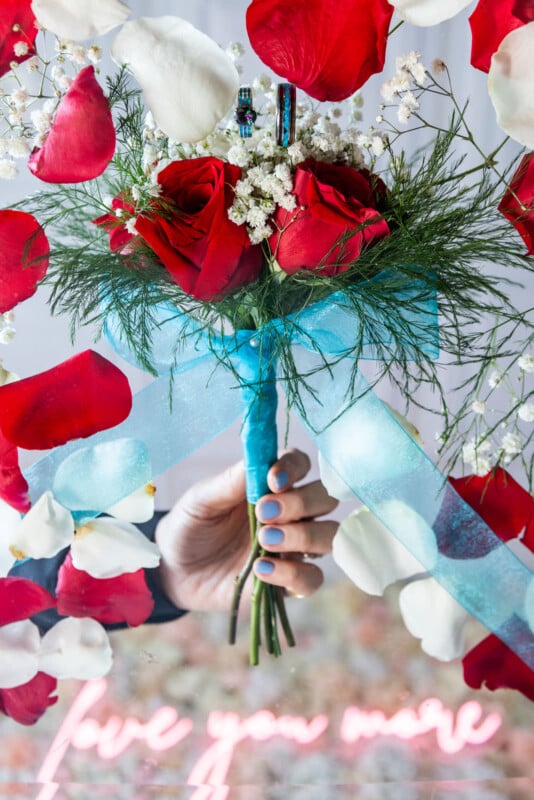 To create this photo, I found a large piece of glass on a broken table that had been left outside. I suspended it between two high-back chairs and gathered the flowers from our chapel's floral department. I had so many options when creating this bouquet, and ultimately I decided on my favorite colors, red and white roses.
The wrap around the flowers was selected to match the blue of the rings. I scattered some petals and baby's breath clippings on the glass and crawled underneath to get the shot. I used a light bar to fill the space underneath with warm side lighting and used a floral wall and neon as a backdrop behind the bouquet. The hand attempting to collect the flowers belongs to another photographer, Sydney. The resulting image is a trippy effect of floating flowers.
Adam Sternberg
Challenge: Using colored pencils, crayons, or magic markers, use the color of these items in conjunction with a model as a portrait photo.
I'm actually the department Manager for the Media Department and I decided to participate as well. I found this concept online and decided to replicate it. I borrowed Leslie Escobar, one of our other photographers to be our model for this and I even spent some time coloring the iris of her eye in Photoshop to match the colored pencils a bit.
Challenge: Do a photo shoot with a cowboy/cowgirl theme in a ghost town. Bonus points if they have a giant belt buckle!
It was an interesting shoot filled with challenges. From the cowboy forgetting his boots, the sun setting fast, and the location (Eldorado Canyon Ghost Town) being full of other photographers, this photoshoot kept me looking for quick creative solutions. Turning the vision into reality is a task I've yet to completely master, especially if not all the elements are readily available. However, enjoying the creative process with all of its ups and downs is key to keep moving forward as a professional, and to keep learning.
Katie Pyne
(Katie is actually our Marketing Coordinator, but she has a strong background in photography and when she heard what we were up to she asked if she could participate!)
Challenge: Do a creative shoot with someone slicing a piece of food in mid-air.
I struggled with the logistics of how to hang the fruit. I decided to stab the fruit with forks by placing them towards the end of the fruit that would be facing the backdrop, I clamped the fruit-speared forks onto microphone stands.
I utilized two black posterboards for my backdrop and two lights with umbrellas that I had synced to my camera through a pairing device. My main goal was to have the fruit well-lit, while also capturing the reflection of the fruit in the knife to accurately represent the physical action. I took images in two different rounds.
At first, I took the images of slicing the suspended fruit. Wanting to ensure I got the angle I desired. I then took images while spraying water from a spray bottle. I then merged the images together because I liked the fruit-slicing image but did not think the other contenders while spraying water were as strong. I darkened the entirety of the backdrop to really make the objects pop and then photoshopped out the two black microphone stands. Overall/ summarization of my editing process- I darkened the background, cloned out the microphone stands, and added a masked layer to bring in the spray.
Kevin Kerestic
Challenge: Do a photo shoot that involves an acrobat, ballet performer, professional dancer, or gymnast, showcasing their talent.
I set up two flashes in a shaded area next to some warehouses. The background didn't matter since I was shooting to eliminate it. Initially tried one flash high and one low to hit the model and then the poles she was balancing on, settled with one high and one behind to highlight her even more.
Challenge: Do a creative shoot on a dry lake bed. It must involve at least one adult model and at least one prop.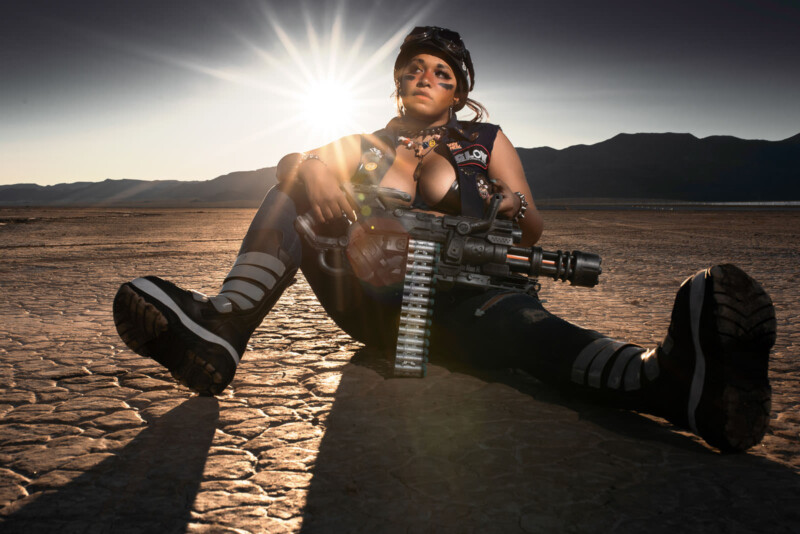 My prompt was to shoot with a model, in the dry lake beds with a prop and it was obvious I had to shoot a Tank Girl-themed shoot, duh! I contacted a few of my cosplaying friends and it so happened that Cheyenne had a Tank Girl cosplay shoot she's been wanting to redo. So then the planning began.
Cheyenne already had already made the costume, she adjusted the bottoms to be pants instead of shirts since it was going to be cold that night and she also owned a few gun props. My vision was to start the shoot around golden hour leading into twilight hour and use a lit campfire to emit natural moody lighting to create the scene of Tank Girl camping out around the fire. We arrived early and did a few photos during golden hour and then got the fire ready as the sun started disappearing.
For the photos that I shot during golden hour, I used just one Godox 560ll speedlight as the main light and took advantage of the backlight the sun was creating. For the photos taken during twilight hour, I used a Godox 560ll speedlight camera left as the main light, positioned the model near the campfire to help emit natural light from the fire as well and another Godox 560ll speedlight positioned camera right, behind the model to act as a highlight to keep the model from blending into the dark backdrop.
We had to cut the shoot short because it started getting very windy and we wanted to make sure we could keep the fire in control, so once we got "the shot" we put out the fire and wrapped up the shoot. Aside from the weather the shoot went great and I feel like we both left happy with the results.
Leslie Escobar
Challenge: Create a 1950s or '60s-style horror, sci-fi, or noir-style detective movie poster involving at least two photographs.
For my process, I began with research. I searched for 1950 popular film noir movies, actors/actresses, and movie posters. I noticed themes in style and aesthetic. Most movie posters were very illustrated and colorful with lots of yellows, blues, reds, greens, and black. I had to narrow down what subject matter I wanted for my rendition, which was monsters, aliens, or murders! Ultimately, I went with the murder concept as it fits more with the vision I had in mind.
I wanted to throw a little homage to Las Vegas, hence the title name "Murder in Paradise." With research down, I then created mood boards on Pinterest to share with the models- Matthew and Aurora. I decided on a detective and femme fatale duo. I also created a "Murder in Paradise" text script to use as a basis for the poster. Inspired by the dramatic lighting so typical of film noir, I created a set that would emulate low-key but high-contrasted (almost gestalt-like) photos. The smoke was an important element. There was no way I couldn't add cigarette smoke to the poster!
Originally, the composite of the photos was to be kept in color and then image traced in AI or posterized in PS. I was thinking I could illustrate or paint the poster by hand but time just didn't allow for that. As I edited the poster, the individual photos were so moody and they read so well that I chose to keep the whole poster in grayscale. What resulted was a combination of research and emulation.
I had great models to start with and a photo assistant to help with the shoot. Media team members also assisted with providing feedback and guidance. I shouted out those teammates on the poster as a thank you. Overall, this project was fun and inspirational.
Matthew Solis
Challenge: Using a Kodachrome look in your editing, do a 70s style, vintage photo shoot.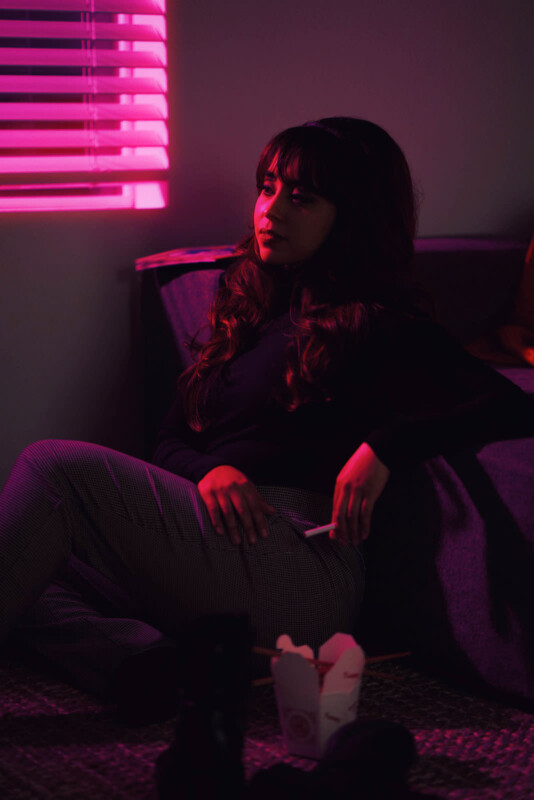 I decided to color-grade on set with her backlit using a Digital Sputnik DS1 light. The color profile is a modern take on Kodachrome because it wasn't a low-light film. That being said, I didn't go for the classic Kodachrome look that Steven McCurry uses that everyone sort of expects from Kodachrome. One last thing to add to the film look was to add film halation to all of the photos, I think it's this really beautiful quality of film that digital has lost and I love the red aura that it creates. My wife did an amazing job with the hair and we based the model's look on Bridget Bardot.
---
Overall, this was a hugely successful endeavor and it was really nice to see such great and talented wedding photographers create some fun shoots outside the wedding industry for a change. Sometimes when all you do is specialize in one type of photography, getting out of your element a bit will actually make you better at your craft and we hope these types of exercises with our team will aid them to be even better and more creative wedding photographers than they already are.
---
About the author: Adam Sternberg has been a professional photographer and videographer in Las Vegas for over 25 years. He is the co-owner of one of the largest corporate photography companies in the city and I'm also the Photo/Video Manager for one of the largest and most exclusive wedding chapels in Las Vegas, Chapel of the Flowers.