Best Buy Launches a Mail-In Electronics Recycling Service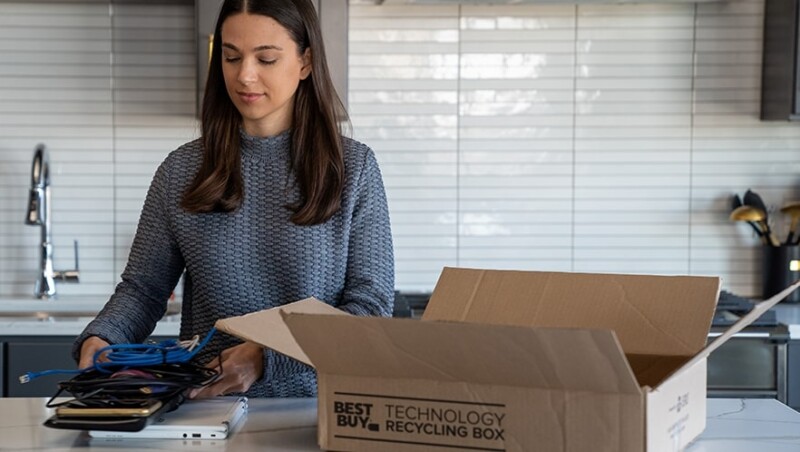 Best Buy has launched a new service that makes it easier for anyone to recycle their old electronics. The new Recycle-by-Mail service accepts a wide range of electronics from laptops and cords to tablets and, presumably, old or broken digital cameras.
The electronics big-box store already calls itself the nation's largest retail collector of e-waste: Best Buy says it has recycled 2.7 billion pounds of electronics and appliances to date and is expanding its program to extend beyond the physical walls of its buildings.
Starting this month, anyone can order a prepaid Best Buy Technology Recycling Box and ship off their old electronics for recycling, which Best Buy says will give tech either "a second life" or the company will recycle it responsibly to protect the environment.
"We continue to build on our commitment to be there for our customers throughout the entire lifecycle of their products by making recycling simple and convenient," Tim Dunn, Best Buy's head of environmental sustainability, says. "Sustainability is at the forefront of everything we do and this new service is another step we are taking to protect the planet today and for future generations."
Best Buy intends to achieve net zero emissions by 2040 and as part of that goal the Best Buy Technology Recycling Box will also be a carbon-neutral service.
Shipping is expensive, so naturally, the mail-in program isn't free. Best Buy shows that it has two sizes of box available at launch: a "small" that measures 9 x 5 x 3 inches and has a weight limit of up to six pounds as well as a "medium" that measures 18 x 14 x 4 with a weight limit of up to to 15 pounds. The small costs $23 while the medium is $30. The boxes include a pre-paid shipping label and once electronics are received, Best Buy says its service partner will destroy any data and the devices will be sustainably recycled.
While it says data will be destroyed, it still recommends customers wipe information before sending it in for recycling.
"Best Buy recommends that all customers remove or wipe data from their device before submission. Customers are solely responsible for the removal or wiping of their data at their own discretion prior to shipping the device to be recycled," the company says.
There is a short list of products that Best Buy won't accept which includes batteries, light bulbs, cassette or VHS tapes, and a range of other "trash" items that are clearly not e-waste. That full list as well as the ability to order boxes can be found on Best Buy's website.
---
Image credits: Best Buy