The Best Desks for Photographers and Editors in 2023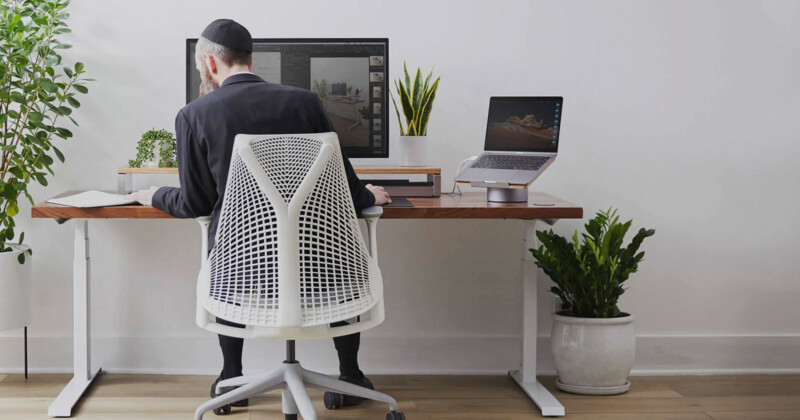 Working photographers may seem like they lead an adventurous life, traveling, and capturing images of people and places worldwide. But the truth is, even with all the adventure, most photographers spend most of their time sitting at a desk.
Choosing the right workstation is pretty much a necessity for those who spend a large portion of their time working on a computer. The big decision is finding the right one for each type of person. Do you need something comfortable and cozy, or do you need something ergonomic and highly functional? The good news is desks are available in practically any shape and size you can imagine that can be both stylish and meet your needs to get the job done right.
Obviously, there are a lot of options out there. We've been able to test several and provide you with some input, but in the end you'll have to decide what works best for your specific situation. Do you need storage or shelves? How long do you plan to work from the desk in a given day? Do you like to stand or sit? Answering these questions will help you narrow down the search for the right desk for you, but we'll do our best to make that choice easier.
What We Look For
When choosing the right desk for your home or office, we take into consideration a variety of criteria such as ease of assembly, durability, size of the workspace, appearance and design, special or customizable features, and even the materials the desk is made from. Many of the models mentioned in this list have been assembled and tested by our team and have been fully evaluated by our working professional photographers so they can give their honest feedback on them all. We intend to continue to add to our hands-on time to help you make more informed decisions, so be sure to check back here in the future.
Below are our recommendations for the best desks for photographers in 2023 for your home, office, or studio.
At A Glance
The Best Standing Desk For Most People: Flexispot E7 Pro Plus
Standing desks have become incredibly popular over the last few years since long-term desk users have experienced many of the side effects of sitting down for too long, including back pain, fatigue, and muscle soreness. Manufacturers of these adjustable workstations have bombarded users with a near-endless supply of add-ons, accessories, and sometimes downright mindboggling additions to adjustable desks. This is where the $529 Flexispot E7 Pro Plus comes in to help make things easier, and impressively affordable during the process.
The dual motor E7 Pro Plus Standing Desk offers users an incredibly easy-to-assemble (I did this alone in under 30 minutes and only needed my own screwdriver to finish the job) workstation that offers users an adjustable height of 22.8 to 52.4 inches (depending on the frame version) that quietly moves at a rate of about one inch per second when making adjustments. The motor sits discreetly inside of the metal base/frame of the desk which can be left exposed (for easy maintenance should it be required) or covered up with the included metal plates/covers.
The desktop itself is available in a variety of materials ranging from Chipboard, Fiberboard, Bamboo, and Solid Wood, with a variety of colors available for each, including white, black, and grey for the base/frame. The workspace is available in three sizes; (48″x24″, 55″x28″, and 80″x30″), giving users plenty of space to work with depending on their setup and workstation needs. What's even more impressive is this desk (which weighs about 85 pounds in total with the largest options) can support up to 355 pounds on its surface. I'm not sure I even own that much gear to stack on it, but at least it is safe to know that this desk can support my full body weight should I ever have to stand on top of it for some reason.
The height is adjusted using a small touchpad which is typically mounted on the left underside of the desk but can be positioned on whichever side is preferred by the user. The control module consists of an up/down button, a child lock, a digital height display, four memory presets (two customizable), and a USB charging port on the right-hand side. Optional add-ons include everything from single or dual-monitor arms, monitor stands, keyboard trays, power supplies, and desktop organizers, and all the way to foot rests, mirrors, and even under-desk hammocks for those "just have to nap" moments.
Bottom line is the Flexispot E7 Pro Plus standing desk is an impressive workstation with an even more impressive warranty that offers users a sturdy and stable desk that can be adjusted quickly and quietly with an incredible amount of customization for a very affordable price. No, it won't be the cheapest standing desk out there, but even when "fully loaded" with add-ons it is not overly expensive and often will be cheaper than most of the competition on the market.
The Best High-End Standing Desk: HumanCentric Workflow Desk
If budget isn't holding you back and high-quality materials are a must, then the HumanCentric Workflow Desk is our top pick. The standout feature of this adjustable standing desk is the material HumanCentric uses for the desktop surface: it's actual wood. The company offers it in either black walnut or maple butcher block with the choice of either black or white legs, and the quality is easily the best we've encountered.
Look, there is nothing wrong with a particleboard desktop surface when it has the right surface treatment, but there is something truly special about actual wood. Each American-made Workflow Desk is going to be unique because wood grain is unique. The surface we tested was the black walnut variety and it looks gorgeous. It is immediately a visual upgrade over the dark wood Flexispot option.
Another thing we liked about the Workflow Desk is how the company designed the standing desk motors. The Workflow Desk's motors are located in each leg and the support bar that connects the whole desk together is located more toward the back of the desk since real wood doesn't need as much support as particle board. Because you don't have that beam running down the center, you really don't even see it unless you get under the desk and look for it. The result is a more seamless-looking desk that feels more like a nice piece of furniture than a commodity.
The desk is a bit of a challenge to put together because all of the parts are so heavy due to the quality of materials used, but once it's assembled it becomes the centerpiece of a room. The only downside to the Workflow Desk is one common to pretty much all standing desks: there isn't a lot of room to store stuff. There are no drawers or shelves, so photographers will have to learn to get organized in other ways. HumanCentric does have a line of accessories that helps alleviate this, but it's an added expense.
Speaking of expense, all that high quality comes at a cost. The WorkFlow Desk starts at $1,299 and can get as expensive as $2,299 depending on the wood material and size. That's a lot to ask, but for those who see their desk as an actual piece of furniture that should last a long time, then it might be worth it.
Best Desk With Shelves: The Ariyannah
The $269 Ariyannah Desk offers a fun and creative workspace solution for photographers looking for a stylish, modern, and functional desk. Made with MDF and steel, the desk is sturdy, durable, and easy to clean as any spills ore messes can be easily wiped away with just a wet cloth. The desk has a set of shelves that can be installed in a variety of ways to give users some flexibility in their workspace, and comes in brown or black color options to match the decor of the room.
The desk includes some interesting and fun features including a sliding keyboard tray, configurable shelving in the hutch (which can also support multiple large displays), and even includes an LED light strip that is smartphone app controlled to add a touch of color, or just a little more lighting in general to your workspace. The desk offers uses a ton of space to work with including a 55-inch by 21.6-inch main work surface along with six different shelf configurations to store books, gear, speakers, computers, and more
Best Portable Desk: Inovativ DigiPlate Pro
Photographers probably don't generally consider digital tech stations as "portable desks," but that really is exactly what they are. The DigiPlate Pro from Inovativ is an excellent pick for photographers or videographers who need a mobile workstation either in the studio or on location that can break down easily and also work in tandem with other tools they already use.
The DigiPlate Pro uses a "cheese plate" design, which is industry speak for a wide range of attachment options that come via a set of holes in industry-standard sizes. In this case, it uses of 161 3/8-16 threaded holes and can connect to your existing tripods or tripod plates that use a 1/4-20 sized bolt. It's made of durable aluminum and has a wide slot on one side that is used as a handle. It isn't very heavy either and tips the scales at about four pounds.
That said, it's not a looker. The DigiPlate Pro is made to be effective at its job and isn't meant to wow the eyes. It's also pretty expensive at $275, considering it doesn't come with a base. If you're looking for a more all-in-one solution that's a bit prettier and "finished," the Intension Design Tripod Standing Desk Pro is a great alternative.
---
PetaPixel will update these results periodically as we obtain and evaluate more options, so make sure to bookmark this story and check back when you're ready to make a purchase.