Fake Facebook Ad of Flying Car Made with AI Image Generator Fools Buyers
A man was temporarily suspended from Facebook after he posted a fake ad for a flying car that was actually an AI image he created on Midjourney v5.
Aaron Lea made the outrageous advertisement for a "1976 Mohishwa JRR4," a fictitious flying car that attracted genuine buyers.
"The responses were numerous and hilarious," Lea tells PetaPixel.
"Mohishwa 1976 flying car," reads the ad description. "One of the first consumer-level flying cars, only released in Japan. NOT OPERATIONAL! Needs work and parts, wing apparatus missing. Novelty rebuild project for the right mechanic. Being upfront, Mohishwa parts are really hard to find."
Lea confessed to his prank but only after the listing "got over 25,000 views, over 1,000 shares, and over 500 saves."
The advertisement even made its way to Reddit fooling some members of a Japanese car community.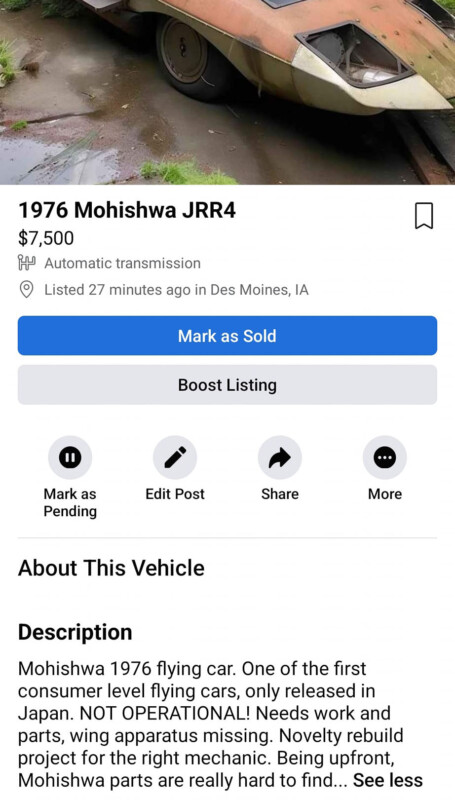 "I made the image in Midjourney AI art program," Lea writes. "I got dozens of messages, maybe three called me out on it being fake; the rest were very interested."
However, it wasn't all smooth sailing for Lea who woke up one day to find he had been locked out of his Facebook account and a message from the Meta-owned company to say he had a permanent ban from Marketplace.
"Requested a review and got everything restored within less than five minutes, but lesson learned," Lea adds.
"The moral of the story is that you can get in trouble for trolling Marketplace with fake AI listings. But it sure was funny to me."
The Power of AI Images
The clever part of Lea's prank is that there really are flying cars that exist which is why so many people thought it was genuine.
With the awesome capabilities of Midjurney v5 still not yet fully known to the wider public, this crossover period offers golden opportunities for jokers like Lea.
In a similar case last week, the latest version of Midjourney was used to mock up pictures of Donald Trump being arrested; playing on the fact that a Manhattan grand jury looks likely to indict the ex-president for paying hush money to a porn star.