Obama "Hope" Artist Faces Criminal Investigation Over Use of Photo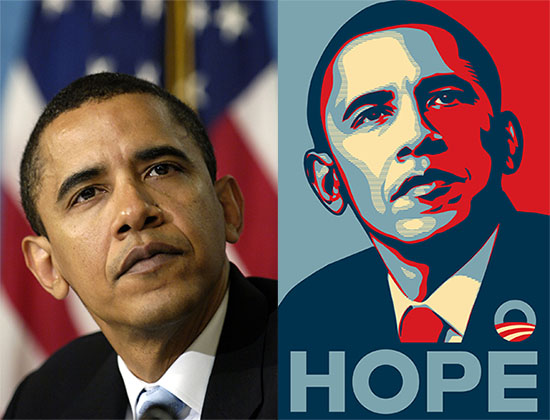 A judge announced this past Tuesday that artist Shepard Fairey is under criminal investigation for the improper use of Obama's photograph in his iconic "Hope" poster. Fairey has spent months locked in a legal battle with the AP and photographer Mannie Garcia, who captured the original photograph. The AP demanded credit and compensation for the photograph, while Fairey believes his poster fits the definition of fair use.
The legal battle is actually a pretty complicated story. Fairey fired the opening shot by filing a lawsuit against the AP last February, asking for a ruling that his use of the photograph did not violate copyrights. Within a month the AP filed a suit of its own, claiming a violation of copyright.
The original photographer, Mannie Garcia, believes the copyright to the photograph is his own and not the APs, and was actually quoted saying,
If you put all the legal stuff away, I'm so proud of the photograph and that Fairey did what he did artistically with it, and the effect it's had.
However, in July 2009, Garcia joined in the legal battle, siding with the AP in claiming copyright infringement, while accusing the AP of wrongfully claiming copyright to the photograph he shot.
Fairey's downfall came in October 2009, when he admitted that he had destroyed and falsified evidence in the case, writing on his website,
In an attempt to conceal my mistake I submitted false images and deleted other images. I sincerely apologize for my lapse in judgment and I take full responsibility for my actions which were mine alone,
As a result of this revelation, his lawyers announced that they would no longer represent him in this case, and Tuesday's announcement is simply the latest installment of this long, complicated, and ugly case.
The moral of the story? Get permission folks!