Photographer Larry Chen Takes Photos of Himself while Drifting in Sports Car
Motorsports photographer Larry Chen recently came up with a novel way to grab a selfie as he's drifting in a sports car.
Chen took his Nissan 350Z to Apple Valley Speedway in California and shot photos of himself sliding his vehicle over the tarmac and dirt with the help of a set of pocket wizards and a Canon R3.
To operate the pocket wizards (a remote trigger for the shutter) the motorsport photographer had to put one in his mouth as he was speeding around the circuit.
"Apple Valley is one of our favorite tracks and I've been shooting here for so many years," says Chen in the video. "And for me to be able to shoot myself while I'm driving is just ridiculous."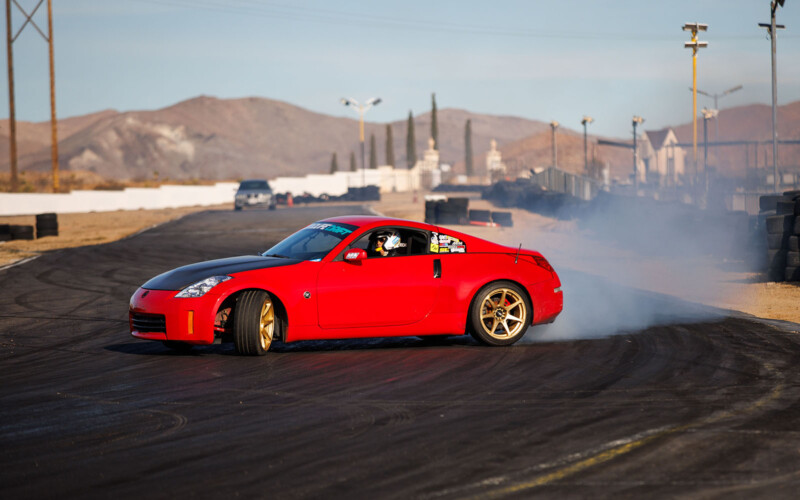 Chen tells PetaPixel that he was "very surprised" after getting some nice shots out of the day.
"I tried my best to guess the framing, but I've been shooting other people drifting for 18 years, so it was just up to me to place the car in the correct area," he explains.
"At that point, I'd only been drifting for about a year, and I felt comfortable enough to drive for the camera."
Chen, who obtained permission from Apple Valley Speedway where he shoots a lot of his content, says that it wasn't easy to operate the trigger with his teeth.
"It was insanely hard, so I essentially just held it down, and I am assuming it started to trigger as soon as I got close enough with radio range. I did end up doing a few runs with the camera not firing," he says.
Chen set the camera up on each individual corner in a bid to get a sweet shot of himself drifting his two-seater sports car.
"I just moved the camera along as I progressed throughout the course. I made mental markers on where I should try to place the rear tire," he explains.
In the video, Chen describes his experience as "incredible." Before adding: "I've always wanted to do that."
Earlier this year, PetaPixel spoke with Chen about his incredible job traveling the world and documenting car culture. He also opened up about his close relationship with the late Ken Block, a rally car driver best known for his viral gymkhana videos.
More of Chen's work can be found on his Instagram, YouTube, and website. His adventures can also be followed on the Hagerty YouTube channel.
---
Image credits: All photos by Larry Chen.