The Edelkrone StandPLUS Aims to Make Your Tripod Look Outdated
Edelkrone is positioning its StandPLUS as a "revolutionary" camera positioning tool that will make traditional tripods a thing of the past.
Designed to replace traditional tripods in most environments, the Edelkrone StandPLUS claims to allow a content creator to get any angle quickly and efficiently. The company says that it eliminates any barriers that exist in changing a camera angle and allows a creator to make the most effective narration in seconds.
Edelkrone says that the StandPLUS creates an entirely new category in camera positioning and is aimed at primarily video creators who want an easy way to enhance their production quality.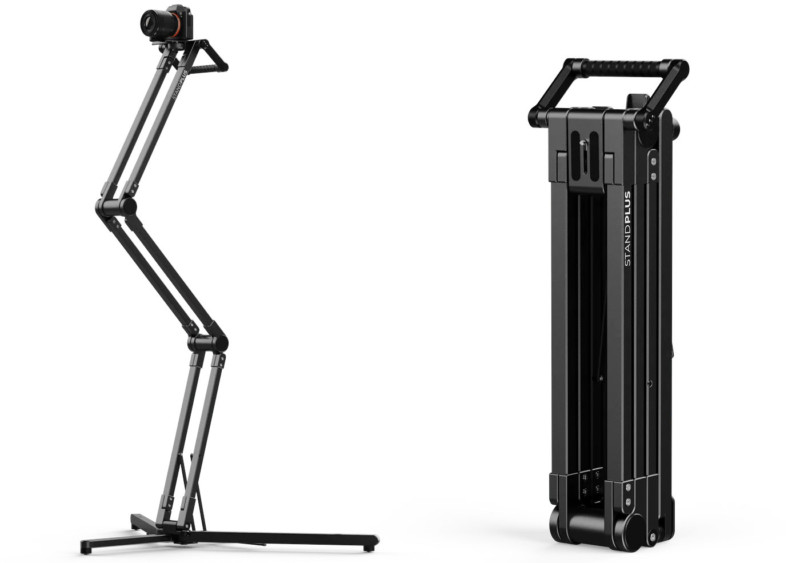 Instead of relying on leg locks and columns found on typical tripods, the StandPLUS relies on tensioned joints. So while it can't adjust for the x-axis as well as a standard tripod, it greatly improves the usability of the y-axis. For example, Edelkrone says that it is faster to set up and is ready to use in seconds since it can be fully deployed in one sweeping motion. It also more easily allows for overhead shots as it can be quickly positioned above a subject.
The whole system has no knobs or buttons since it relies on tensioned joints, and Edelkrone says that those joints won't move after the camera has been positioned and they won't lose their grip even after "countless readjustments." It isn't clear if the joints can be tightened down the line if they start to lose their stickiness.
"StandPLUS allows you to lower, raise, move forward or backward your camera instantly, making it the perfect choice for any video maker who wants to get the perfect shot with minimal effort," Edelkrone claims. "With its ergonomic handle, StandPLUS is easy to adjust, and the handle also doubles as a comfortable way to carry the device around like a bag."
The StandPLUS is clearly designed to be used in indoor environments where the floor is level and smooth, since it doesn't have any method to adjust the angle to the left and right. That said, it does have solid metal balls on the base of the stand which work basically like casters and allow it to be quickly moved around a room, provided the floor is smooth.
"StandPLUS has vibration-dampening wheels, which stops it from vibrating in just two seconds after you push or pull it, ensuring stability comparable to that of a tripod when used indoors," the company adds.
This is actually the second iteration of the StandPLUS that Edelkrone has produced. The first version was released back in 2016, though the 2023 version makes some notable changes.
Firstly, it has a slightly taller minimum height (22 inches versus 19.6 inches) and a slightly shorter maximum height (60.6 inches versus 61.4 inches) but is a couple of pounds lighter in exchange (9.9 pounds versus 13.22 pounds). It is also overall smaller when folded: 4.3 by 4.3 by 21.6 inches versus the original's 4.7 by 4.3 by 21.2 inches.
One specification hasn't changed between models though: how much the camera attached to the StandPLUS can weigh. Edeklrone rates the device to carry up to 5.5 pounds.
The Edelkrone StandPLUS is available directly from the company's website for $490.
---
Image credits: Edelkrone