Google is Bringing its Magic Eraser to Older Pixel Phones and Google One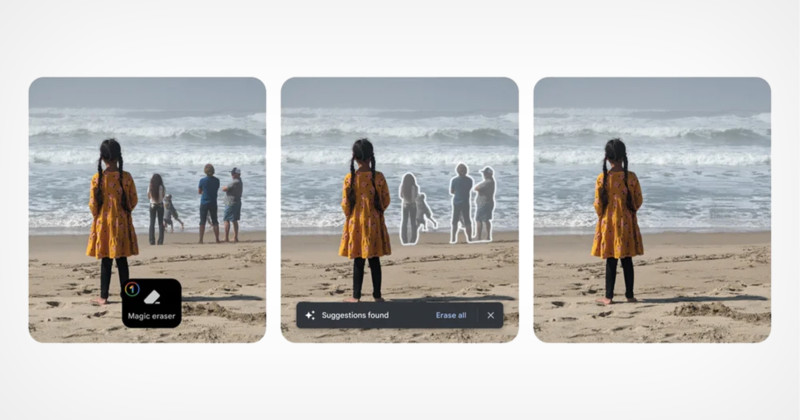 Google is rolling out some of its more recent photo features to older Pixel phones and Google One members, starting with the Magic Eraser tool.
Announced on Google's blog, the features being rolled out to the older generation devices were previously exclusive to newer model Google Pixel phones. However, starting today, tools like the Magic Eraser, HDR effect, and collage editor will be available on Google One, the Pixel 5a, and many earlier versions. The company says members on all plans will gain access to the Magic Eraser tools with Google Photos (even if they use it on Apple iOS devices) in the coming weeks.
The Magic Eraser tool, which was originally released on the Pixel 6 in 2021, leverages Artificial Intelligence (AI) to detect and remove distractions and out-of-place people or items in an otherwise "perfect photo." Users can simply circle the element they want to be removed and the Magic Eraser will "make them disappear" within seconds. In addition to this tool, older device users will also gain access to the Camouflage features which "can change the color of objects in your photo to help them blend in naturally with the rest of the photo — putting the focus on what matters."
In addition to the Magic Eraser tool, users will also gain access to the HDR Effect which can be applied to videos to enhance the brightness and contrast of the files to provide "Dramatic, balanced videos that are ready to share".
The company says Google One subscribers will also gain access to a variety of additional exclusive styles and designs for the Collage Editor that will allow Google Photo users to apply styles to a single photo in the collage editor in addition to access to multiple new styles and designs to choose from.
To close things out, Google One subscribers in the United States, Canada, the United Kingdom, and the European Union will get free shipping on orders made from the print store, adding even more value to the services and features available to Pixel and Google One users.
While it is pretty common to see new features revealed and rolled out exclusively on new flagship devices as they are available, it is quite rare to see companies find ways to increase the longevity and attractiveness of their older product lines by bringing new tools to them. It will also be interesting to see how much these new AI-based tools affect the battery life and performance on older Pixel devices.
Magic Eraser and other enhanced AI editing tools are available now for Pixel and Google One members for both Android and iOS devices.
---
Image credits: Google