Google One Adds 5TB Cloud Storage Plan for $25 Per Month
Google One has seemingly noticed that the gap between the previous 2 terabytes (TB) and 10 TB options in its plan was a bit too dramatic and has quietly added a 5TB plan that slides neatly between them.
Google One is the company's consolidated data storage and organization tool that was designed to be a streamlined way for families and groups to store documents and photos. Google removed free unlimited storage of high-quality photos in June and pointed those affected to Google One as an alternative.
When it debuted the service, Google One offered a few different storage tiers that started at a free 15 GB of storage and expanded as high as 10 TB for $50 per month. The higher tier options also come with some additional perks such as 10% back on Google Store purchase, faster access to Google support, family sharing options, and a VPN for Android smartphones.
As noticed by 9to5google, it's possible the company thought that the difference between its 2 TB plan for $10 per month and its next tier up of 10 TB for $50 per month was too extreme, and quietly added a 5 TB tier for $25 per month. The plan is also available for a flat $250 per year which saves 17% on cost over buying it month-to-month.
The 5TB plan doesn't appear visible to all users, however. Two PetaPixel staff members were only able to see a maximum of 2TB as an option on the Google One plans and pricing page:
Another PetaPixel staff member who is based in the United Kingdom, however, was able to see the 5 TB option along with even higher storage capacities: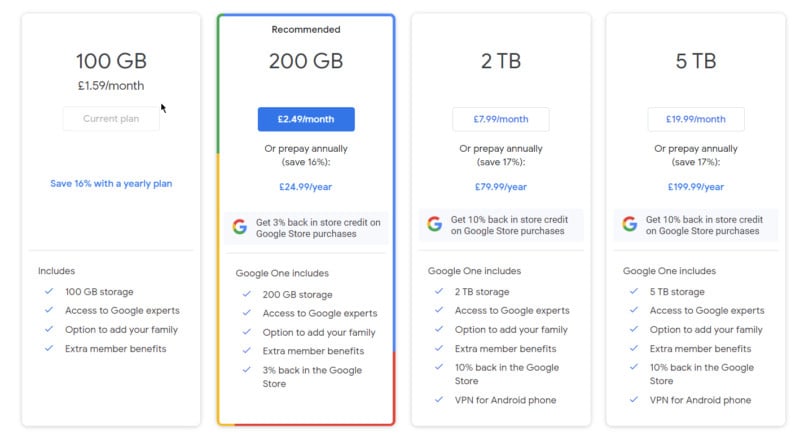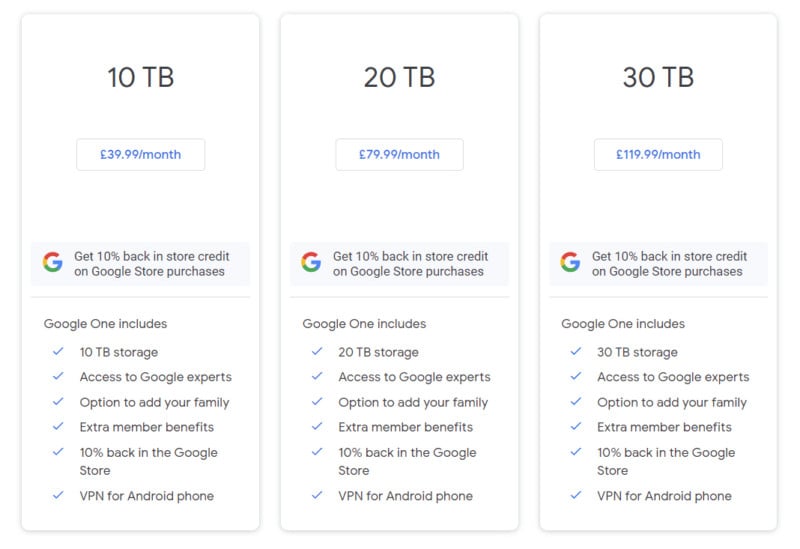 Additionally, accounts that are using legacy Google Drive storage are shown an entirely different interface that offers a few other options including up to 30 TB of storage, but the 5 TB option was not visible.
The changes to Google One come as the company recently also greatly expanded its Google Photos print service. While initially a print subscription service that would send 10 algorithmically chosen photos from a user's library per month, Google expanded its offerings to also allow photos to be ordered a la carte in any volume, increased the number of sizes that it offered, and also began offering canvas prints and photo books.