This Collector Has So Many Leica Cameras, He Opened His Own Museum
Leica cameras have long held a special allure for many photographers and the brand's prestige is arguably unmatched in the photography world. For avid photographer Douglas So, his love for Leica and photography is too big to keep to himself.
So's F11 Foto Museum in Hong Kong features one of Hong Kong's largest collections of Leica cameras and offers visitors the chance to learn about the iconic German camera company.
As reported by CNA Luxury, So's passion for photography started when he was in secondary school. He received his first camera, an unnamed Japanese model, from his father.
"I discovered through taking photographs that it helps me observe and discover things that I normally do not see," So, a lawyer by trade, tells CNA Luxury.
While So honed his photographic craft, he delved into the work of his favorite photographers. He realized that many of them, such as Henri Cartier-Bresson, Elliot Erwitt, and Marc Riboud, all shot with Leica cameras, giving rise to So's interest in the German brand.
Starting in his 30s, So began collecting Leica cameras — a lot of Leica cameras. The F11 Foto Museum has roughly 200 cameras on display, with many more safely tucked away in storage. Among So's prized collection is a rare 1960 M2 model made for the United States Air Force and an olive green military model built for the German Army.
"I started to look back at the early Leica models from the 1920s and discovered that there were many special models made," says So. "The stories were just amazing, fascinating, and endless — how they influenced photojournalism and how they started to make available small cameras, when people were all carrying big wooden cameras."
Collecting that many cameras takes considerable time and effort, even with financial resources. "If you want to be a successful collector, I believe you need to be very patient," observes So. "You cannot hope that you can get everything all at once, even though you may have the resources."
"I am convinced that I bought too many and I have run out of space for everything," So remarks humorously. It's not the worst problem for a camera-oriented museum to have.
The museum is more than a showcase for So's camera collection; it also offers visitors interesting historical context. Some highlights include a camera made specifically for Queen Elizabeth II.
"She was not only interested in photography, she was also a Leica user. They made quite a few cameras for the Queen over the years and Leica always had a spare ready, just in case the one she was using required repair," So explains.
Leica made the Queen an M6 in 1986, a year that holds special significance for Leica fans in Hong Kong, as that's the year Queen Elizabeth II visited Hong Kong.
Also on display is a camera that once graced the desk of Leica's famed founder, Oskar Barnack. Along with the camera, the museum's collection includes one of Barnack's notebooks and the repair record of many cameras that passed through an early Leica factory. It's a "very precious item," says So. "I have never seen another one."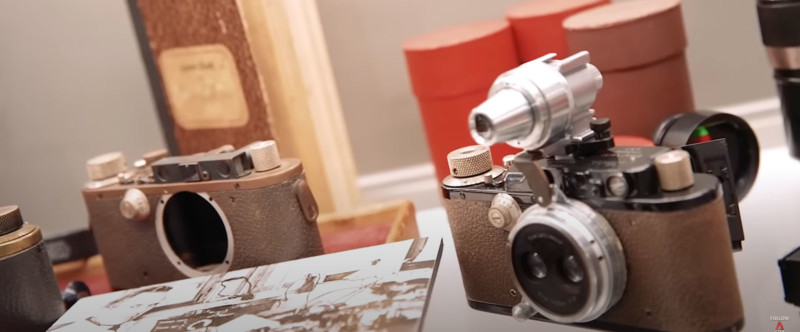 So wrote a book, "Black Paint Leica," in 2017 with 11 other Leica camera collectors in Hong Kong. The book focuses on Leica's trademark unique black finish that shows wear over time. The age marks aren't a blemish for Leica enthusiasts but are dynamic character elements. The book's cover was specially designed to change over time, mimicking Leica's black paint.
The F11 Foto Museum is located in Happy Valley within a three-story Art Deco building from the 1930s. The building was restored by So, who, in addition to loving Leica cameras, also has a passion for heritage conservation. So hopes that his restoration of the building, and the museum inside it, might inspire further private conservation of other heritage buildings in Hong Kong as the city continues to develop and modernize.
The F11 Foto Museum also aims to promote photography through specially curated exhibits of rare cameras, books, and photographs. The first floor has photo exhibitions, while the second story is dedicated to cameras. The museum has around 1,500 books.
The museum isn't So's only artistic venture. In 2017, he opened F22 Foto Space on Salisbury Road, Kowloon, Hong Kong. F22 Foto Space offers visitors a look at the work of photographers, contemporary artists, and creative designers.
---
Image credits: Screenshots via ThreeSixZero Productions, CNA Luxury