DJI RS 3 Mini Review: Size Isn't Everything
DJI's RS 3 Mini is a scaled-down version of the popular RS line of gimbals that supports a lighter payload and has scaled-down motors and a more petite frame to accommodate today's lighter mirrorless cameras — but doesn't skimp on features.
I've spent a lot of time at media events around video creators (even before I became one myself) and have noticed with amusement the particular gate and stride of someone using a handheld gimbal to combat camera shake. A duck-like side shuffle accompanies a curved posture as most creators strain a bit at the combination of heavy camera gear and the weight of the gimbal itself. It's like a ballet designed to create as little movement as possible.
Traditionally gimbals have been heavy, with powerful motors needed to offset the weight and gravitational forces associated with swinging a camera around smoothly enough to make footage that looks like it's coming from cameras floating on air.
Even the recent—and much lighter than its predecessor—DJI RS 3 was a heavy beast, weighing in at 2.8 pounds (1.3kg) unloaded. That's almost exactly the weight of a Canon C70 cine camera, so that combo is already nearly six pounds without a lens. But these days, that bulk could be more manageable. Most hybrid cameras come with in-body stabilization that, while not as good as a gimbal, works for a wide range of everyday shooting situations.
Most hybrid cameras are also much lighter than their DSLR progenitors and lighter than their cinema counterparts, even though some have the same internals as cine systems.
At the same time, outlets like YouTube and TikTok are drawing in new creators, and they're looking for ways to maximize the look of their footage, especially footage taken on the run.
With smaller cameras, faster shoots, and higher demand for quality content, it's time for a lighter, more efficient gimbal.
That is the premise behind DJI's $369 RS 3 Mini. While many miniaturized products scale back on features, the RS 3 Mini is as full-featured as the bigger models.
At 1.8 pounds, it is considerably lighter and easier to use than the DJI RS 3 and makes for a much less awkward gimbal-ballet while capturing smooth footage. And as another nod to today's creation needs, the RS 3 Mini can be converted in seconds to vertical shooting without needing additional hardware.
DJI RS 3 Mini: Size and Capacity
DJI has made it clear who this gimbal is designed for, as their specs and marketing reference a Sony Alpha 7 series paired with the 24-70mm GM. Of course, DJI's compatibility list includes all the major camera models (when paired with a light enough lens) but stops short of cine-cameras and heavier "pro" bodies like the Nikon Z8 or Canon R3.
The RS 3 Mini is 1.75 pounds (795 grams) in portrait mode and 1.8 pounds (805 grams) in horizontal mode, which is 50% smaller in overall size than the RS 3 Pro. To be clear, it's not half the height or width but half the overall volume, so it's smaller, but it's more like a Clydesdale compared to a regular-sized horse than a Clydesdale compared to a pony.
The lighter weight in portrait mode is due to the lack of need for a horizontal stabilizing arm when the camera is aligned vertically — the arm comes off during this type of shooting.
Battery life is a claimed 10 hours, though I never needed to shoot that long at one time. I did go several days without charging it and never had issues with the remaining battery power.
The RS 3 Mini has a lovely color touch screen that makes it easy to set up the gimbal and straightforward to go through settings, even in low light.
The controls are well placed, although the record and mode buttons are too far to the right for my liking. When stopping or stopping a recording, I'd often find myself tilting my hand at a weird angle to hit the button or just reaching over with the other hand to start or stop footage.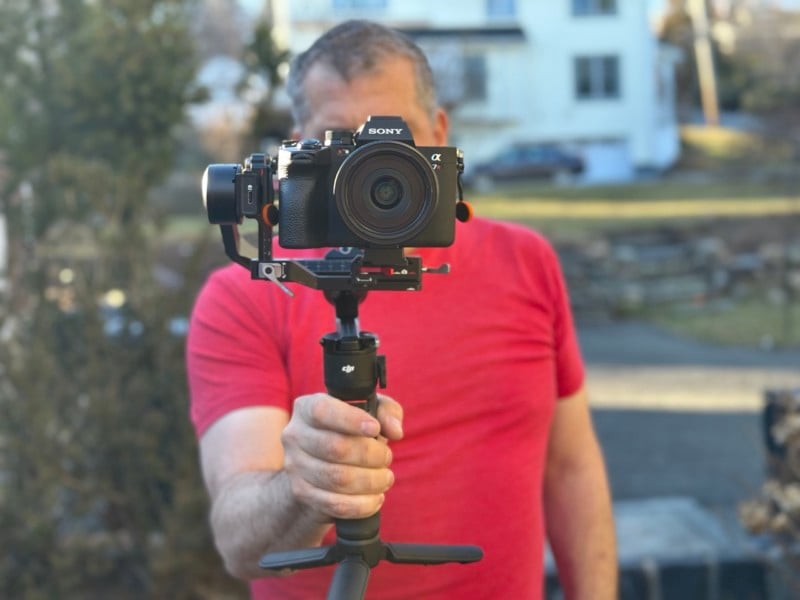 To hit the buttons, you need to press them with your thumb, but the thumb is holding the gimbal upright, with a tight grip on the gimbal. Reaching the thumb around destabilizes holding the gimbal for a moment, at least in my experience. So that's not the best experience.
The grip also functions as a Bluetooth controller for attached cameras, enabling starting and stopping of recording and controlling zoom, ISO, and other functions (if supported by the camera).
One final note on controls: I seem almost incapable of pushing the pan/tilt/roll joystick in the correct direction, and I often ruin a shot by accidentally tilting when I want to rotate. Luckily the touch screen can be used to quickly select gimbal motion modes, which has saved me from ruining many a good shot with a push on the wrong axis.
In addition to selecting between PF, PTF, and PFV modes, the camera can be custom configured to allow any of the axis to be free or locked. A 360 mode allows the camera to be rotated in a circle on its axis.
DJI RS 3 Mini: Setup
The RS 3 Mini has a newly upgraded mounting plate with a small rubber bumper that snugs against the front of a camera body and prevents the camera from twisting. It worked very well with all the cameras I tested the gimbal with.
All of the gimbal locks are well-engineered and easy to engage, and small sliding nub locks at each motor allow for quick locking of an axis to balance the system.
This balancing is where I found some issues with the lightness of the RS 3 Mini. I often found myself in a back-and-forth war with the internal calibration display, trying to get the camera mounted perfectly. I'd slide my camera a little to the left, as per the indications on the LCD screen's setup guide, and then suddenly find the axis way too far to the right.
Sometimes I configured the gimbal, and it would work fine, but as I combined a tilt with my hand and a roll to the left or right, the camera would flop a bit on one axis, and I'd have to set it up again.
It's also possible (thankfully) to configure the directions of the joystick in the DJI Ronin app, which I have done for tilt motions.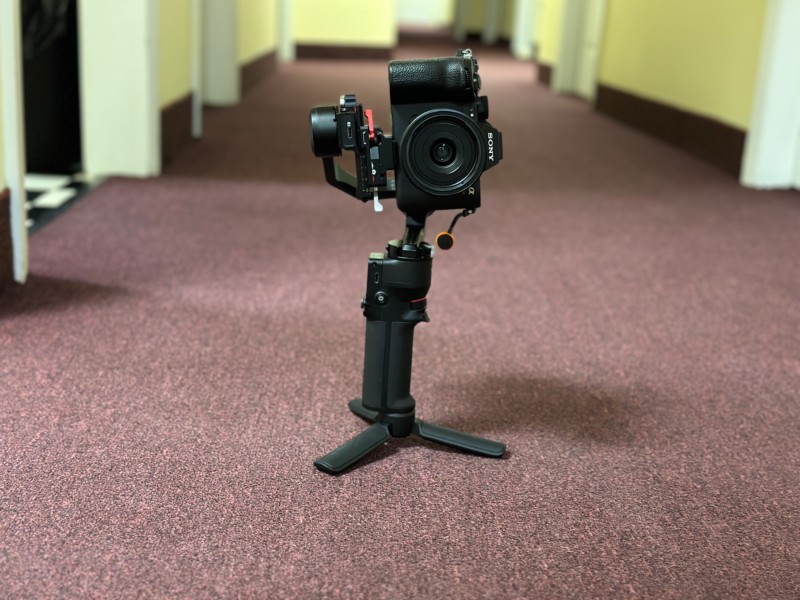 While the DJI RS 3 can hold a Sony a7 and 24-70mm GM, most users must remember that zooms with a long telescoping barrel will only be adequately balanced at specific focal lengths. However, the adjustments aren't major since most lenses only extend or retract a small amount at the focal lengths typically used on a gimbal.
My biggest issue with the DJI RS 3 Mini is, well, how small it is. At least, how short the grip is. The handle feels very similar in size and shape to a solid pistol grip and doesn't require much purchase for low-angle horizontal shots.
The RS 3 Mini comes with an additional tripod leg support for the bottom, and I use this nearly consistently for added purchase when holding the unit for low-level shooting.
There is also a NATO-style connector on the side, and I would add either DJI's Briefcase Handle or a third-party handle from a company like SmallRig to configure this.
DJI RS 3 Mini: Looks Can Be Deceiving
The footage shot with the DJI RS 3 Mini looks excellent, as I expected from a company that makes the majority of gimbals used by today's creatives. While IBIS systems are great, there's no denying that a gimbal can create a better bit of stabilized footage than almost any internal system.
The only solutions I've seen that look more natural come through post-processing of footage that's been shot on a camera that captures gyro data, like Sony's cameras and Blackmagic's systems. That post-processing adds a lot of time to production. It results in crops that are hard to anticipate and footage that can't be quickly evaluated for stability while on location.
If you plan to use a heavier camera system or long lens, go for the regular RS 3 instead of the RS 3 Mini, as it has more powerful motors and better overall operation, especially for larger setups.
Are There Alternatives?
The next closest alternative to the $369 RS 3 Mini are DJI other RS 3 series of gimbals (the standard and pro versions), and those options only are pretty much a necessity with heavier camera systems.
Zhiyun, another Chinese gimbal manufacturer, also makes a similar device called the Weebill 2 which has a similar price and weight limits, along with a larger screen and an ergonomic grip handle for low shots. The slightly more expensive Weebill 3 handles camera weights similar to the standard RS 3 and also features a built-in mic and built-in light, plus integrated wrist support to reduce fatigue when shooting single-handed.
That said, I've never seen a Zhiyun Weebill in the wild, nor do I know anyone who has used them, so I cannot vouch for them.
Should you Buy It?
Maybe. If you're using a camera system that fits the weight requirements, it is the perfect stabilization system for today's mirrorless cameras and works exactly as promised.