Adobe Premiere Pro Gets Automatic Tone Mapping for HDR Footage
Adobe Premiere Pro is getting a few feature upgrades today including the long-requested ability to automatically tone map high dynamic range (HDR) video files.
Automatic tone mapping has been added to make it easier for editors to work with different types of footage and different color spaces even if they're in the same sequence on a timeline. Editors should now be able to mix and match camera media like Log footage, hybrid log gamma (HLG) clips, and other HDR formats in rec709 (standard dynamic range) sequences and keep colors consistent.
"With automatic tone mapping, there's no more risk of clipping your highlights," Adobe explains.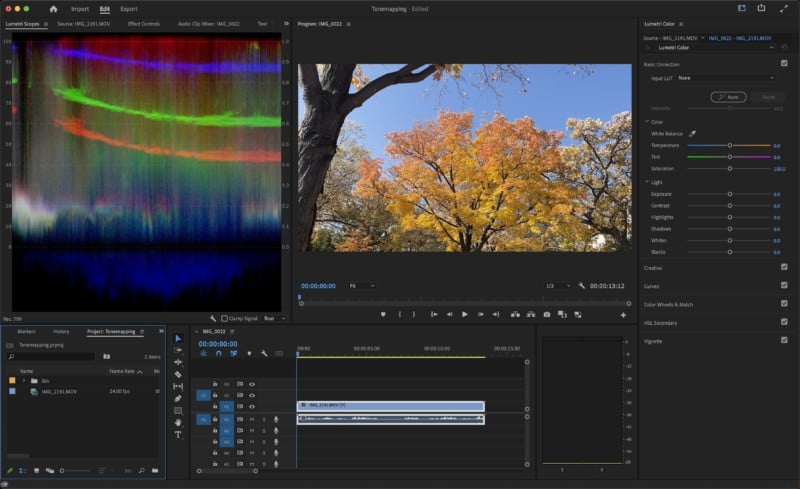 "Premiere Pro automatically adjusts wide color gamuts to display accurately in your sequence without blown-out highlights. Tone mapping is enabled by default, so iPhone or HDR footage will display correctly."
If editors don't want tone mapping to be automatically applied, that setting can be toggled from the Sequence settings.
Premiere is also getting three other notable improvements: Seuqnce locking for offline editing, speech to text, and new reset options.
With Sequence locking for offline editing, users can edit a team project offline without creating conflicting versions of a sequence, and check in on edits when they are back online using the Publish button.
Speech to Text is now available in 16 languages with newly supported languages including Dutch, Norwegian, and Swedish. Finally, new launch reset options allow users to automate a previously manual system of maintenance and cleanup tasks.  
"Use the new reset options at launch in Premiere Pro to do regular maintenance and clean up of your system before updating to a new version of the app or to diagnose and troubleshoot app issues," Adobe says.
After Effects Gets Updates, Too
Adobe After Effects also sees an update today that adds OpenColorIO (OCIO) and ACES (Academy Color Encoding System) color management support. ACES is the industry standard for managing color throughout the life cycle of a motion picture or television production.
The integration with OCIO simplifies the ACES workflow and enables editors to work natively in ACES within After Effects. Production companies and VFX artists can now deliver into a larger post-production pipeline using color-accurate content with native OCIO support, including ACES.
Updates to both Premiere Pro and After Effects are available starting today.
---
Image credits: Adobe