The Winners of the 2023 Underwater Photographer of the Year Competition
The results of the Underwater Photographer of the Year 2023 competition have been announced and American photographer Kat Zhou has been named Underwater Photographer of the Year for her outstanding photo of an Amazon river dolphin.
The Amazon river dolphin, known for its iconic pink coloration, is the largest species of river dolphin, with adult males weighing up to 400 pounds (185 kilograms) and reaching more than eight feet (2.5 meters) in length.
Zhou's winning photo, titled "Boto Encantado," shows the beautiful dolphin above and beneath the water's surface at sunset.
"There's a legend among locals that river dolphins, or 'botos,' can transform into handsome men known as 'boto encantado' to seduce women," Zhou says.
"Though I did not witness the transformation, I was enchanted by these beautiful mammals in a different way. After seeing how botos would sometimes bring their beaks above water, I wanted a split shot at sunset. Though the water was so dark that I was shooting blind, this dolphin gave me a perfect pose and smile!"
Unfortunately, as human settlements pop up along the Amazon, people have harmed the vulnerable river dolphin population. Some are poisoned by mining operation runoff, others are caught in fish nets, and many are killed for use as fish bait.
"At first glance simple, then simply perfect. In dark, tannic waters, Kat has created a striking composition capturing this rarely photographed and endangered species in a precision composition. This is by far the best image we've ever seen of this species, whose numbers are declining at an alarming rate and whose IUCN's Red List status was worryingly updated to Endangered in 2019." the chair of the competition judges, Alex Mustard, says.
"It is appropriate that the Amazon, as the world's mightiest river, has produced our overall winner."
The 2023 edition of the Underwater Photographer of the Year competition received more than 6,000 entries from 72 countries. The contest is based in the United Kingdom and includes another award for British Underwater Photographer of the Year 2023.
Ollie Clarke, an English photographer now living in Australia, earned that distinction for his image, "The Swarm," of a whale shark, the largest fish in the world, hiding within a bait ball of smaller fish. The image was captured in Ningaloo, Australia.
"Whale sharks on the Ningaloo Reef are often accompanied by small groups of fish. The fish use the giant shark as a floating shelter. However, this bait ball was huge with a lot more fish than usual and much denser, so I was really excited to photograph it," Clarke says.
"Whale sharks are sometimes mislabeled as plankton feeders, but they are also active predators of schools of small fish. To me, Ollie's stunning image is perfectly timed as the shark pounces, switching from benign escort to hunger, mouth gulping down its prey," Mustard adds.
The annual Underwater Photographer of the Year competition places emphasis on conservation. Spanish photographer Alvaro Herrero is "Save Our Seas Foundation" Marine Conservation Photographer of the Year 2023. His photo, "Hopeless," shows a humpback whale dying of starvation following an injury sustained after being entangled in ropes and buoys.
"Taking this photograph was the saddest moment I've experienced in the ocean," says Herrero. "Especially because I have spent so much time with humpbacks underwater, experiencing eye contact, interactions, and seeing how the whales are such intelligent and sentient beings. The photo is a reflection of how our oceans are suffering, the product of man's selfishness and lack of responsibility. But I am, at least, happy that I could capture this moment and can now share it with the world and hopefully drive some real changes."
The winning images from additional categories can be seen below.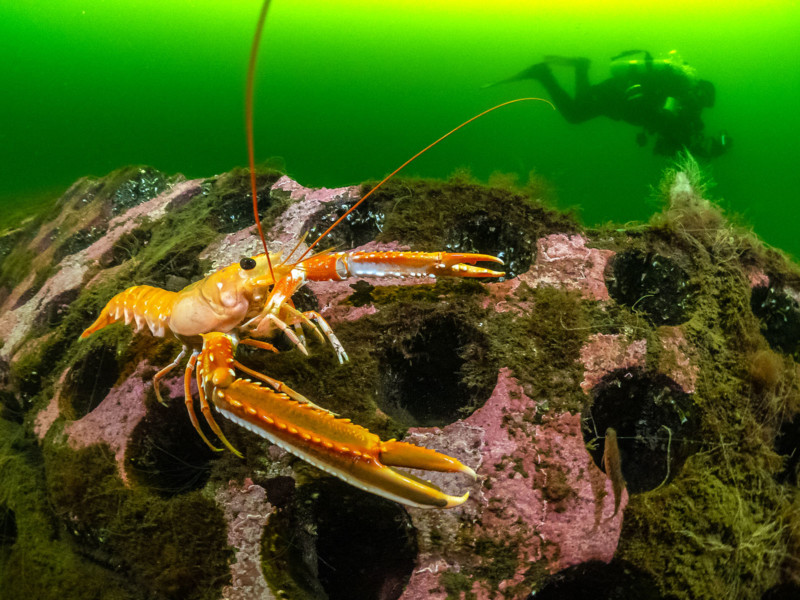 ---
Image credits: All photos are individually credited. The Underwater Photographer of the Year competition has been organized annually since 1965. The contest is held in partnership with the Save Our Seas Foundation, which has funded nearly 400 projects in over 80 countries around the globe.