These Scented Candles are Designed for Photographers
Photogenic Supply has produced three different scented candles that are designed specifically for photographers and to go along with different parts of the day: Blue Hour, Golden Hour, and Midnight.
Formerly known as TogTees before changing its name to Photogenic Supply in order to better fit its growing wide range of photography-inspired products beyond just t-shirts that it started out with in 2017, the company has been producing unique photography-inspired products that fit into general daily life.
For example, in 2021 it launched a line of pint glasses that were embedded with genuine 35mm film canisters which were harvested from local film labs and repurposed into "beautiful, durable hand-made pint glasses that celebrate a passion for film photography."
Now, Photogenic Supply has a small range of scented candles that are inspired by times of day that tend to be popular with photographers.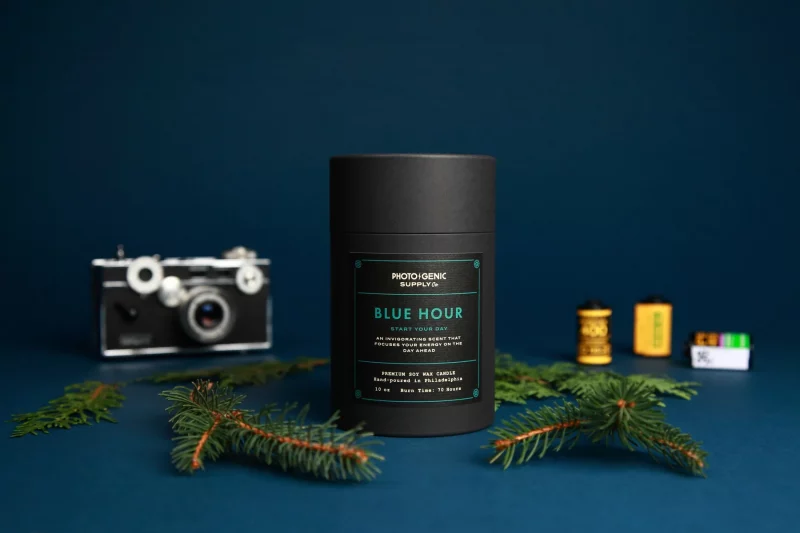 The Blue Hour candle is designed to be an "invigorating" scent that helps photographers focus on the coming day. Photogenic Supply says that it believes it is the perfect aroma to "awaken the mind and kickstart your creative juices at the beginning of the day." It features notes of cut pine, mint, and balsam.
The Golden Hour candle is described as a warm and nostalgic scent, "like the final rays of sun at the end of a perfect day." The company says it is an ideal aroma to enjoy as the sun sets and has elements of mandarin orange, sugared lemon, and sweet agave.
Finally, the Midnight candle is meant to be a calming candle to accompany the time before bed and is described as a "sweet release" that will prepare photographers for a "deep slumber." It features notes of mandarin, honeysuckle, and sandalwood.
All three candles are hand-poured in Philadelphia, Pennsylvania and are made with soy wax, fragrance oils, and feature a cotton wick. The candles are set in a glass vessel (which measures four inches by 3.25 inches) and weigh 10 ounces, which Photogenic Supply says is about 70 total hours of burn time.
The three candles are each individually available for $35, but Photogenic Supply also offers them as a bundle of three for $98.
---
Image credits: Photogenic Supply