What Major Cities Would Look Like Without Billboards
Visual pollution is when things like advertisements or unsightly cables negatively impact the aesthetics of natural or human-made landscapes, and it's particularly prevalent in the major cities of the world. But what would those cities look like with this type of pollution cleaned up?

The indoor air quality company
HouseFresh
decided to find out by taking photos of eight global cities and stripping them of all the visual pollution in the frame.
Here's what resulted:
Mong Kok District, Hong Kong, China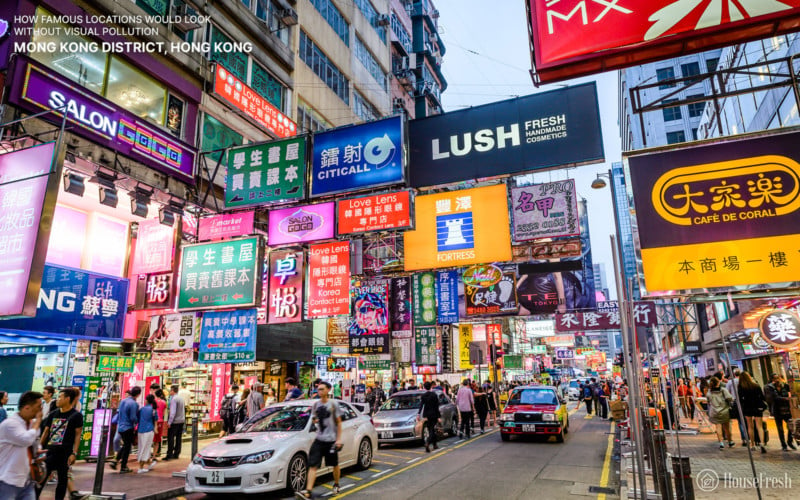 Delhi, India
Shibuya Crossing, Tokyo, Japan
Hollywood Boulevard, Los Angeles, USA
Las Vegas, USA
Piccadilly Circus, London, UK
Kampala, Uganda
This project was inspired by artist Rinat Rizvanov's images of Times Square without the ads.
"To create these unlittered versions of famous cities, HouseFresh first gathered a list of some of the most common types of visual pollution, such as adverts, branding, cables, litter, and more," the company says. "The team then curated a list of some of the most populated, and visually polluted locations in the world.
"HouseFresh worked with a talented visual artist to Photoshop out the details that caused visual pollution. The designers used multiple reference images including images from the past, to visualize how these famous locations once looked and reimagine how they could look without visual pollution."
The Problem with Visual Pollution
Common examples of visual pollution include billboards, display advertisements, vandalism, utility wires, litter, cell towers, dilapidated buildings, and more.
Research has found that visual pollution is a bigger problem than simply causing unattractive views of major city centers — studies have proven that it can cause everything from fatigue to anxiety and depression.
"Visual pollution is an aesthetic issue referring to the impacts of pollution that impair one's ability to appreciate a pleasant view," researchers wrote in a 2021 paper published in the International Journal of Advanced and Applied Sciences. "It causes destruction in the visual environment surrounding people by disturbing their surrounding sceneries.
"Effects of exposure to visual pollution include distraction, eye fatigue, decreases in opinion diversity, and loss of identity. It has also been shown to increase biological stress responses and impair balance […]
"Some studies indicate that being in visually disturbing environments may lead to chronic anxiety, sleep problems, and thoughts
that contribute to feelings of panic."
As awareness of visual pollution and its effects has grown, some governments are taking steps to mitigate the problem. Initiatives include limiting the number of billboards on the side of highways and imposing stricter requirements on the kinds of advertisements that can be placed in certain locations.