Unistellar's New eQuinox 2 Telescope Can See Through Light Pollution
Unistellar has announced the eQuinox 2, a smart telescope that it says is so powerful that even users in light-polluted cities and suburbs can gaze upon everything from planets in the Solar System to galaxies far beyond.
After forming a partnership with Nikon in July of 2021, Unistellar went on to produce the eVscope 2, what it called the world's most powerful and simple-to-operate digital telescope for consumers. While the eVscope 2 looked great on paper, in his review, PetaPixel's David Crewe found that it did not quite stand up to the lofty expectations set by the company's marketing. Image quality was lackluster and the overall product didn't seem to quite have a solid target market — it wasn't the ideal product for either beginners or experienced stargazers.
Unistellar is back though, this time with the more affordable eQuinox 2 that it says benefits from the latest advancements in optics and image processing. This second-generation version of this line of smart telescopes features Unistellar's Smart Light Pollution Reduction, which it says digitally removes the negative effects of light pollution which then enables users in heavily urban settings to view distant reaches of the galaxy and beyond in what the company promises are incredible details and striking colors.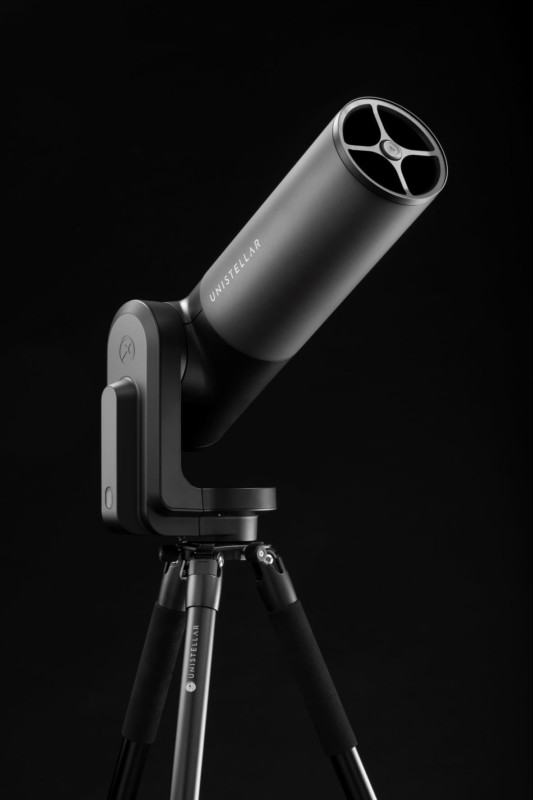 "The eQuinox 2 smart telescope puts incredible power in the hands of the general public and inspires a new generation of urban stargazers who can now enjoy an amazing voyage to the universe from their balcony and within minutes. Thanks to its unique technologies and its smart design choices, we are putting space within reach from anywhere, even from light-polluted cities," Laurent Marfisi, co-founder and CEO of Unistellar, says.
"Now, novice stargazers and amateur astronomers can enjoy stunning clarity, color, and hard to see details like the striking colors of the Dumbbell Nebula." 
The company says that the telescope also features what it calls Enhanced Vision technology, which allows it to "reveal" live, sharp, detailed high-resolution images in color even if the target is faint.
Unistellar says it has developed state-of-the-art live image processing advancements that stacks and live processes images that are seen by the eQuinox 2 to increase the contrast and color depth of images, which the company says can reveal details like comet Neowise's tail and the rings of Saturn.
The company adds that the eQuinox 2 also enhances the observation of solar system planets, such as Jupiter, Saturn, and Mars.
"For example, within a few seconds, urban stargazers can witness the great red spot of Jupiter and its colored bands," Unistellar claims.
The company did not provide any example images captured with the new telescope at the time of announcement.
The eQuinox 2 is entirely controlled by a mobile device such as a smartphone or tablet, which Unistellar says allows it to be used easily by even complete novices. Users can browse a catalog of over 5,000 celestial objects or get suggestions of interest from the device, and the eQuinox 2 uses its Autonomous Field Detection — what Unistellar claims is the industry's simplest and most powerful smart orientation technology for telescopes –– to orient itself automatically, even when few stars are visible, as it is usually the case from cities, to clearly pinpoint, focus and track its target.  
The eQuinox 2 smart telescope will retail for $2,499, with pre-sales starting January 3 and global availability in early 2023.