Photographer Becomes Internet Hit for Expired Film and Unusual Cameras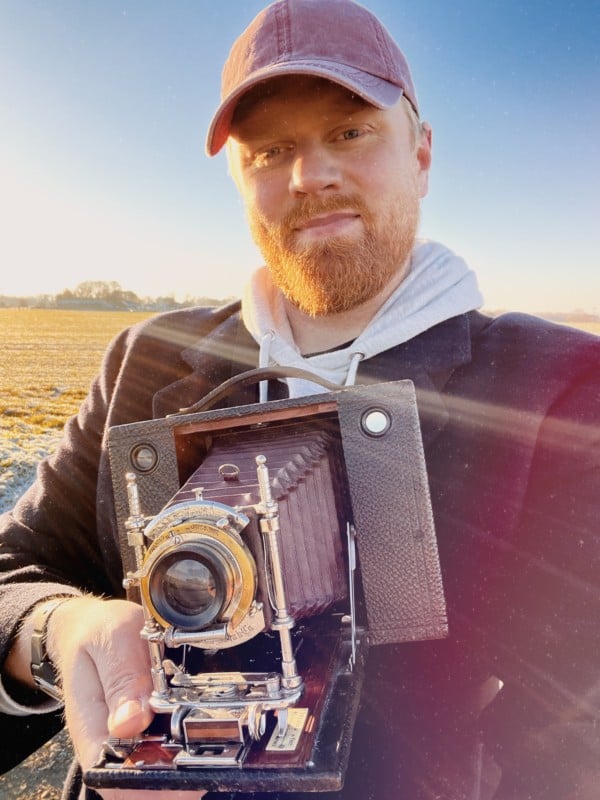 A photographer has become an online sensation taking pictures with expired film and unusual vintage cameras.
Miles Myerscough-Harris has amassed over 1.5 million followers on his TikTok page "Expired Film Club" and has carved a full-time career testing out-of-the-ordinary cameras and old film that he can find.
Miles has experimented with a No.4 Cartridge Kodak from 1897 to a Casio wristwatch camera from the early 2000s.
Miles tells PetaPixel about how he started Expired Film Club and some of the most memorable cameras that he has tried.
Looking at The World Through a Vintage Lens
Miles started buying old film after he became fascinated by the unique photos that he produced using "expired" film.
When he found himself with more time during the COVID-19 pandemic, Miles decided to record his experiments shooting with old film rolls and vintage cameras on social media.
"Expired Film Club all started during lockdown really," Myerscough-Harris tells PetaPixel.
"I had a bit of time on my hands, so I took the chance to really dive back into film photography as a way of escaping from the world a little bit.
"Through this, I started shooting more and more expired film, and I just loved the whole process of finding old rolls of film and getting interesting results from them, so I started documenting it on my social media."
He adds: "At the same time, I also started a little Etsy store as a bit of a passion project to pursue in my spare time, where I would sell lucky dip boxes of some of the expired film I had found and other film accessories.
"Amazingly it's all grown to the point of being my full-time job now!"
'Like Time Travel'
Miles, who is based in Oxfordshire, U.K, trawls eBay, antique shops, and thrift stores for expired film rolls and rare vintage cameras.
The photographer also says he has become "the person everyone comes to with their old cameras inherited from their grandparents."
Miles says: "My most viral videos tend to be ones where I'm using extremely old cameras.
"I guess it gives a weird kind of juxtaposition between old and new, in their own way it's a bit like time travel!"
Miles adds: "One of my recent favorites is an old No.4 Cartridge Kodak from 1897 that I found in an antique store.
"I just absolutely love the process and find it amazing to still be able to use a camera that's 125 years old to take photos of the modern world."
Miles also recently experimented with a sub-miniature TONE Hit-Type camera that takes 17.5mm film,
"It was difficult to use [the TONE Hit-Type camera] as the film itself is so tiny and you have to cut down 35mm film to the right size," Miles recalls.
"And as there isn't the paper backing to it you can't use the window to see which frame you're on, so I genuinely just shoot one frame at a time with it!"
A novelty Coca-Cola can camera sourced on Facebook marketplace and a Gameboy Camera with its own little printer are others that stand out for him.
Miles says: "I was actually one of the press photographers at a festival in the U.K. and shot one of the main stage acts with my Gameboy camera and loved the low-fi look of the results.
"I also loved the fact that every other photographer was there with a huge telephoto lens and I just had a little Gameboy!"
More of Miles's work can be seen on TikTok, Instagram, and the Expired Film Club Website.
Miles also sells film cameras and expired film on his store.
---
Image credits: Header photos by Miles Myerscough-Harris/Expired Film Club.