Robotic Cameras at the World Cup Tracks Players and Operates Via Playstation Pad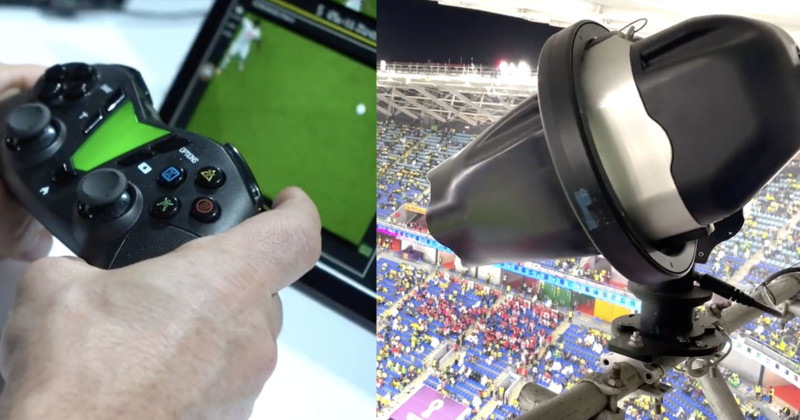 A news agency has lifted the lid on its robotic camera technology used at the World Cup which includes player-tracking technology that's operated via a Playstation controller.
Photographers from Agent France-Presse (AFP) shared a video of a technician explaining how the robotic system works.
"We're using [Nikon] Z9 cameras with a 100-400mm lens," the AFP worker says.
A video of our AFP robotic cameras that we are using currently during FIFA World cup 2022 in Qatar. Great technology. It can even follow aıtomaticly players which we choose. @AFPphoto @AFP pic.twitter.com/pQtTVgwW9r

— Ozan Kose (@ozannkosee) December 17, 2022
The Z9 mirrorless camera is housed inside a robotic pod that is extremely versatile.
"We have two motors inside controlling the lens," the technician says.
"You have the roll ring and you have the pod itself. The pod itself is what's housing the camera, the lens, and all the brains; so the network, the power, and everything for the camera."
The British technician explains how the team at AFP controls the cutting-edge device.
"We can take manual control with a control panel or through the software. Or we can actually use a Playstation controller to trigger photos and do minor adjustments," he says.
"We can track any player on the pitch or we can track the ball using the sensor in the ball as well."
The video shows shots of the software, at one point a projection of the camera's field of view is shown over the soccer field. The technician explains that the camera can track anything on the field of play so the camera doesn't lose sight of the player the agency is interested in.
"They have multiple cameras and they can track," he says. "I think it's something up to 10 points of the human body [that can be tracked]. They've gone into their system and gone 'oh, there's Ronaldo' click him and then the system will just know that at any given time following him that's where he is."
The amazing video was tweeted out by AFP photographers Ozan Kose and Glyn Kirk this weekend.
The World Cup ended on Sunday when Lionel Messi lifted the trophy for Argentina after the South American side saw out France on penalties after a thrilling 3-3 draw.