SpaceX Rocket Photobombs Couple's Wedding Picture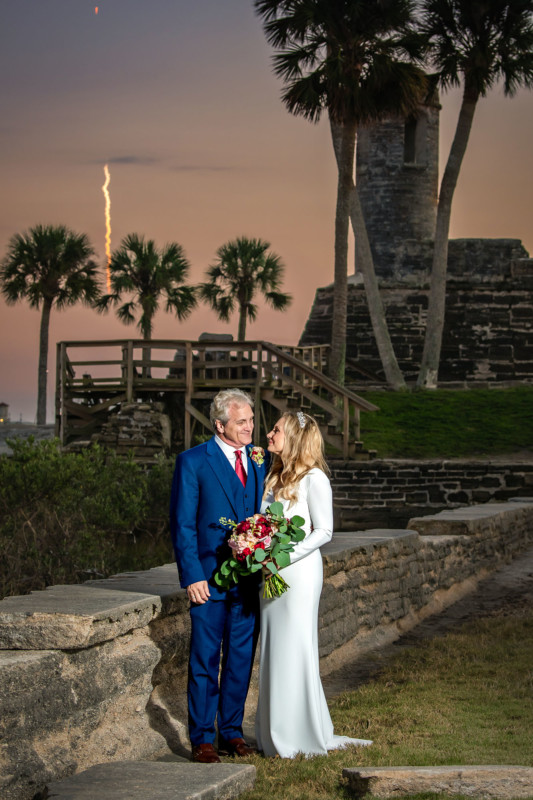 A pair of newlyweds were shocked and excited when a SpaceX rocket photobombed their wedding picture as it blasted off into space.
Photographer Jennifer Toegel tells PetaPixel that she knew there was supposed to launch on Thursday (December 8) and had organized to finish the shoot at sunset in front of the Castillo de San Marcos National Monument in St. Augustine.
"I had it in the back of my mind that if the launch went off, and if we were in the right spot, we could possibly see it," she explains.
However, the couple had no idea that a rocket was about to photobomb them with the bride Amy Vargo telling Fox 13: "It was very special and exciting."
Like any good photographer, Toegel put her knowledge of her local area to good use; in this case, the Kennedy Space Center.
"I'm based about an hour south of St. Augustine so we see them [the rockets] clearly but I wasn't quite sure if we'd be able to see it a little bit further north up the coast," she says.
"But we put ourselves in the right spot, I had the couple pose and got my camera ready. We did the countdown and there it was."
Toegel, who prefers off-camera lighting to natural light, had just 45 seconds as the SpaceX rocket delivering 40 OneWeb internet satellites into orbit blasted off.
"It took a little while to be able to see it, we knew there had been lift-off and we were all waiting for it to get high enough so that we could see it," she explains.
"When you've got something like that happening, you don't have time to play around and get everything perfect. I was just hoping that everything was as close to the right spot as possible so the subject would be lit and composition-wise we would see the rocket and the fort.
"There are definitely things I wish I could have done differently but given the time that we had to make this happen I'm definitely happy."
Toegel is a huge fan of the Nikon D500 and owns two of them, one of which she used for the rocket photo. She was also using a Godox softbox with a pocket flash.
Being a resident of Florida's Atlantic coast, Toegel regularly witnesses rocket launches.
"I've gotten them in wedding portraits on one other occasion and that was a surprise, we did not know that was happening. So since then, I've always kept it in the back of my mind that we could get it in the picture," she adds.
More of Toegel's work can be viewed on her website, Facebook, and Instagram.
---
Image credits: All photos by Jennifer Toegel.