Nikon Goes Retro with Special Edition 40mm f/2 Lens and All-Black Z fc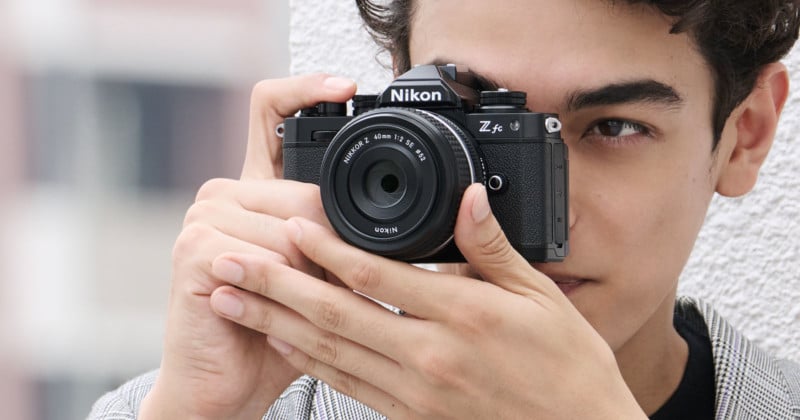 Nikon has announced a new special edition Z fc camera and 40mm f/2 lens that feature a "heritage design" that takes inspiration from the film era of Nikon cameras and lenses.
For both the camera and lens, Nikon made no operational changes, instead choosing to focus entirely on the aesthetics.
Vintage Vibes
This new stylized version of the Nikon Z fc is an all-black edition that Nikon says pays homage to the original color schemes and looks even more like the FM2 film camera that inspired it. Other than the all-black color, the camera remains unchanged from its original form.
The lens features more of a aesthetic shift and is visibly quite different from the standard 40mm f/2. Nikon describes the special edition lens as having "intricate knurling" that it says is based on a careful study of the original Nikkor lens designs.
The lens body has a substantial grip similar to manual lenses, yet also features modern design elements such as a control ring for customizable versatility.
"The Nikkor Z 40mm f/2 (SE) is simply a fun lens to use, with a fast f/2 aperture that makes it great in low light with a shallow depth of field that draws attention to the subject," Nikon says. "The lens is so small and easy to carry around, while bringing exceptional sharpness for street photos and candid portraits. It also offers a natural angle of view (60mm-equivalent when attached to a DX body) which is ideal for shooting portraits, stills and standard perspective videos with gorgeous, blurred backgrounds and excellent low-light performance."
Internally, the lens makes no changes over the original and features the same construction: six elements arranged in four groups along with a nine-bladed aperture diaphragm. The lens also apparently weighs the exact same 170 grams (six ounces) and is 1.8-inches long.
It also keeps the same small-diameter, high-torque stepping motor that powers the autofocus system, which Nikon says is "outstandingly quiet" as well as fast and accurate.
"With a distinctive and eye-catching design, the NIKKOR Z 40mm f/2 (SE) is a special edition of the NIKKOR Z 40mm f/2, and is an ideal match for the heritage-styled Z fc. The lens is small enough to accompany APS-C mirrorless cameras like the Z 50, Z fc or Z 30, while also a great light and compact "walk-around" lens for Z 5, Z 6II and Z 7II users," Nikon says.
Pricing and Availability
The new Nikon 40mm f/2 (SE) will be available in early 2023 for $310. The Nikon Z fc Black edition will be available in late November paired with the 16-50mm f/3.5-6.3 VR lens for $1,200, exclusively through the Nikon Store.