LA Parking Lot Transformed into a Giant Photography Theater
The work of 35 street photographers was recently shown off on a giant projector in a Los Angeles parking lot.
Projecting L.A. 2022 showcased the work of street photographers working in the local area in an unusual way. The photos had themes of homelessness, protests, tattoo culture, COVID, and more.
The above video was shown to a gathered crowd of about 1,000 people on October 22 who had to endure light rain as they were shown "the real story of the streets."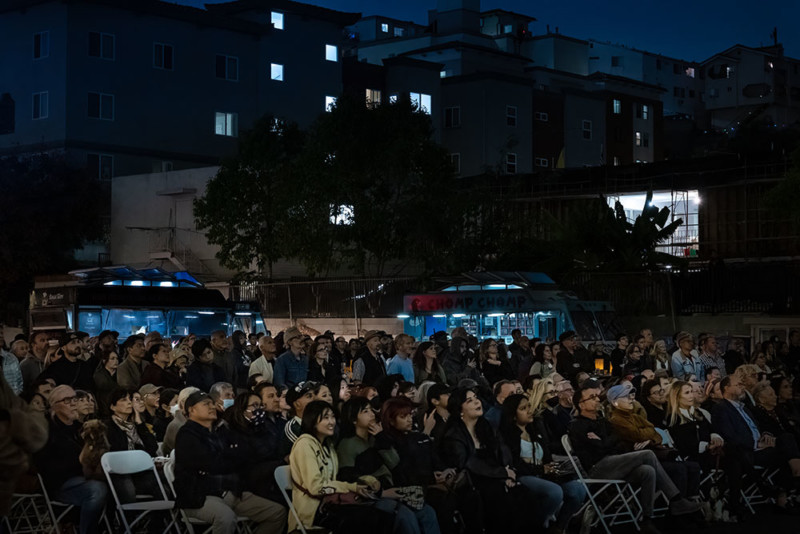 The event was put on by the L.A. project. Founder Julia Dean writes on her Instagram page that it was an extraordinary night.
"The outdoor location, the images, the sound, the crowd, the rain — it was magical," says production manager Lisa Bevis.
"Our dedicated and talented team plan to produce more free public events just like it (at least) annually. Stay tuned," adds Dean.
Projecting L.A. was the first public event hosted by the L.A. Project, an organization that brings together emerging and established photographers to capture Los Angeles.
"The mission of The L.A. Project photographers is to document our changing city during a dynamic and challenging time in its history and share the work in innovative ways," it says.
"We also plan to donate work to the DTLA library's impressive photography collection, so that our work becomes part of the historic documentary record of Los Angeles."
Dean is a photographer, educator, and the former executive director of the Los Angeles Center for Photography who has been documenting life in downtown L.A. with her camera for over a decade.
As noted by Hyperallergic, Los Angeles may not be as synonymous with street photography as cities like New York, Chicago, Paris, or London.
Part of this is down to the geographical sprawl of interlacing freeways found in Los Angles, whereas East Coast and European cities have more traditional pedestrianized centers.
"When I discovered street photography as an art form, everything was very much East Coast," photographer Louis White tells Hyperallergic at the event.
"At the end of the day, street photography is just about human connection," he adds.
The L.A. project's website can be found here.