Fujifilm X-T5: 40.2MP, 6.2K Video, and Better Autofocus in a Smaller Body
Fujifilm has announced the X-T5 camera which utilizes the company's fifth-generation 40.2-megapixel X-Trans CMOS HR sensor in a body that the company says is smaller than each of the three previous X-T cameras.
The X-T5 can captures 15 frames per second (FPS) with the mechanical shutter and 20 FPS with the electronic shutter (which also introduces a crop). At 15 FPS, the camera can capture a burst of ​​119 JPEG, 39 frames of compressed RAW, or 19 frames of uncompressed RAW. The shutter captures at speeds up to 1/8000 second, and Fujifilm says it has a 500,000-cycle lifespan. The electronic shutter has a maximum speed of 1/180,000 seconds.
The X-T5 utilizes a five-axis IBIS system that the company says provides seven stops of compensation. When used in Pixel Shift mode, the X-T5 can combine 20 frames, generating a combined image of more than 160 megapixels.
Fujifilm says that the X-T5 focus system features "a high number of phase detection pixels for impressive AF-S focus on a high-frequency subject… [and the] AF prediction algorithm offers stable focusing in AF-C mode."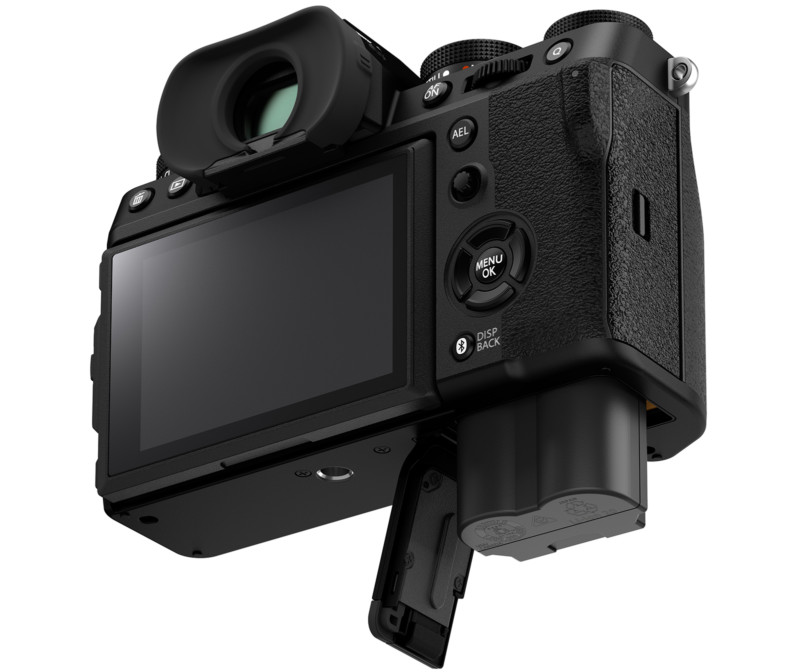 The X-T5 inherits an autofocus system developed in conjunction with that on the X-H2 and now utilizes "deep learning" technology to recognize animals, birds, vehicles, bikes, airplanes, and trains. The increase in Phase Detect pixels "has made it possible to focus on fine-textured subjects such as animal fur, grass, and trees."
The X-T5 features the system's dials for ISO, shutter speed, and exposure compensation. It includes a 3.69-million-dot EVF and a 1.84-million-dot, three-axis tiltable LCD.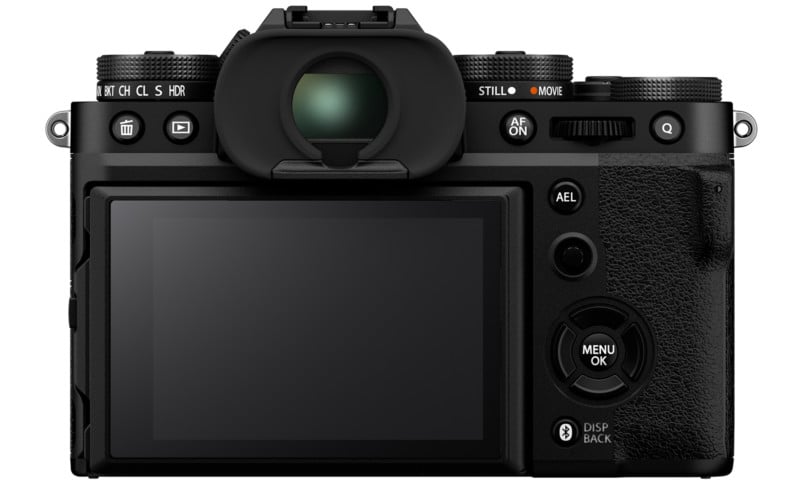 The X-T5 is smaller and lighter than the X-T4 and is only slightly larger than the original X-T1 (primarily due to the camera grip dimension.) At 557 grams, it is marginally lighter than the X-T4.
Video
Fujifilm outfitted the X-T5 with a host of high-end video capabilities, including the ability to record 6.2K video at 30p in 4:2:2 10-bit color. The camera oversamples video in 4K HQ mode, providing what the company claims is 13-stops of dynamic range when captured to F-Log 2.
Paired with an ATOMOS recorder, The X-T5 can record RAW video footage as 12-bit Apple ProRes RAW at up to 6.2K resolution and at frame rates up to 29.97p.
The X-T5 can also record to the Blackmagic Video Assist 12G, which can record Blackmagic RAW at the same 6.2K and 29.97p.
Accessories
Along with the camera, Fujifilm has also announced the MHG-XT5 grip, which it says "facilitates the user's ability to hand-hold the camera when a large-aperture lens is mounted."
Pricing and Availability
The X-T5 comes in black and silver colors and is expected to ship in late November for $1,700. The X-T5 paired with the Fujinon 18-55mm f/2.8-4 R LLM OIS will be available for $2,100, and another paired with the XF16-80mm f/4 R OIS WR will be available for $2,200.