Fujifilm's New Instax Printer Brings the Instant Film Look to Smartphones
Fujifilm has a new smartphone photo printer that gives the look of instant film without the extra camera.
The Instax Square Link Smartphone Printer creates prints that are one-and-a-half times larger than its existing Mini line of smartphone printers. The Mini creates prints that are 54x86mm in total, using the same film as Fujifilm's incredibly popular pastel-colored line of Instax Mini cameras.
Meanwhile, the new Square Link printer uses film from the Square line. The SQ1 sports a vintage body with modern coloring, but it doesn't seem to have the same recognition as the Minis. The film, for both the Square cameras and new printer are, of course, square in shape, evoking thoughts of Polaroid over Fujifilm — but that also means more space for images.
But this is a smartphone printer, meaning instant film lovers have more flexibility not only in how they take their pictures, but also in how they look. With the Square Link App, users can make edits to pictures like text and sketches. Fujifilm also showed off examples that feature QR codes alongside images. The QR codes allow others to scan for an augmented reality look at the photo for added special effects, which seems limited in use but could be great for party and wedding favors. It's also a good way to get favorite photos out of the cloud and into the real world. Photographers can also share the images directly to social media through the app if users want to share the photo beyond those who can see it in person.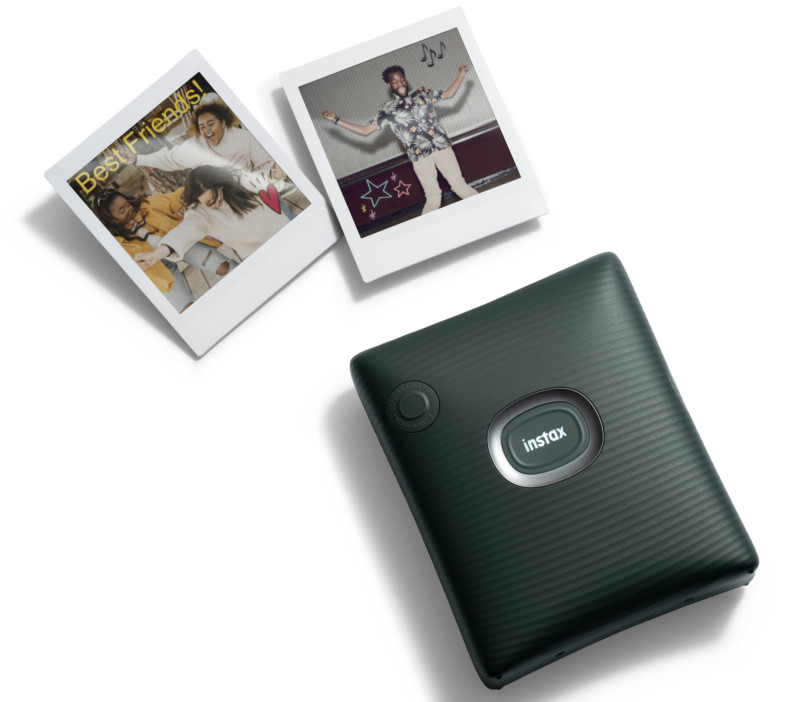 "As the leader in the instant photography and Smartphone printing space, we are excited about the introduction of Square Link. It combines everything our users love about our Instax Mini Link and Instax Link Wide products, with the popular Instax Square image format," said Fujifilm North America imaging division president Bing Liem. "Plus, with the growing global interest in Augmented Reality and other expanding technologies, the new App features of Square Link like AR Print and Instax Connect present even more options for users to connect, customize, and share images."
The Square Link Smartphone Camera costs $140 and is available in ash white and midnight green, a dark tone that's almost gray.