How We Shot a Halloween-Themed Liquid Death Spec Ad
Creating spec ads is an incredible way to grow as a filmmaker and photographer for two reasons: It allows you to build your portfolio It forces you to think outside the box and create projects that would appeal to the brands you would love to work with you one day.

But one additional thought to put into spec ads is any upcoming holidays that may help add a specific theme to your projects. Cody Jay of
Jackfruit Media
and Rafal Cwiok of
Unplug Productions
decided to create a series of Halloween-themed ads for Liquid Death. Liquid Death's products include simple mountain and sparkling water, both flavored and unflavored. Though you wouldn't expect it through their branding.
Cody and Rafal wanted to take on the challenge of creating an ad for each flavor: Berry It Alive, Severed Lime, Mango Chainsaw, Sparkling Water, and Mountain Water. Due to the nature of their flavor names and time of year, they decided Halloween would be the perfect theme to work with. They drew inspiration for each ad through the name of the flavor they were filming, and you'll see how when you watch each ad.
Due to the fact that this was a simple product shoot with only three lights, all ads were filmed inside Cody's garage (this also prevented the sound of the chainsaw from disturbing the neighborhood).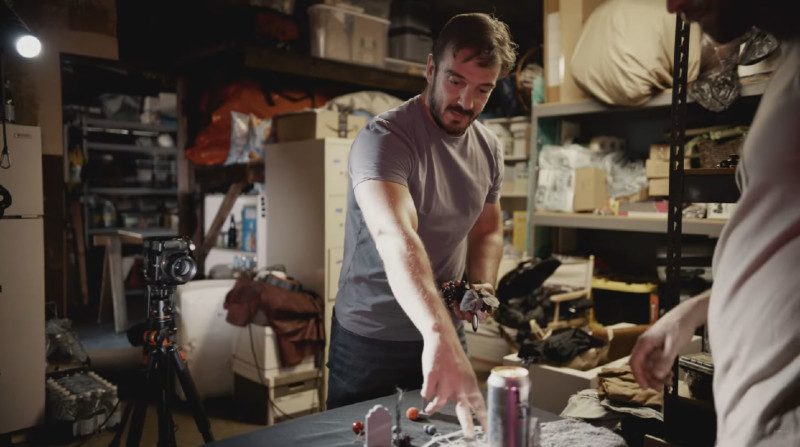 In order to prepare for the shoot, Cody and Rafal took a day to plan out their lighting setup. This helped them work out all the bugs and hiccups ahead of time so that they could focus on filming once it came time.
"I think it's important to remember that you don't have to have an amazing location to create product ads," says Cody Jay. "As long as you know how to light, set-dress it well, and use the right camera settings, you can come up with some pretty amazing ads."
Once their lighting had been set, Cody and Rafal took the rest of the day prepping the cans for filming. Since the cans were going to be destroyed, they needed to find a way to keep them in place. They decided to screw the cans into the table tops they were filming on. And so they cut the cans open, drilled a hole through the bottom, and screwed them into the tabletops.
"We wanted to make sure that our lighting made the brand name clear and easily readable, and that our set decorations complimented the flavors, without drawing attention to themselves," says Rafal Cwiok.
While shooting the ads, Cody and Rafal got all the essential coverage shots first. Because they only had three cans of each flavor, they only had three chances to get the images right. Before filming Severed Lime and Mango Chainsaw scenes, Cody and Rafal practiced what they would film. This allowed them to prep for what the filming would entail and catch any mistakes before they happened. It was also vital that they felt utterly comfortable handling a sharp knife and a chainsaw.
Here are the final still shots created from the shoot: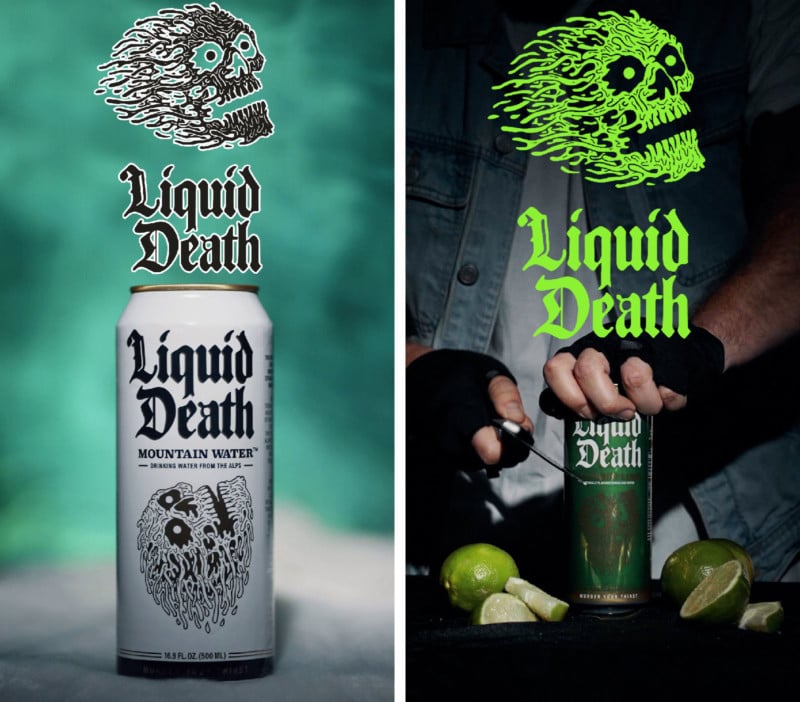 ---
About the author: Isaac Alvarez is a commercial photographer, director, and artist based in Los Angeles, California. The opinions expressed in this article are solely those of the author. Isaac is well known for his dramatic portraits that resonate emotions while giving the viewer a powerful insight into the lives of his subjects. His work is a reflection of contemporary/cinematic. While his images are often on the edge of any situation, photographing the situation is not nearly as interesting as photographing the edges of human emotions. You can find more of his work on his website, Twitter, and Instagram. This article was also published here.