Instagram's New Anti-Abuse Feature 'Nudges' Users to Be Respectful
Instagram has upgraded features on its app to protect users from abuse and help them block the accounts of trolls on the social media platform.
In a blog post today, Instagram announced that users will now be able to block all existing accounts of a person.
Instagram's new feature expands on an update launched last year that gave users the ability to not only block a single account, but also any new accounts that a person may create.
However, this update will go one step further and allow users to block existing accounts that a person may already have — making future interaction with them less possible.
"Based on initial test results from this new change, we expect our community will need to block 4 million fewer accounts every week, since these accounts will now be blocked automatically," Instagram writes in the post.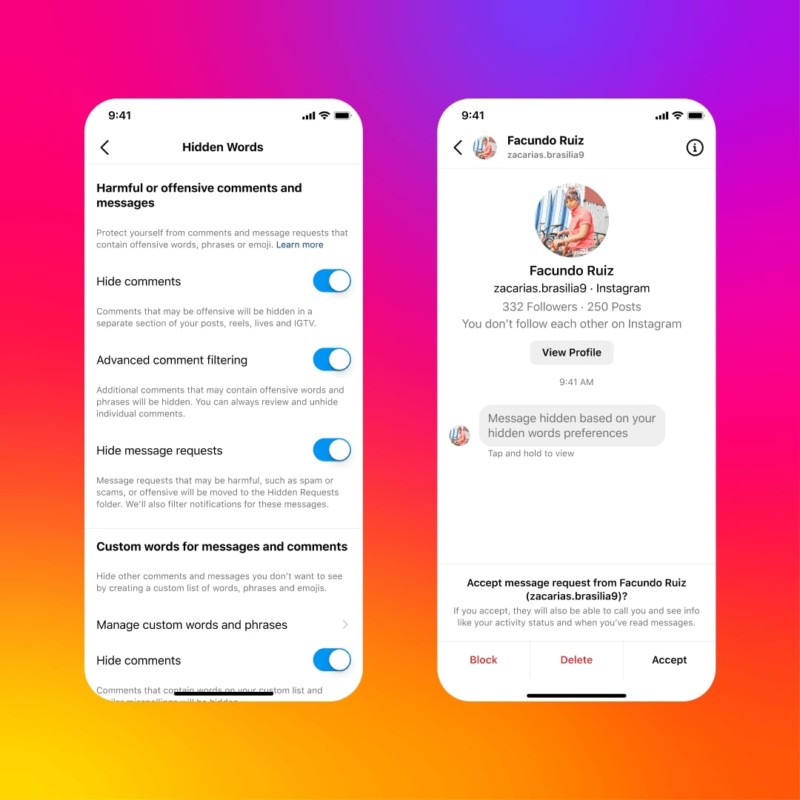 Instagram has also upgraded its "Hidden Words" feature that helps prevent users from viewing possibly abusive messages or comments. The company says that Hidden Words is being expanded to also cover replies to Stories and will automatically hide any offensive replies to these posts too.
In addition, the tool's filtering has been improved to spot intentional misspellings of offensive or abusive terms. Instagram also confirmed it was testing turning on the Hidden Words tool by default for "Creator accounts" — which are accounts with more than 1,000 followers on the social media platform.
Instagram also announced that it is expanding "nudges," which are designed to protect creators from harassment. According to the blog post, the app will start sending "nudges" to remind people to be respectful in comments as well as DMs when sending a message request to a creator.
"We've learned that there are cases where people mean well but may misjudge how their words could negatively impact others — especially when they're interacting online," the company writes.
Instagram adds "Now, a new notification will encourage people to pause and consider how they want to respond before replying to a comment that our systems tell us could be offensive," writes the company.
Instagram will be rolling out the reminder globally in the coming weeks.
---
Image credits: Meta/Instagram