Zoner Photo Studio X Update extends Native RAW and Tweaks UI
Zoner Photo Studio X has announced a new update that brings changes to the user interface as well as extends its support for RAW formats.
It's the second major update of the year for the Czech-based operation and it brings a "fundamentally new method for processing RAW files."
Previously, users needed to install third-party add-ons to work with RAW formats for dozens of cameras. Now, all full-frame mirrorless cameras are supported along with many other camera models, the full list of which can be seen here.
"A debugged DCP profile was added to each camera that passed through our newly-constructed program designer lab. This ensures colors are accurately interpreted by the program," says the company in a press release.
"This update is useful for any photographer that works on a calibrated monitor, as well as those photographers that shoot on more than one camera and need to deal with each one's color shifts."
Updated User Interface
The new Full View now offers an additional mode for working with photos. The company says that the new window will hide distracting elements leaving more space for comparing or editing.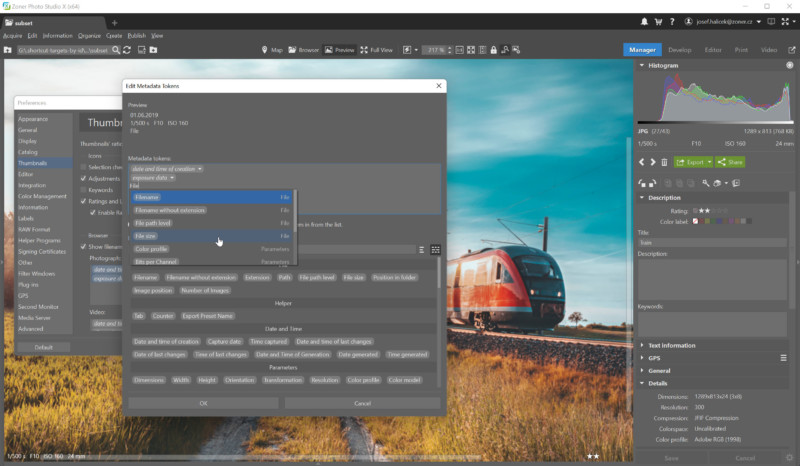 The way photo metadata is displayed has been tweaked with the user now able to set how metadata is displayed without the need to understand complicated format string codes.
Many photographers will create numerous folders and subfolders to help organize their work, Zoner Photo Studio X now offers shooters to the opportunity to customize how folders are displayed, sorted, and other settings.
Speaking of navigating through folders, the company has enveloped a way of going between photos and folders much faster while editing. It is now possible to go between edited photos by simply double-clicking without the need to switch modules.
"Our long-term goal is faster photo editing. We achieve this by gradually speeding up the algorithms, as well as modifying the program's interface," says product manager Honza Kupčík.
"Our goal is to have as few obstacles as possible between the photographer and their edited photo. One of these obstacles was the need to constantly switch between the Manager and Develop modules."
Windows 10 and 11 users can download the software for free as a one-month trial or subscribe for $59 a year or $5.99 a month..