Street Photographer's Stunning Series of Moment He is 'Caught' Taking Photo
A street photographer's stunning images seem to show the moment people "catch" him taking a photo of them.
Freelance photographer and filmmaker Itchban, shared a viral TikTok video of pictures that appear to show people making direct eye contact with him as he shoots street photography in New York, London, and Japan.
The fascinating clip amassed over one million views. However, Itchban explains that while his subjects might look like they can "see" his camera in the images, sometimes street photography isn't always as it seems.
Itchban's TikTok video shows images of three different male subjects in Japan "catching" the sight of his camera lens, a woman apparently "seeing" the photographer on the tube in London, and a dog humorously looking straight at him in N.Y.
Itchban, who has over 567,000 followers on TikTok, says that his image of the woman on the London tube caused a debate on the social media platform.
"I've had a few viral videos now and have witnessed people arguing in my comments section in five or more different languages using the translate feature which is both terrifying and amazing," says Lee.
"For this specific video, there was a lot of debate and argument about the third image of the woman I photographed on the London Tube," he adds. "Some were saying she looked mad."
The photographer, who is based in Sydney, Australia, posted a follow-up video of the sequence of burst images he took on the tube to show that the woman was actually smiling, and not angry at all.
"I think it is important to note that street photography isn't always what it seems. Although the photographs capture real-life moments as they are, sometimes the full context of the situation can be vague or missing," he says.
"As you can see in the follow-up video that I made on the image of the woman in the London Tube, she was not mad at all like the people in the comments were suggesting," explains Itchban. "The entire sequence of burst images that I shot happened in just over a second or two and it was just a small, lighthearted and fleeting moment of the lady's hair being blown around in the train. That was it."
"Part of the reason that I like the art form of street photography is that the viewer can inject and make up their own mind on the narrative of the image, even if it is not always accurate or correct," he adds.
Itchban has been shooting street photography since 2014 and uses a Canon EOS R5, with a preference for 85mm and 35mm. He also shoots on his Samsung S22 Ultra and experiments with film photography on Canon EOS film cameras. Itchban says shooting street photography has become an intuitive process for him now.
He explains "It is mostly intuitive now, but I think I look for photos which have vibes and a strong, clear narrative. I like photos where there is some sort of intrigue that allows the viewer to sort of read the story of the image."
"I like cool-looking, interesting characters who seem as though they'd have some good stories to tell," he adds. "I also like it when the people and location of the photograph capture the vibes of the city or area I'm shooting in — that unspoken feeling of the place."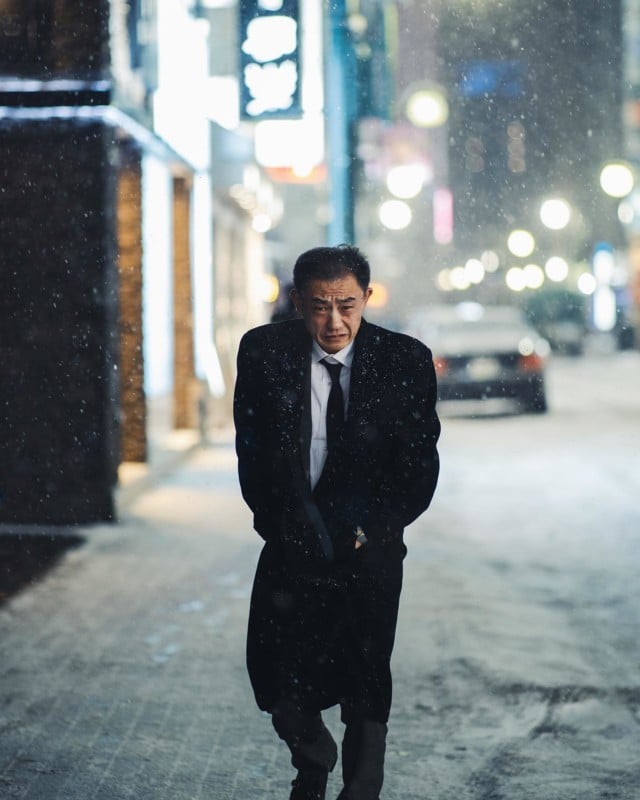 More of Itchban's can be seen on his Instagram, TikTok, and check out his website.
Image credits: All photos by @itchban