9 Tips For Capturing Wildlife in Motion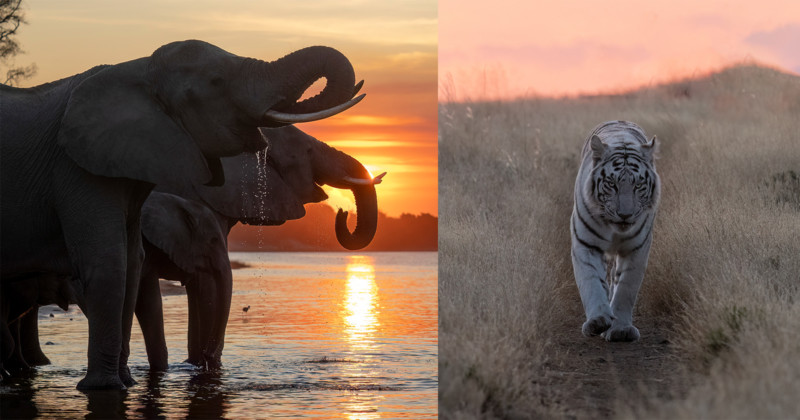 OM SYSTEM Ambassador and wildlife photographer Buddy Eleazer has traveled the world in search of unique moments that tell the stories of the world's most fascinating animals.
While Eleazer has documented wildlife across the globe with his OM SYSTEM OM-1 camera, he feels a special connection with the unique animals that roam the dusty plains of southern Africa. While capturing wildlife in their element is always captivating, Eleazer tells PetaPixel how adding a sense of motion to your photographs can tell a more engaging story of the animals' fight for survival in the harsh African environment.
---
Full disclosure: This article was brought to you by OM SYSTEM.
---
Read PetaPixel's review of the OM SYSTEM OM-1.
All Photos Taken with an OM SYSTEM OM-1.
Win a OM SYSTEM OM-1 camera kit and a 7-Day trip for two to the Galápagos with Lindblad Expeditions by entering our 'Wild Personalities' photo contest.
PetaPixel Wild Personalities Photo Contest

At a Glance
Look For Motion In The Small Details
When most people photograph wild animals, they generally look at the big picture. While Eleazer says there is nothing wrong with this approach, being able to tell a more engaging story by focusing on small details of movement can go a long way to being a better wildlife storyteller.
"These small movements in the details of the frame are often referred to as the 'gesture', a term made popular by renowned street photographer Jay Maisel," Eleazer says. "When you think about it, street photography and wildlife photography really aren't that different. In both cases, you are looking at a certain scene, and specifically, a certain subject, and waiting for something interesting to happen. If a man is just standing on the street, staring blankly, it can be an interesting shot, but not as interesting as a shot of the man doing something unique. Usually, this will come with some form of slight movement, and the same approach would apply to wildlife photography."
Eleazer says that the secret to looking for the motion in the small details is all about patience. He says that often, when you first see an animal, they most likely aren't doing anything interesting. To someone who is just starting to capture wildlife photography, this may be exciting to them, and Eleazer agrees that it should be. On the other hand, the photographer may wish to move along and see something else, hoping for some excitement. Eleazer emphasizes, however, that being patient and looking for the small details in motion can make your wildlife photos more dramatic.
"The 'gestures' are often very subtle, but they are a powerful way of telling the story of the animal that you are photographing," Eleazer continues. "Instead of just photographing an elephant at a watering hole as the sun begins to set, wait for that perfect moment as the water drips down from its mouth. One of my favorite examples of finding motion in the small details is a photo I took of Mishka, the only free-roaming white lion in existence. When I found her on this trip to Tiger Canyon in South Africa, she at first was just standing stoic up the hill. With the sun setting, I knew the stage was set for a remarkable photo if I was patient enough. After a while, she began to walk down the trail, giving me a dramatic look as her enormous paw lifted just slightly off the ground. It's the moments like these that can make the difference between a good wildlife photograph and a great wildlife photograph."
Convey a Feeling of Motion With Panning
Eleazer explains that this is the genre of wildlife photography that has significantly improved with his recent addition of the OM-1 Camera. He says this is due to the camera's exceptional animal tracking focus mode. Even though it is technically designed for dog, cat and bird tracking, he has found that it will track most animals running.
"I have noticed that my panning images have gotten much better since I got the OM-1, as it does a great job of keeping the focus on the animal's eye," he explains. "So all I have to do is have a steady horizontal movement as the animal passes me. That said, not every animal moves horizontally. A giraffe moves its long neck and head up and down when it runs, so it takes practice to get a good panning photo. My favorite subjects to capture panning photos of are the big cats. Predators are always locked in when they run, which means their eyes are focused on their prey and their head barely moves. With the OM-1, I am usually able to get a clean focus on the eye, but if the animal is too far away, I will focus on the shoulder instead."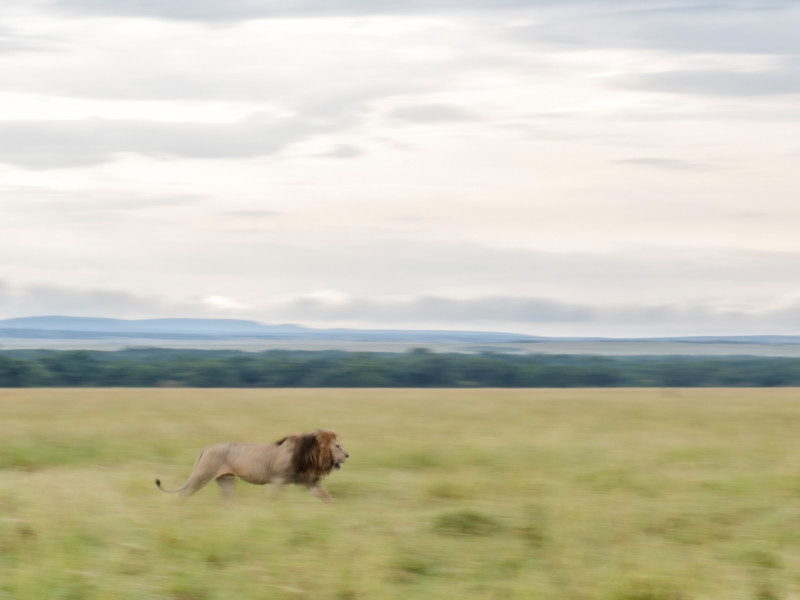 Eleazer says that the shutter speed is determined by how far away the animal is and how fast it is moving. He suggests starting with 1/15th or 1/30th of a second and quickly adjusting from there, depending on the situation.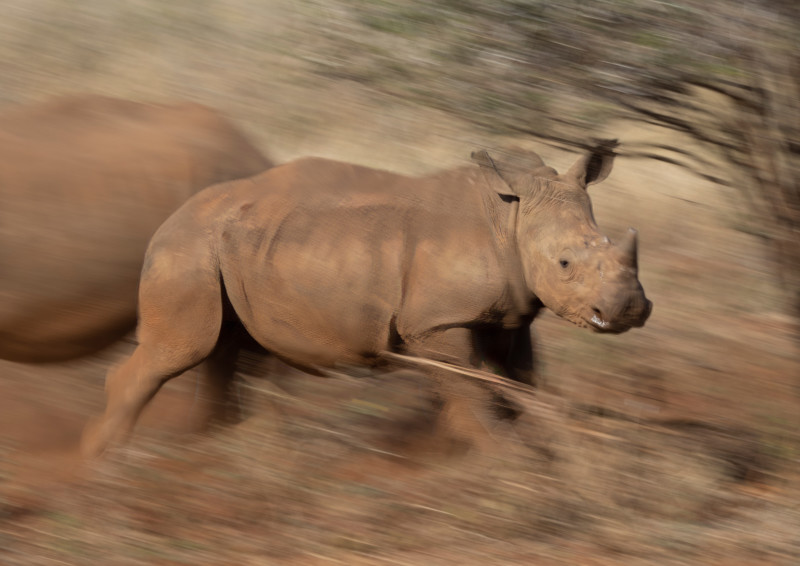 "If I feel like I got a couple good shots right away, I will slow the shutter speed down even more to accentuate the motion blur. With the OM SYSTEM's lightweight telephoto zoom lenses and impressive image stabilization, it is not difficult to steadily move my camera with the running wildlife at these slower shutter speeds. This smooth camera movement is critical to capturing good panning photographs that keep the animal in focus and static, while allowing the surroundings to blur away, highlighting the story of fast movement."

Lately, the veteran wildlife photographer has begun to incorporate a sense of place with his panning photographs. He encourages photographers to not be so focused on the tight panning shots, but instead, look for opportunities to showcase the harsh environment that the wildlife calls home.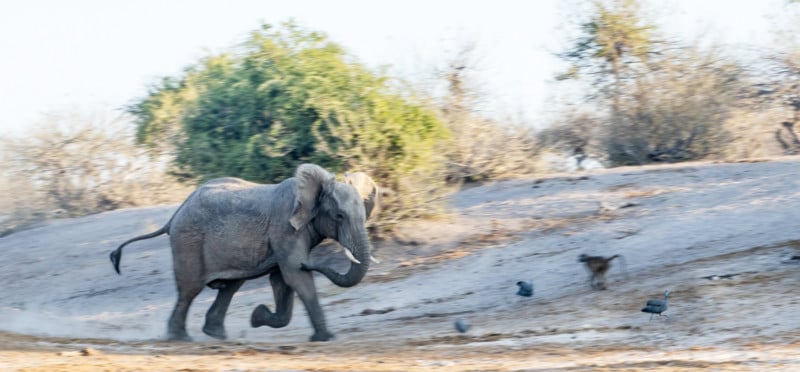 Eleazer explains that opportunities for panning photographs will arise quickly, so it is important to be prepared. "On the OM-1, I utilize the custom settings to quickly enter into my panning mode settings," he describes. "I have my C1 button set to mammal panning, and C2 is set for bird panning, as birds need a faster shutter speed to capture an engaging panning photo. I have set my C1 button to be in shutter priority mode, as that is really what I want to control. It's set to auto ISO, so I can be sure that I am not going to over or underexpose the image when the scene quickly unfolds in front of me. I also have the C1 button set to continuous animal autofocus with the drive on burst mode, which allows me to constantly track the action at a very fast speed."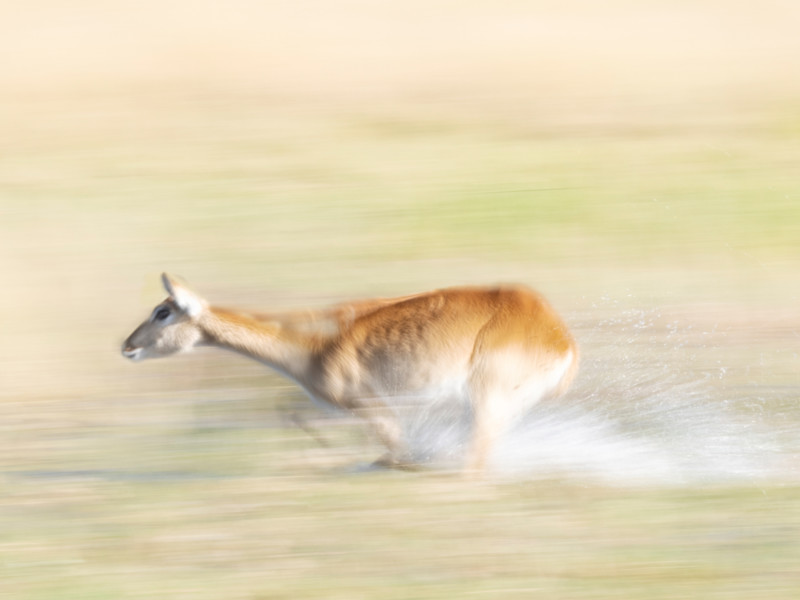 Typically, Eleazer finds the best panning photos will usually occur in the early morning or late afternoon, as photographing in the middle of the day will lead to very high apertures to accommodate the slower shutter speed. With the addition of the built in neutral density filter on the OM-1, however, he has successfully captured dramatic panning shots at an open aperture in midday light.
And lastly, he says that panning photographs don't always have to be on a horizontally moving animal. Eleazer says some of his favorite panning shots were 'zoom' panning, where he quickly adjusts the zoom during a slow shutter speed to create a forward to backwards panning effect.
Use Your Surroundings as a Dynamic Element
Often, wildlife photographers are so focused on the animal that they forgo an important storytelling element. Eleazer states that using your surroundings as a dynamic, added element can drastically improve your wildlife photography and storytelling.
For him, no place is a better example of this than Botswana's famous Okavango Delta. Between April and September, the annual floods from the rainfall in the Angolan highlands starts to reach the famed Okavango Delta floodplain, bringing countless wildlife and, with it, endless photography opportunities. The abundance of water and green foliage provides a stark contrast to the usually dry and dusty plains of southern Africa, which makes it all the more important to incorporate the entire scene to complement your wildlife photos.
Eleazer says that getting a unique view can help add the surrounding environments to your wildlife photos. In the case of the Okavango Delta, one of his favorite angles is from above.
"With such a massive floodplain, it's hard to capture the immense scale of the location from the ground," Eleazer says. "While you can get great photos in the Delta from low, the immense foliage can make it difficult to capture unobstructed views of the wildlife. From above, however, you are able to capture the wildlife, while at the same time using the surroundings to tell a more dynamic story, especially when the animals are in motion."
He explains that since the distance between the camera and the subject, and its surroundings, is so great, you can shoot at a wide open aperture and still capture the sharpness throughout the entire scene. On Eleazer's most recent trip to the Okavango Delta, he used the M.Zuiko 40-150mm F2.8 PRO on his OM-1, which is an 80-300mm 35mm equivalent. This range gave him room to photograph the up-close details of the animals, but also the ability to capture a much wider angle, which helped showcase the surrounding landscape. Having a fast aperture of f/2.8 also allowed Eleazer to keep his shutter speed quick, usually at 1/4000 to capture the movement of the wildlife as they made their way through the floodplains while also taking the movement of the helicopter out of the equation.
Look For Motion In The Darkness
While most wildlife photographers add to their portfolios while the hot sun beats down on the African plains, Eleazer says that one of his favorite times to shoot is after dark. He notes that, as opposed to bright daylight, photographers do not need to worry about distracting elements in the frame around the wildlife. With night shooting, a photographer can isolate the animals, showing movement that might be lost in the chaos of daytime light.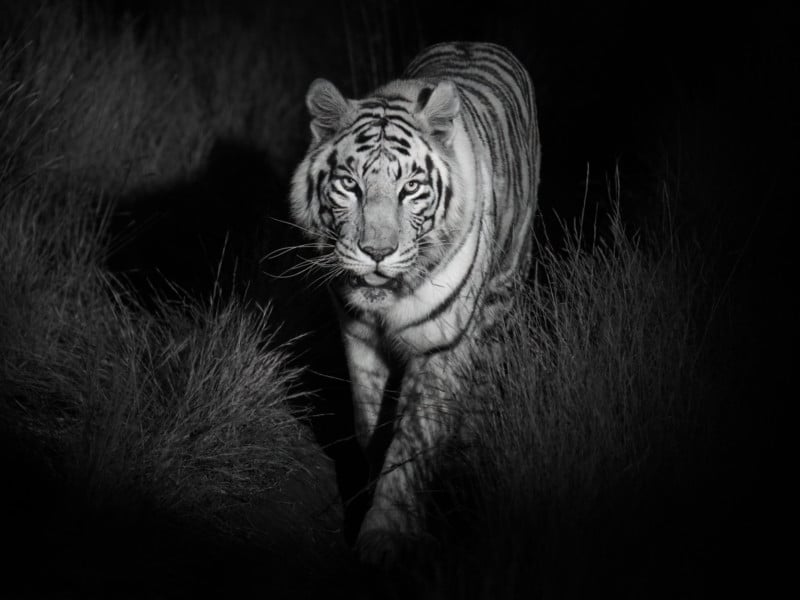 Many photographers may think that wildlife shares the same sleep schedule as people, but Eleazer says that isn't so. He notes that, for example, lions sleep 16 to 20 hours a day, and those four to eight hours of activity usually come under the cover of darkness.
"One excellent way to capture wildlife in the dark is to use special hides. In this lion image, I am in an underground hide next to a watering hole, shooting at near water level," he describes. "I have two dim LED lights both to my right and my left. The key to capturing these types of photos is to use constant light, as the wildlife will be used to it and hardly notice it. Cats and other animals have different eyes that do not get affected by night blindness, like humans will. We are very careful to never directly light up prey, such as impala or kudo as this could temporarily render them more vulnerable to predators. At these special hides, the animals are accustomed to the constant light and are very comfortable at night, as they would never approach a water source if they weren't comfortable. So if you do wish to capture artificial light photos at night, work with your local safari guide to make sure you are doing it in a way that is safe for the animals."
Eleazer says that, like his first tip regarding looking for small details of movement in wildlife, the key to night photos is to catch the subtle moments that add a story to the image.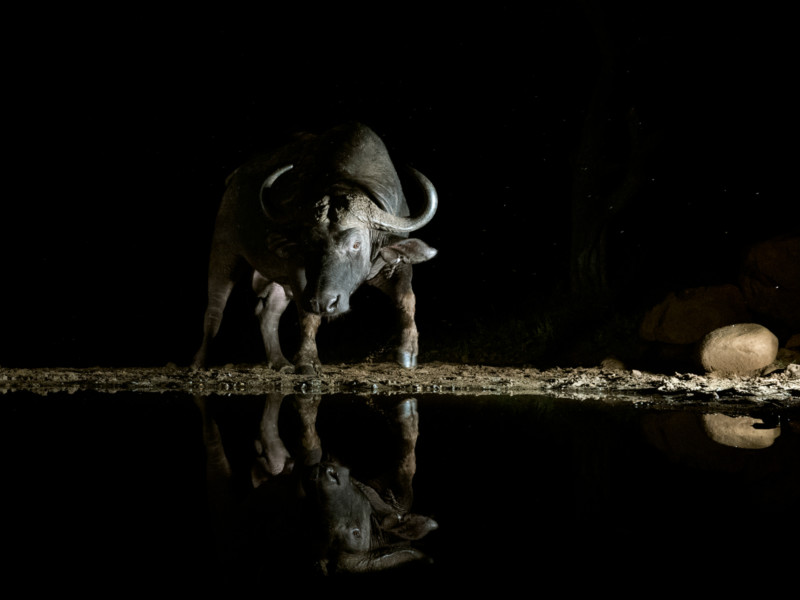 "I love this shot I captured of a Cape Buffalo as it turned its head while simultaneously stepping forward. Even though it wasn't much, that slight movement added a dynamic layer to the story of what it is like for these animals in the dead of the night."
Look For The Contrast Between Motion and Still
Eleazer recommends looking for separation between animals, and not necessarily focusing on clumps of animals. This approach is a great way to capture photos that show the contrast between wildlife in motion, and static wildlife.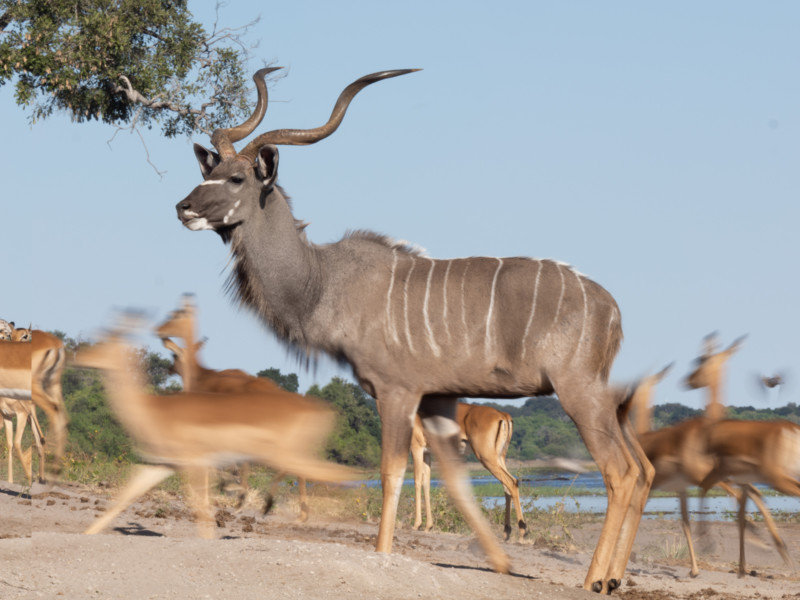 "I love capturing these photos," Eleazer states. "In my opinion, they make the viewer's imagination run wild. Why is one animal running, in what seems like a flight for survival, while another remains perfectly still. Do they not see the danger? Or is there another reason why one animal is running? Finding the contrast between motion and still is easy to spot when you are actively looking for it. For me, remembering the powerful storytelling these photos provide is the most challenging aspect of capturing these scenes. Often, we will be so hyper focused on one animal that we forget to look around them for secondary subjects that can add to the story. Especially if the subjects combine for a beautiful capture consisting of both motion and stillness."
Not All Motion Needs To Be Fast, But Be Prepared For It
Motion is a powerful tool for wildlife photographers to tell the stories of the subjects they are documenting. But Eleazer says that not all the motion that you focus on capturing needs to be fast. In reality, he describes, most motion in wildlife photography is slow. More often than not, animals tend to choose a leisurely stroll to conserve energy as opposed to a fast walk or a running sprint.
"Many first time photographers in my workshops are amazed at the slow pace of wildlife photography. While many of these animals, even massive elephants, are capable of remarkable speeds, the majority of their movements almost tend to look like slow motion. When I am looking to include motion on these slow moving scenes, I tend to anticipate what the animal will do next. If an animal is walking, I identify which paw and leg in motion would be the most dynamic. When I identify that, I simply track the walking animal, hitting my shutter at just the right moment to capture the photo I have envisioned."
"There is a misconception that one needs the shutter speed very fast to freeze motion or very slow for techniques like panning," Eleazer says. "There is a big range of shutter speeds in between that can be useful. In this photo of a baboon quarrel, the shutter speed is 1/250 of a second. Slow, but not that slow and easily shot even at the 367mm, which is 734mm in 35mm equivalent. These are the types of photos where my OM-1's excellent image stabilization is put to the test. By using this intermediate shutter speed, I was able to capture the dynamic movements of this baboon quarrel, but the shutter speed is fast enough to freeze the facial expression and eyes of the key subject of the image."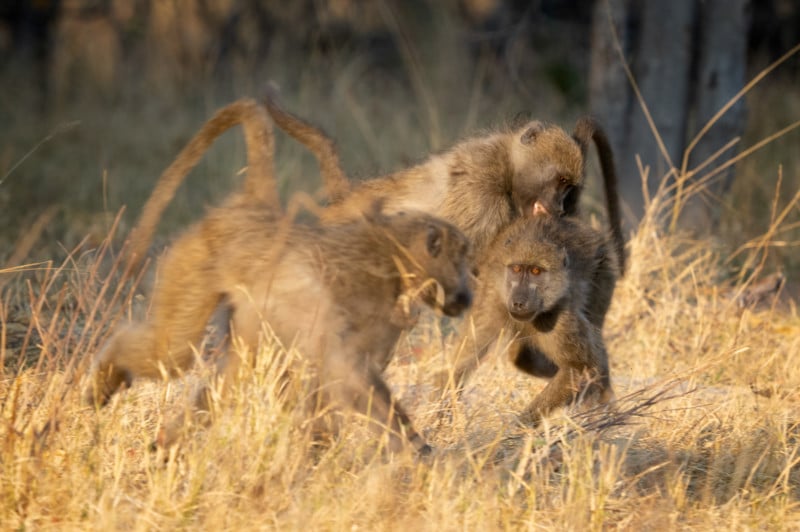 With that said though, photographers should always be prepared in case fast action breaks out in front of them. With decades of wildlife photography experience, Eleazer has a second nature for anticipating action before it happens. When he gets this gut feeling, he relies on the OM-1's Pro Capture Mode to ensure that he does not miss the shot.
"Pro Capture Mode has completely changed the way I photograph wildlife in action," Eleazer says. "With Pro Capture Mode, my OM-1 will capture the frames that were in my viewfinder before I pressed the shutter button, as the camera is constantly capturing the frames, but not writing it to my memory card until I press the shutter button. This allows me to wait for the moment without having to be stressed about pressing the shutter at just the right moment. As long as I have my composition and focus set, I just need to patiently wait for the action to happen."
There are two settings with Pro Capture, with each one having its pros and cons. With Pro Capture 1, the OM-1 is locked into fixed metering and autofocus, but will capture a staggering 120 frames per second. Pro Capture 2, however, captures 50 frames per second, but the autofocus will track with the subject and the metering will also adjust based on the scene.
Look For Motion Outside of the Wildlife
Eleazer is constantly looking for motion, but not all of it comes from the animals' bodies. "Raindrops and swirling dust are great examples of finding motion outside of the animal itself," Eleazer says. "In Africa, there is no shortage of dust, so be on the lookout for scenes that could be more dramatic with fast moving dust. Often, high winds can whip up dust storms that can surround the wildlife, but in calm conditions, look for dramatic dust created by a buffalo pawing at the ground or an elephant taking a dust bath to keep cool in the harsh sun."
Dust isn't the only motion to be found, however. Water is a vital part of life for wildlife in southern Africa, so adding this element can be a dynamic way to add to the stories that your photos tell.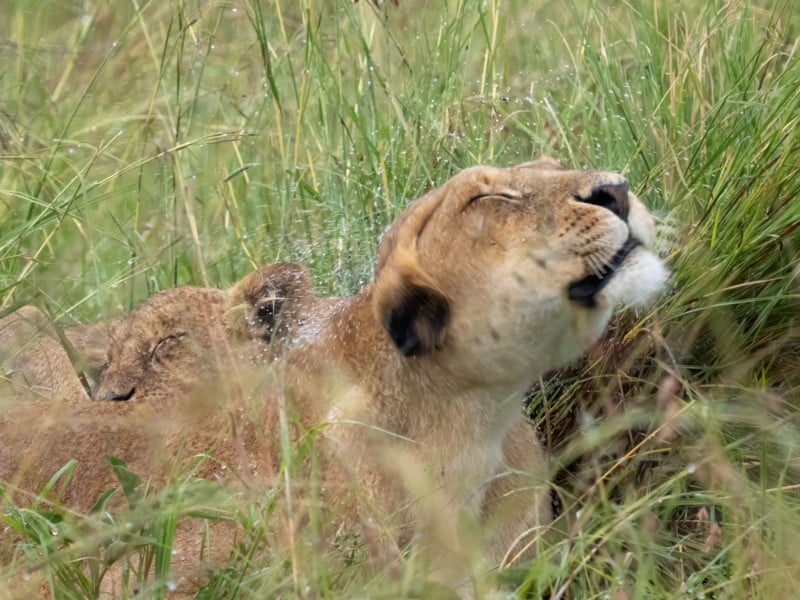 "Of course, rain is an incredibly photogenic and dramatic addition to wildlife photos," Eleazer explains. "But being that the majority of my wildlife photos are from Africa, rain is a rare commodity. If rain isn't in the forecast, looking for the way that animals interact with water can create interesting photos, such as a big cat shaking off his soaking wet mane."
Including motion from both the wildlife and the surrounding elements that the wildlife interacts with can add more drama to a scene, Eleazer says. "In this photo of a red lechwe bounding through the water, most would argue you want space for the subject to move into the frame so more space should be in front of the animal. For this photo, however, I felt that having the animal tight on the right helps convey the feeling that it is desperately fleeing a dangerous situation. I believe that adding the dramatic splashes added to the story of wildlife in motion."
Identify the Most Dynamic Body Position
As animals move, their body positions can change wildly. Eleazer emphasizes that body positioning in movement is a critical aspect to wildlife storytelling.
"These animals are powerful creatures. Whether they are the predator or the prey, the power they possess is enormous, so I am always looking for body angles that convey this feeling of power, but also grace. For me, the two photos below are a great example of how slight changes in posture over the course of mere seconds can change the way the viewer perceives the animal."
"In the top image the far front leg is stepping forward. This opens up the chest angle, giving more power to the lion and helping convey motion as opposed to the second image where the near leg is stretched forward. Often, animals are moving slow enough that it's easy to get the shots with the far leg stepping forward, creating a dramatic and powerful sense of movement."
With digital photographers having the ability to capture thousands of images, Eleazer says knowing the postures to look for in the field will help you become a better photographer, but realistically, knowing how to identify them as you comb through the photos on your computer is the real skill.
Look For The Connections Between Animals (Both Good and Bad)
When there is more than one animal in a frame, that adds a dynamic layer to the story you are trying to tell. But just capturing multiple animals often isn't enough. Trying to identify, and document, the connection between animals is an incredible way to tell a wildlife story. Eleazer recommends looking for interactions, such as lions cuddling or playing.
"One thing I always tell my workshop participants is that, if you ever see lions sleeping and you see one of them get up, get your camera ready because they are almost certainly going to another lion to re-establish a connection. Rubbing faces and grooming each other are common, which can lead to some remarkable, and adorable, photos. This is a great way to show that bonds exist in the wild kingdom just as much as they exist for humans."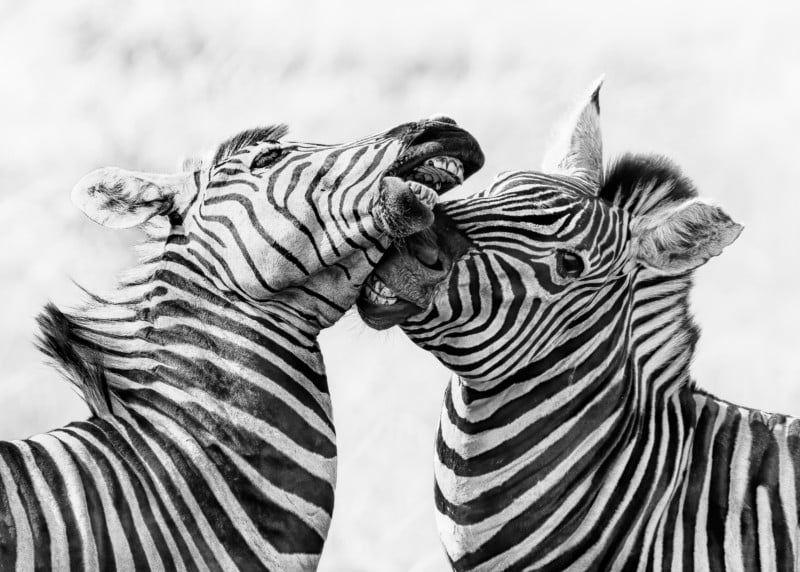 Another connection that Eleazer enjoys capturing is the fight for dominance between bison. These 'play' fights are anything but, as over the course of time, this will establish dominance within the herd.
He continues; "Not all connections between animals are enjoyable to witness, though. This is survival of the fittest, after all. Predators need to eat to survive. It's the circle of life. There is a popular saying; 'Nothing dies of old age in the bush.' If you are lucky enough to watch a big cat stalk, chase, and take down its prey, it's a fascinating, real-life look at how the world works, especially in the harsh lands of Africa. But, even though it is the harsh reality of life in the bush, these too are connections between animals, and it is an important part of the story that you wish to tell.
An Art Form That Is Impossible to Master
Eleazer has spent decades photographing wildlife in some of the most rugged locations on earth. The OM SYSTEM Ambassador has taught hundreds of wildlife workshops over the years, teaching his students how to incorporate motion into their wildlife storytelling. He emphasizes that to become the best wildlife storyteller possible, you should combine these tips with more well known photography techniques such as composition, silhouettes, rim lighting, side lighting, and creative depth of field.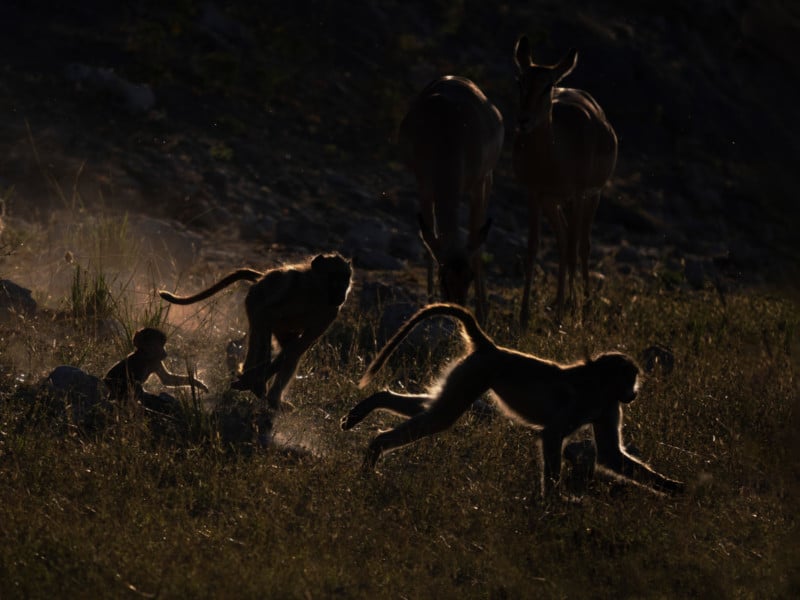 "Wildlife photography is a complicated art form that is impossible to master," Eleazer concludes. "In addition to possessing the skills to tell compelling visual stories about wildlife, the photographer also needs to have a little luck on their side as well. Often, wildlife photographers go days, weeks or even years without capturing portfolio worthy images. For me, that's the beauty of this art form. It's a reminder that this is their world, not ours, and that we are fortunate to even have the ability to witness it, let alone document it. I will never take that for granted"
More from Buddy Eleazer can be found on his website, Facebook, and Instagram.
---
Full disclosure: This article was brought to you by OM SYSTEM
---
Image credits: All photos by Buddy Eleazer