Win an OM SYSTEM OM-1 Camera Kit and a Trip to the Galapagos with Lindblad Expeditions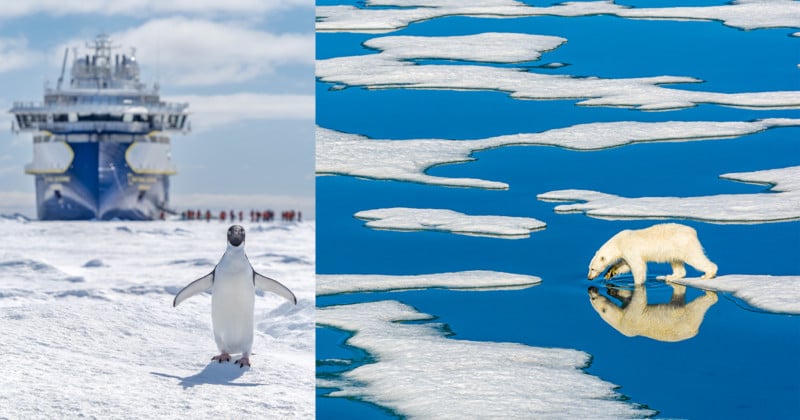 Have you ever dreamed of traveling to one of the most biodiverse locations on the planet? The Galapagos Islands, located 600 miles off of the coast of Ecuador, is known as a "living museum and showcase of evolution" where Charles Darwin's theory of evolution by natural selection was formed following his visit in 1835.

PetaPixel
is partnering with
Lindblad Expeditions
and
OM SYSTEM
to showcase your best wildlife photos in the
Wild Personalities Photo Contest
. The Grand Prize winner will receive an adventure for two aboard Lindblad Expeditions' brand new
National Geographic Islander II
(a $19,580 value). In addition, the Grand Prize winner will be able to photograph Galapagos' captivating wildlife with their brand new
OM-1 camera body
($2,199.99),
M.Zuiko 12-40mm F2.8 PRO II lens
($999.99), and
M.Zuiko 40-150mm F4.0 PRO lens
($899.99). The total value of the grand prize is $23,679.97
Four Finalist prizes will also be awarded. Each Finalist will receive a Olympus OM-D E-M5 Mark III camera body and M.Zuiko 12-45mm F4.0 PRO lens ($1,899.98) as well as a Lindblad Expeditions Maritime Jacket ($210.)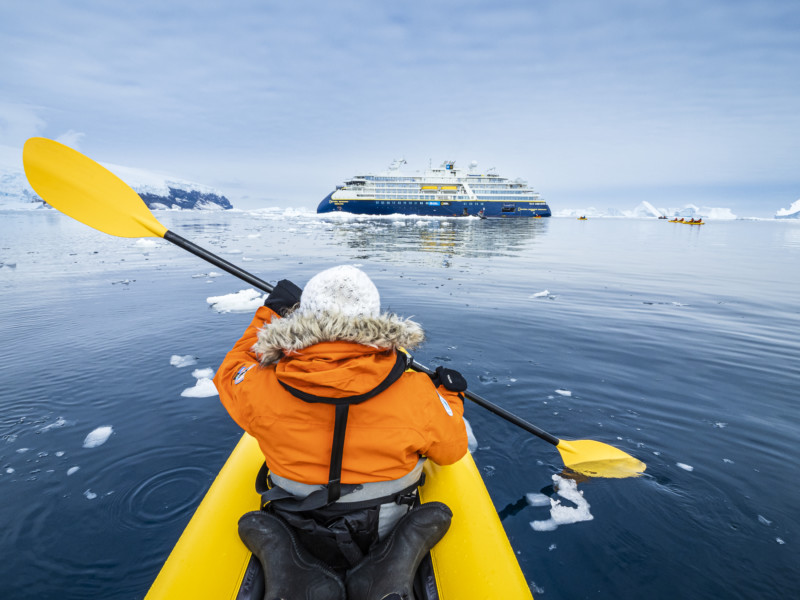 How to Enter PetaPixel's Wild Personalities Photo Contest
To enter your best wildlife photo into the Wild Personalities Photo Contest, simply follow the instructions below.
PetaPixel Wild Personalities Photo Contest

The contest entry period is open from August 23rd, 2022 to October 14th, 2022. Make sure to select your favorite wildlife photo, as only ONE image submission per person is accepted. Submitted photos should illustrate the wild personalities of a wild animal. Domesticated animals, such as family pets, will not be considered.
Judging will take place from October 15th, 2022 to October 22nd, 2022 and the winners will be announced on or before November 1st, 2022.
Winners will be announced in a dedicated post on PetaPixel and the individual winners will be contacted via email within two days. If no responses are received within seven days, an alternate winner will be chosen.
About the Expedition
The Wild Galapagos Escape is a seven-day adventure aboard the 48-guest National Geographic Islander II. Guests will witness the iconic wildlife that sparked the theory of evolution, snorkel pristine, well-protected waters teeming with sea lions and sea turtles, and hike black-sand beaches and lush highlands.
The Wild Galapagos Escape voyage is crafted to offer each guest a diverse perspective of the archipelago with multiple adventures daily on land and undersea. Guests explore under the guidance of an expedition leader and three handpicked naturalists, including a Lindblad-National Geographic certified photo instructor and an undersea specialist. With daily activity options, guests can make the expedition as active as they choose with options to snorkel, hike, kayak, and paddle board. The Wild Galapagos Escape is valued at $19,580 for two guests.
About The OM-1 Camera Kit
The OM SYSTEM OM-1 ($2,199.99) is the 'best Micro Four Thirds camera ever made,' according to PetaPixel's independent review. It has a 20.4-megapixel BSI Four Thirds stacked Quad Bayer CMOS sensor and quad pixel autofocus with 1,093 cross-type focus points. The OM-1 is an especially exceptional camera for wildlife photographers, as it shoots up to 50 frames per second (FPS) RAW with continuous AF/AE in blackout-free silent sequential mode and 120 FPS RAW with AF/AE locked, all while utilizing five-axis in-body image stabilization (IBIS) with up to eight-stops of image stabilization.
The M.Zuiko 12-40mm F2.8 PRO II lens ($999.99) is high-resolution, large-aperture zoom that offers incredible versatility from wide angle to mid-range telephoto shots. The lens is so versatile, it is even capable of taking exceptional macro photographs. The lens is lightweight and compact enough to comfortably fit in a photographer's hand. The IP53-rating means the M.Zuiko 12-40mm F2.8 PRO II lens is highly weathersealed so it can be used in some of the most challenging conditions a photographer may face.
The M.Zuiko 40-150mm F4.0 PRO lens ($899.99) is the world's most compact, lightweight telephoto zoom lens among those with a fixed aperture and 300mm equivalent. This ultra-portable lens produces world-class image quality plus all the imaging power to shoot landscapes, nature, wildlife, birds, macro, and more. Like the M.Zuiko 12-40mm F2.8 PRO II lens, it is fully weathersealed with an impressive IP53 rating. Its lightweight, compact design coupled with outstanding image quality, make the M.Zuiko 40-150mm F4.0 PRO the perfect all-day lens.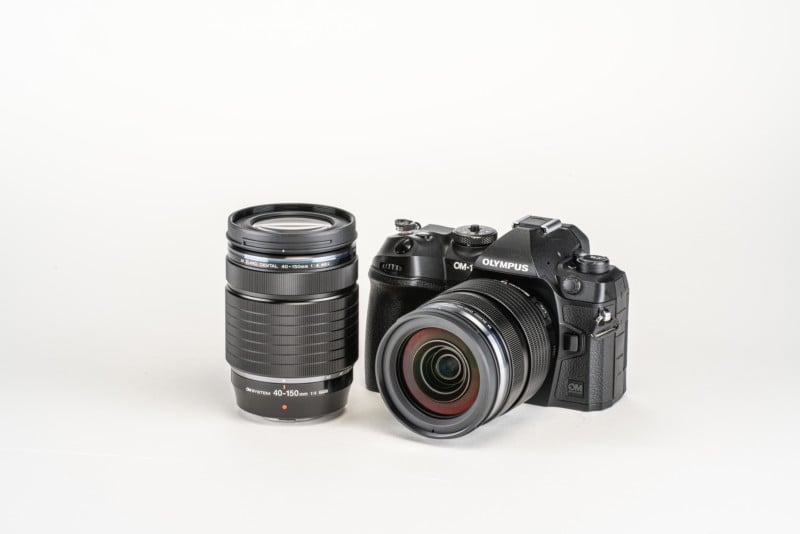 About the Olympus OM-D E-M5 Mark III Camera Kit
The Olympus OM-D E-M5 Mark III camera ($1,199.99) is a compact, lightweight, and comfortable camera made for roaming the biggest cities, the smallest villages or the most remote destinations on earth. With a 20 Megapixel Live MOS Sensor, TruePic™ VIII image processor, five-axis in body stabilization, and 121 cross-type phase detection autofocus points, the Olympus OM-D E-M5 Mark III camera will have you carrying less and shooting more. With weathersealed construction, the compact camera is also splashproof, dustproof and freezeproof, giving you the confidence to capture the world, no matter the conditions.
The M.Zuiko 12-45mm F4.0 PRO lens ($699.99) is the world's smallest and lightest medium range zoom lens with a fixed aperture value. Like all OM-D cameras, the lens is weathersealed so you can work in adverse conditions without protective gear. The lens delivers high-resolution edge-to-edge sharpness at all focal lengths and high-speed focusing that works with the OM-D cameras' blazing-fast autofocus system. Its compact size paired with the Olympus OM-D E-M5 Mark III camera allows you to go anywhere and shoot everything from landscapes and cityscapes to portrait shots without having to change lenses.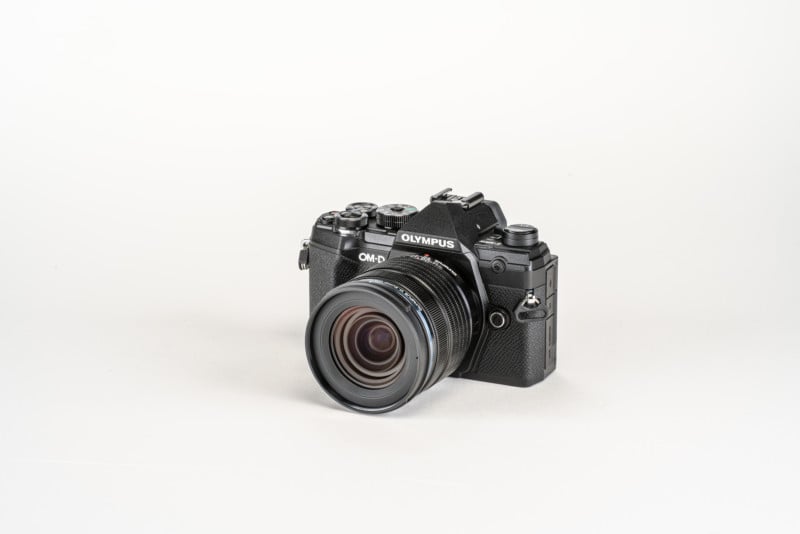 About the Lindblad Expeditions Maritime Jacket
When the cooler climate calls for added protection, this waterproof, breathable jacket keeps you warm and dry. This Maritime Heritage Jacket, exclusively designed for Lindblad Expeditions, is perfect for delivering solid protection for cooler climates. The jacket is waterproof, windproof and breathable, allowing you to comfortably navigate challenging weather conditions.
Meet The Judges
Brooke Bartleson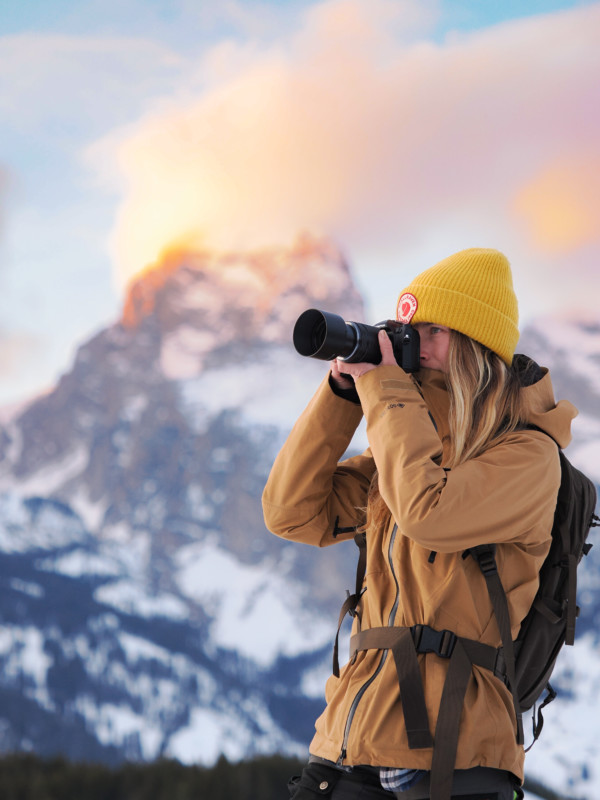 OM SYSTEM Ambassador Brooke Bartleson is a professional wildlife photographer, bear viewing guide, and wolverine research technician based in Southeast Alaska. Her work is featured at Mother Wolf Gallery and in publications such as Outdoor Photographer and Nomadict. Through contributions to wildlife research and the growing wildlife viewing industry, Brooke devotes her time to conserving the wild animals she photographs in North America and beyond.
Website: https://littlebearwildlife.com/
Instagram: @BrookeLittleBear
Jay Dickman
As a Pulitzer Prize-winning photojournalist and National Geographic photographer and OM SYSTEM Ambassador, Jay Dickman is a highly traveled, experienced, and internationally celebrated photographer. In addition to many notable awards, Jay won the World Press Golden Eye for his photography.
Jay's career has spanned a multitude of experiences, including more than twenty-five assignments for the National Geographic Society, three months living in a stone-age village in Papua New Guinea, a week under the Arctic ice in a nuclear attack sub, and being aboard a sinking boat on the Amazon.
Jay and his wife, Becky, are founders of the FirstLight Workshop, a series featured in American Photo magazine as one of the top 10 photographic workshops. Working with Lindblad Expeditions and National Geographic, Jay has led more than 100 adventures as a "National Geographic Expert." Jay has also presented more than 15 lectures for the Society.
Websites: www.jaydickman.net & www.FirstLightWorkshop.com
Instagram: @JayDickmanPhoto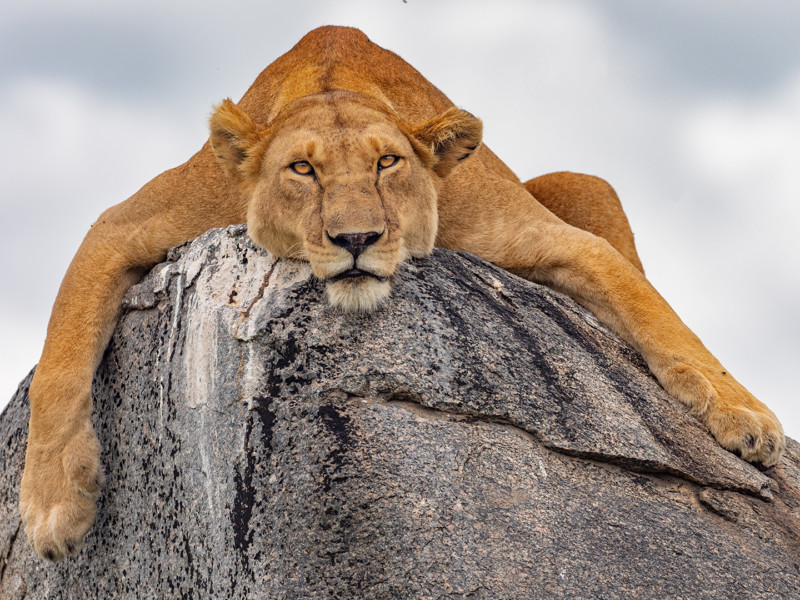 Ralph Lee Hopkins
Photographer Ralph Lee Hopkins travels the world with Lindblad Expeditions, National Geographic, and Natural Habitat Adventures. He is Director of Expedition Photography for the National Geographic Fleet of expedition ships and leads photo expeditions from the Arctic to Antarctica and points in between. Ralph's enthusiasm for travel and the creative aspects of photography is chronicled in his book, Nature Photography: Documenting the Wild World, and he is author/photographer of the popular guidebooks Hiking the Southwest's Geology and Hiking Colorado's Geology. Ralph is an OM SYSTEM Ambassador and a SuperStock Images Ambassador.
Website: http://www.ralphleehopkins.com/
Instagram: @RalphLeeHopkins
Michael Bonocore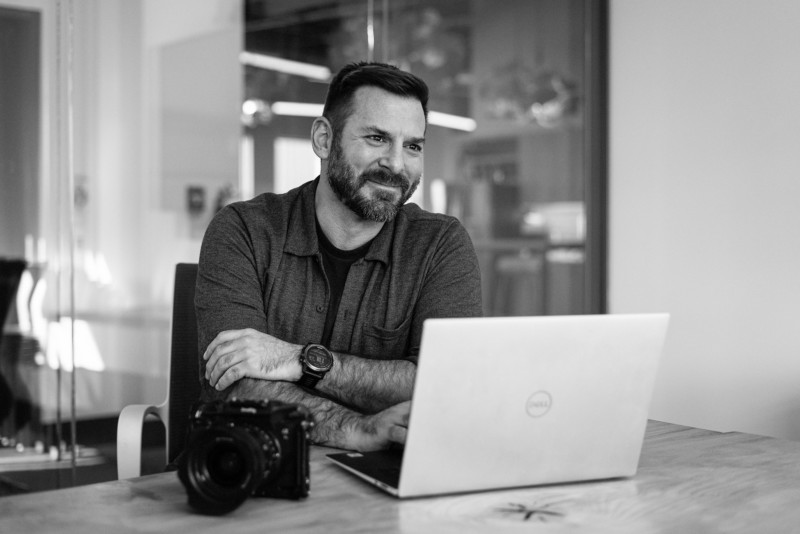 Michael Bonocore is PetaPixel's Travel Editor and has been documenting landscapes, wildlife, and cultures around the world for over a decade. His photography and writing have been featured in countless online and print publications, including National Geographic. When Michael is not living an adventure in some far away location, he can be found camping and hiking with his two bully breed dogs in his home state of Idaho.
Website: https://www.michaelbonocore.com/
Instagram: @MichaelBonocore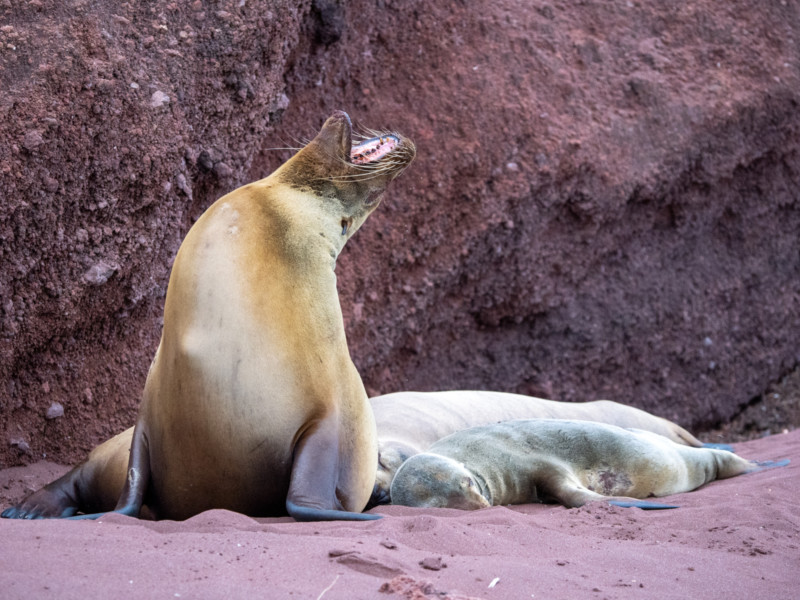 Eligibility
No Purchase Necessary: Open to legal residents of the 50 United States. You must be 18 years and older. Void where prohibited or restricted by law. Entry in the Wild Personalities Photo Contest constitutes your full and unconditional acceptance of the Official Rules.
Contest Period: PetaPixel reserves the right to end the contest at any time. Winners will be selected from entries properly submitted and timely received during the Contest Period.
Prizes: The Prizes will be delivered to the winning entrant's address or at the sole option and discretion of the contest sponsor to a recipient designated by the contest winner. Prizes are not transferable and are not redeemable for cash.
About OM Digital Solutions Corporation : OM Digital Solutions Corporation is a leading provider of award-winning digital imaging and audio solutions, noted for its precision optics and groundbreaking technologies.
After being split from Olympus Corporation in 2021, OM Digital Solutions was newly formed to infuse its imaging heritage of 85 years – including its technologies, products, services, and brand legacy – into a new agile company, unleashing the full potential of its business.
Today, OM Digital Solutions develops best-in-class products using the OM SYSTEM brand that challenge the boundaries of product design and functionality, fulfilling the needs of consumers and professionals alike.
About Lindblad Expeditions Holdings, Inc. : Lindblad Expeditions Holdings, Inc. is a global provider of small ship expeditions and adventure travel experiences recognized as the category leader for its pioneering, cutting edge programming and conservation commitment. Lindblad focuses on ship-based voyages through its Lindblad Expeditions brand and on land-based travel through its subsidiaries, Natural Habitat, Inc., Off the Beaten Path LLC, DuVine Cycling + Adventure Co. and Classic Journeys, LLC.
Lindblad works in partnership with National Geographic to inspire people to explore and care about the planet. The organizations work in tandem to produce innovative marine expedition programs and to promote conservation and sustainable tourism around the world. Guests interact with and learn from leading scientists, naturalists and researchers while discovering stunning natural environments, above and below the sea, through state-of-the-art exploration tools.
Wild Personalities Photo Contest is Listed On:
Photo Contest GURU – Photography Competitions Directory
PhotoContestCalendar.com – Online List of Photo Contests
Photo Contest Insider — The world's largest collection of Photo Contests
Photo Contest Deadlines – Photography Competitions Directory