Samyang Reveals the 'World's First' V-AF Cine Autofocus E-Mount Lenses
Samyang Optics has announced the V-AF lineup of lenses, a new series of "world's first" autofocus cinema lenses for full-frame E-mount systems. The new lenses are designed to allow creatives to shoot videos more conveniently.
The new lens lineup has been designed with the needs of its video-shooting and content creator customers in mind by optimizing them for video production. The fist to be available will be the V-AF 75mm T1.9, and Samyang will release the remaining four lenses from the series by the end of 2023: a 20mm T1.9, 24mm T1.9, 35mm T1.9, and a 45mm T1.9.
According to the company, the new V-AF lenses will increase compatibility with gimbals and drones by applying a unified form factor throughout its five different focal lengths (ranging from ultra-wide to medium-telephoto). This system will maintain a consistent size of 73mm by 70mm and will have a light weight of just under 300 grams, meaning there should be no need to reset and rebalance gimbals, drones, and cine equipment when changing out lenses.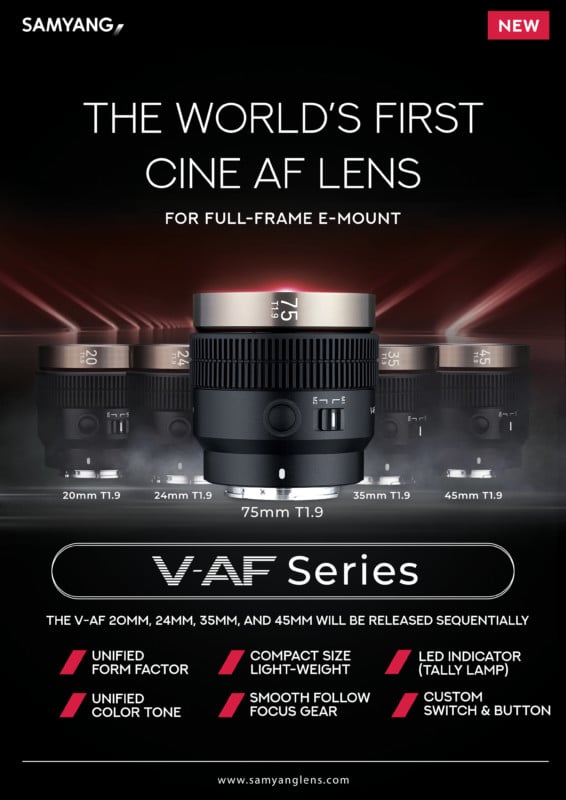 The new cine lenses will also include a "Tally Lamp" located on the front along with a mount index to help users easily check if a video is actively being recorded.
The new V-AF series of cine lenses can support resolutions of up to 8K, making it "well suited" — as Samyang puts it — for use with handheld gimbals and drones on top of standard studio use and location productions.
"All lenses within the new V-AF series are color-matched to avoid shifts when swapping lenses, and the 9 aperture blades allow for a natural-looking bokeh," the company says.
Samyang ads that each of the five new lenses will also feature a "Focus Save" function (typically found in professional cine equipment) as well as a custom mode that will let users add special functions through the firmware that will provide video-specific functions for students and amateur users who "dream of being cinematographers."
The new V-AF 75mm T1.9 and the additional lens lineup will be revealed to the public during IBC 2022 in Amsterdam, Netherlands this week. Samyang did not provide any information on how much any of the new lenses will cost — including the 75mm T1.9 — or when they will specifically be available ahead of publication.