Instagram's Most Restrictive Filter Now the Default for New Young Users
Instagram announced Thursday that it will make its most restrictive content filter the default setting for new users under 16 years old. Those under 16 and already on Instagram will not have their settings changed but will receive a prompt to switch to the more restricted option.
The "Less" setting, of the vaguely named "Less" and "Standard" content restriction settings available to teens makes, appropriately, less content that can be potentially harmful appear in users' feeds, Search, Explore, Hashtag Pages, Reels, and suggested accounts. "Standard" is the default setting for all current users and for new users 16 and older.
The "More" setting, which holds back even less of that potentially harmful content, is only available to those 18 or older.
Instagram defines this "sensitive" content as anything that is not an outright violation of its Community Guidelines but may depict things like violence or fighting, sexually suggestive imagery, tobacco and vaping, pharmaceutical drugs, adult products and services, cosmetic procedures, or products and services based on health-related claims. In short, a broad selection of anything not quite in violation of guidelines.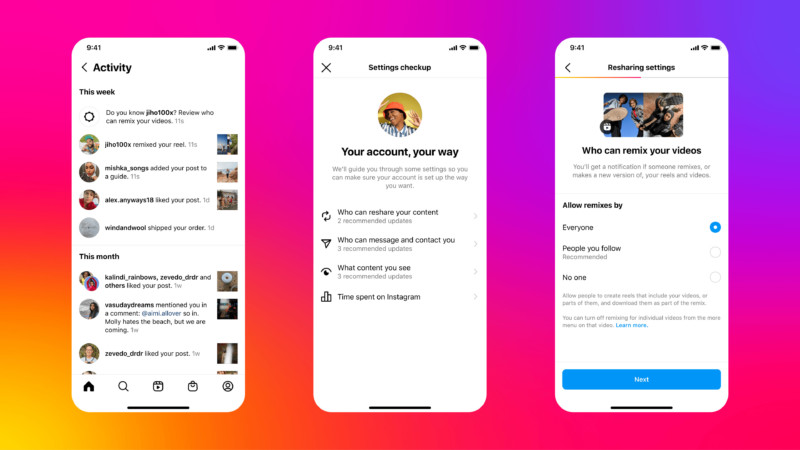 In addition to the new opt-in change, Instagram says it's "testing a new way to encourage teens to update their safety and privacy settings." This entails asking the younger users to review settings including who can reshare their content, who can reach out to them, and how they manage the time they spend on the app.
All of this comes as parent company Meta continues dealing with the steady decline of its once-mainstay site Facebook. Meta was also found to be sidestepping tracking restrictions on both Facebook and Instagram, inserting code that would collect sensitive user information that would override limitations from browsers.
And, of course, anti-Instagram app BeReal continues to soar in popularity. That's on top of TikTok's dominance overshadowing Instagram's more meager Reels replica.
More impactful to the latest update, the mental health effects of Instagram are being scrutinized more heavily.
For anyone looking to change their settings, this can be done in the Settings menu, under Account, and then under Sensitive Content Control. While the "More" option is not available to minors, anyone can opt into the "Less" category.
---
Image credits: Instagram