Photographer's 'Italian' Engagement Shoot was Actually in an Olive Garden
Photographers in Tennessee who want a shoot with "Italy vibes" have a difficult task. But one creative wedding photographer managed to pull it off by going to an Olive Garden.
Shea Cravens had the great idea to take engaged couple Carlsey Bibb and Caden Mills to the Italy-themed restaurant after she visited one.
The subsequent photos fooled some people online into believing that Cravens, Bibb, and Mills actually went to Tuscany for the shoot. "Honestly I would have believed it was Italy too," Mills says.
And now, in a lovely twist, the couple appeared on Good Morning America yesterday and the sweethearts were informed live on-air that Olive Garden will pay for their honeymoon to Italy.
Inspiration Over Lunch
One day, while photographer Cravens was eating lunch with her family at Olive Garden, the setting sparked an idea.
"I looked over at the building and said to my mom, 'This would be a cool spot to take some photos,'" she tells Buzzfeed.
"I've never shot photos at any other restaurant, but I've done a photoshoot outside of Big Lots because it was a really neat area that caught my eyes to take photos at."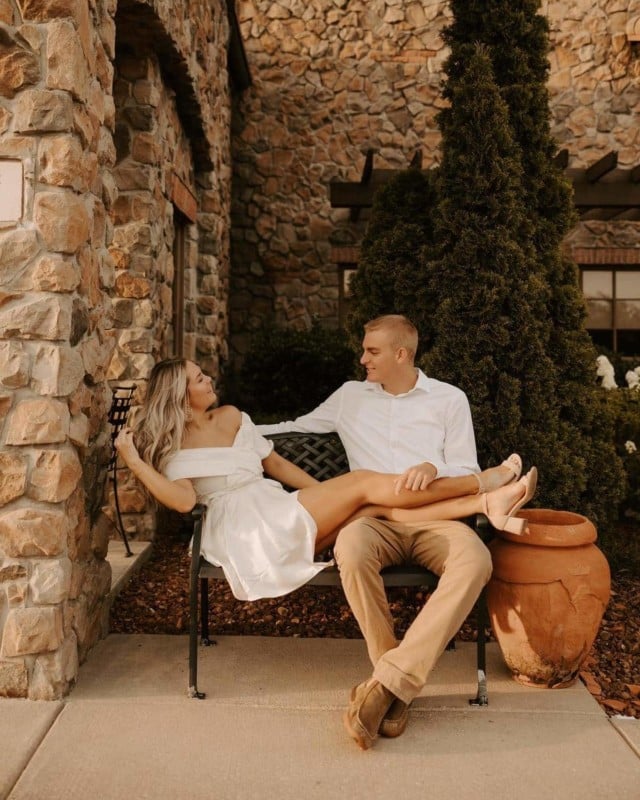 The trio visited Olive Garden at 6:00 while the restaurant was closed so as not to disturb any diners.
The photos could easily convince a person into thinking that they were taken in some quaint Italian courtyard. With neutral stone, ceramic pots, and the soft morning light fooling the viewer.
Bride-to-be Bibbs tells Good Morning America that she was initially skeptical of the idea.
"Well I was a little hesitant at first, we had never been to Italy so we didn't know what to expect for the pictures," she explains.
"But when we got them back we loved them, they were better than we could have imagined."
Cravens posted a video of the photoshoot to TikTok and Instagram with the caption "when you want Italy vibes for your engagement photos, but you live in Tennessee."
The video struck a chord and quickly picked up steam in the media as well as garnering plenty of likes and views.
For more of Cravens's work visit her website, Instagram, and TikTok.
---
Image credits: All photos by Shea Cravens.