I Asked 11 Pro Photographer Friends to Work for Free. Here's What They Said
What do you say as a photographer when you're asked to shoot for free? What if the one asking is a good friend, an old friend… a friend who really ought to know better?
What if they promise great "exposure"?!?

The pressure can be unbearable, and saying no can be really hard! I asked 11 of my professional photographer friends to shoot an event for free. Here's the message I sent each of them individually:
Hey!

Quick question – and honestly, no pressure at all. We're hosting a small industry event next Thursday in your neighborhood, and just wondered if you & that fancy camera of yours would possibly be willing and available to shoot a few photos. We don't have a budget to actually *PAY* the photographer, but the exposure could be really good, and you'll have the opportunity to meet & network with some really neat people.

Trying to get this nailed down as quickly as possible – so if you can do it, let me know ASAP, ok? I've reached out to a couple other buddies with cameras, so truly, no pressure at all.

Thanks so much!
The answers broke down into three very neat categories.
No. Dude. Just… No: 46%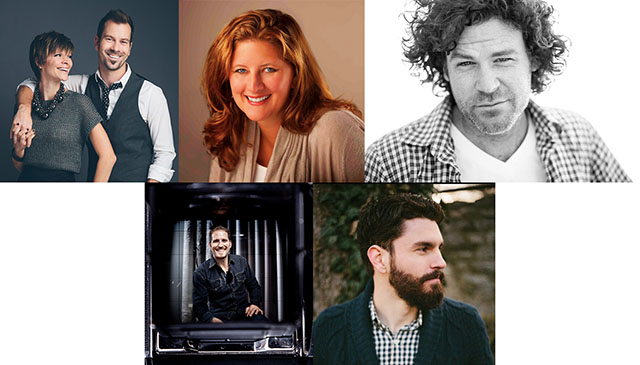 There were quite a few who turned down the "Shoot for free" offer in direct, indirect and hilarious ways. Here are their answers:
Zach & Jody Gray, Nashville, TN
The honest answer would be h#%! no! :)

"Great exposure" and "networking with key people" are all nice sounding words that mean absolutely nothing.
Sarah Petty, Springfield, IL
Argh, I wish she could. She's actually tied up all day at a speakers' bureau event…

But had she not had that booked, I would have said hey…how long will it take? Can she pop by for 15 minutes on her way to something else? After I looked at her schedule. Again, because we like you… :) Or I would have sent Andria if I could.
Peter Hurley, NYC
Dude I make $1200 an hour for someone to step foot in front of my camera and I'm slammed. I'm not takin' one step out my door with my camera in hand for free. Got to be for a really good cause for me to even consider it.

I'd love to help you out but I'm slammed right now and am just trying to stay sane. No running around for free for me. Sorry man.
Rory White, Nashville, TN
Haha I assume this is going out to a number of people, so I'll let another photog take the job. The connections created from shooting events often is a huge branding mistake for shooters. It leads to other event shooting gigs, so if a shooter wants to make money shooting something else, it's a mistake. Once people put a photog in a category–it's a looong climb out of that pothole.

I've done tons of parties already and back in the day I would have said YES—! But after years of being categorized as a party shooter it was hard to make a move to more deliberate, produced, shoots.—I was in the wrong category in many people minds. Almost have to move to a new town!

People usually only have the capacity to remember you as 1 thing….even though we are all brilliant multidimensional snowflakes.
Jordan & Alaina, Nashville, TN
While I do appreciate you considering me for this opportunity, I do believe my time and skills are valuable and worth more than the possible exposure that could come from this event. I understand the thought that potential work could present itself from this experience, however at this point in my business I cannot give up my time on speculation, taking away from the time that could be spent marketing directly to my clientele or working on current projects for existing clients. As an industry professional, you should understand that our time and our talents are the very products that we sell and deserve adequate compensation. If the photos are that important and valuable to the success of the event, then it should be something worth paying for. Again, I appreciate the offer and I hope you understand my reasoning for having to decline. Hope you find someone.
Ouch.
The Maybe and the Yes: 31%
I feel a little bad about these, because these are total pros with successful careers and busy lives, but they all sort of said yes… because a friend was asking. And this is tricky in any business, really. If you're a lawyer, sometimes a friend will call needing legal advice, and you just give them the advice and then get back to billing hours.
Sometimes a friend will ask you to photograph something, cashing in a favor, or banking favors they'll owe you later. And sometimes you just say yes. But sometimes you say maybe. And sometimes you look for an opportunity to tweak the terms to your benefit because you're a professional.
Leeann Marie, Pittsburgh, PA
Very cool- welcome to the neighborhood! Can you tell me a bit about your event? Since you're looking for a donated photography coverage, I'd like to ensure its a mutually beneficial event to attend.

Send me over the details, and I'll see what I can do!

Leeann
Lindsay Adler, NYC
Nice to hear from you and I hope you have a nice event. Is this a charity event? If so, I may be able to help you out! Also, if you can work up a bigger budget we could put together something really great like a 'red carpet' photo booth (kind of like what they did at the Oscars last year) or a cinemagraph (moving photo) photo booth. If you can work up the budget, this could be the highlight of the event and really great for press! If you are only able to do a small budget, I may be able to get one of my assistants to do a lower rate. At this stage in my career I am very careful about what I shoot for free. As you can imagine I have bills like any other business– studio rent, gear, insurance, employees, etc– and with this overhead it is simply not feasible to shoot without being compensated except in the rarest of situations.

You know how it is as a fellow business owner… gotta pay those bills! Let me know your thoughts!

Thank you!
Lindsay Adler
lindsayadlerphotography.com
Jim Cook/SeHeWe, Nashville-ish, TN
So most any other time of year I would have said sure since it was you. I don't need exposure to other photographers since they don't pay me and since we are booked out a year in advance I don't need the work either. But if you need something I would totally do it because you are a friend. That would be reason enough.
Ali+Laura, Northern Ireland
Thanks so much for reaching out to us to come photograph your event!
Whilst we are currently snowed under with so much work, our commissioned work is a priority right now.

With that in mind, if you would like, we do have our social booth studio, were we can set up at the event and have a small charge to the customer, whist still being able to connect and covering our costs.

If this is this something you would like to discuss further please do give us a call and we can talk about it.

Warmly
Ali and Laura
The Italian Rejection: 23%
Is it coincidence that 23% of photographers polled responded with literally the same very specific reason they can't shoot for free? Apparently, there is one common and perfectly reasonable answer to the "Will you shoot for free" question. So, if you're not comfortable answering "yes," "maybe" or an outright "no," consider "The Italian Rejection."
Whether you actually go to Italy is entirely up to you. Maybe you'll be in Italy someday, you hope. Or maybe you're making plans to plan to think about visiting Italy. Maybe you're actually going. Does it really matter?
All you need to do is follow the example of these world class photographers and simply respond with, "I'll be in Italy."
Jasmine Star, Cali
Auto-reply:
Hello and thanks for writing!
I'm traveling for business to Seattle, Sweden, and Italy for three weeks, but will be back in the studio on Tuesday, October 27th. I will do my best to respond to email in a timely manner, but I appreciate your patience greatly if I cannot respond until my return. If you need an immediate response, please contact my assistant Tami, and she'll do her best to accommodate your needs.
Shine On,
j*
Kevin Swan, KISS, USA
Leaving for Italy today, back on the 28th.
Confession: The Postscript
And now for a confession: I couldn't do it. I mean, I wanted to do it, for the sake of this story. But I couldn't actually ask these photographers to shoot for free as though I was serious. Want to know why? Because I didn't want them to think I am an idiot. Call it ego, vanity, whatever, I just couldn't do it. So, at the bottom of the email, I added this PS to let them (and myself) off the hook:
PS Alright, now, before you get mad… this is a social experiment for a piece I'm working on. And no, there's no event, and I'm not actually asking you to shoot for free. :)

Just reply with your honest answer—what you would've said if you thought I was serious—and it'll probably end up in an article.
So, the above responses were tempered with the realization that nobody was actually asking them to actually shoot for free. In response, here are a few further thoughts.
Lindsey Adler
hahaha. I wasn't going to be mad, I was just going to think you were dumb… for real.
Leeann Marie
PS – jerk! Asking me to work for free! *kidding*. Actually, I'm fairly open for helping, but usually when it's for someone I know and a group that is good for me to "see and be seen" with. What I don't do is shoot random charity events for someone who just heard of me as a referral and wants it for free. I help those who I have a relationship with, or if – you know – the Steelers needed me I might consider it. I think too many photographers help for random events where they are "just a body" instead of relationship building. I shoot all of our ISES events for free because it's in front of industry peers who I WANT to work with, and the more they see me interacting with them and with a camera in-hand the more I become their known photographer.
It also helps that I only specialize in weddings and engagements, so it makes it super easy to say NO, unless someone asked me to shoot their wedding for free ;-)
Peter Hurley
You should've told me afterwards! I probably would've said the same thing. A little nicer though.
---
About the author: Levi Wiggins is one half of Harder+Wiggins, which is based in Nashville, Tennessee. He works with his wife Shayna as a photography writer. This article was also published at KISS University.