Gorgeous Timelapse of London Took 2TB of Photos to Create
Photographer Mattia Bicchi recently spent seven days in London to capture gorgeous timelapse and hyperlapse footage of the United Kingdom's capital city in 4K.
Bicchi, an Italian living in Madrid, traveled to the City of London where he shot as much footage as possible, coming back with a whopping two terabytes (TB) of RAW files.
To tackle this project, Bicchi was armed with a Sony a7R III and a Sony a7 III. A Sigma 14-24mm f/2.8, a Sony 24-105mm f/4 , and a Sony 200-600 f/5.6-6.3 for the moonrise.
"I went to London for one week in June, hoping to get the best weather I can get, luckily it rained only two days while I was there. I moved around the city with the amazing public transport and also walk more than 100km the entire week," Bicchi tells PetaPixel.
"My goal with this timelapse is to showcase the beautiful and dynamic city of London in 4K HDR, as this technology is more accessible nowadays, I thought people would love to see it at the max quality possible on their HDR TV."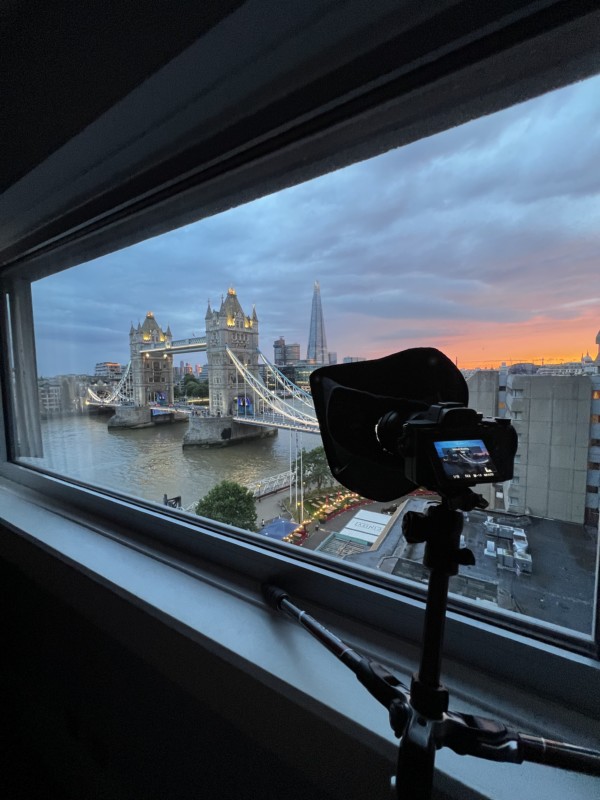 Aside from his impressive camera bodies and lenses, Bicchi used Haida Rear ND filters on his Sony lenses to achieve motion blur during the daytime shots, and a Hoya ND Pro filter for the Sigma.
"For the motion, I use the slider Dynamic Perception Stage One combined with the Black Forest Motion to give a more cinematic look," he says.
"To get even more dynamic videos, I shot some hyperlapse which are more time-consuming as you need to move one step every photo, but the result is definitely worth it."
Bicchi says he had to plan the shoot months before, studying the position of the sun during certain times of the day. The talented photographer even booked a couple of hotels with "incredible views."
"I use Milanote to plan and organize and budget my shoots, I love this software, incredible to see everything in one place," he adds.
For post-production, Bicchi edited the RAW files on Lightroom and LRTimelapese. He then compiled them into 8K and 6K, 32bit, Rec.2021 PQ, ProRes 4444XQ in After Effects.
The final video was cut, edited, and color graded on Davinci Resolve using his MacBook Pro 14-inch M1 Max, enabling him to "see the full HDR colors" as accurately as possible.
"I have to say for the small screen and laptop this machine did an incredible job," he adds.
After all was said and done, Bicchi had taken his two TB of RAW files and turned them into a full project that was four TB in total.
Bicchi did all of this to sell the timelapse and hyperlapse footage on various stock agencies, such as Pond 5, Adobe Stock, Shutterstock, and Getty Images.
The Italian has been licensing timelapse and hyperlapse since 2013 and accumulated more than 2000 videos so far. He has picked up Netflix, Ford, Virgin Atlantic, BBC, and others as clients.
More of Bicchi's work can be seen on his Pond 5 gallery, website, and Instagram.