155K Photos in 13 Days: Capturing a 4K 'Flowmotion' Hyperlapse of LA
The FilmSpektakel team has just released the fourth installment in their "A Taste of…" series: a set of 'flowmotion' style hyperlapses that take you on a roller coaster-like tour of different cities. It started with Austria, then moved to Vienna, covered New York City, and now the team has finally finished and released "A Taste of Los Angeles."
Each "Taste of" film is a tour de timelapse force, and the LA episode is no different. It took a team of three photographers 13 straight days of shooting with almost no sleep to capture all of the footage required to put this together.
"We shot 155,568 photos, which used up 5.3 Terabytes of data on our HDDs. The edit was done by Thomas Pöcksteiner who had the absolute pleasure of spending 64 days in front of his workstation doing his magic in LRTimelapse, Adobe Lightroom and Adobe After Effects," explains FilmSpektakel member Peter Jablonowski. "The photos were compiled into 439 individual timelapse clips, and if you compare the number of production days and the output of data, you will realize that there was almost no time for sleep. That's why every minute of free time had to be used wisely."
Here's a peek behind the scenes of this 13-day shoot, which included an average of 62 miles of driving and 800GB worth of photos each and every day.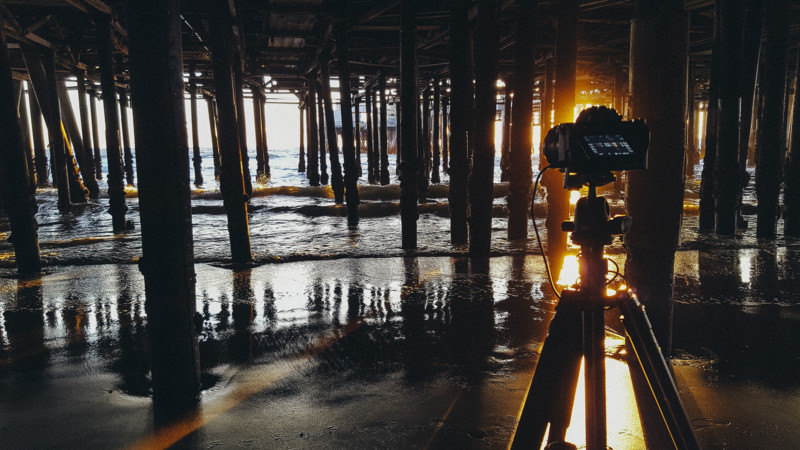 In terms of equipment, the team used:
2 Sony A7RIII bodies
A Sony A7RII
A Sony a6300 and
A Canon 6D (with Magic Lantern)
A DJI Ronin-S Gimbal
A Sony 10-18mm
A Laowa 10-18mm
2 Canon 10-18mm
A Sony 12-24mm
A Canon 17mm TiltShift
A Sony 24-70mm
A Tamron 150-600mm
Once clips were captured, production happened in three broad steps: Sorting, Color Correcting, and After Effects. Sorting, grading, and deflickering is done using LRTimelapse, before exporting full-res JPEGs and importing the full sequence into After Effects. That's where most of the magic happens: stabilizing, removing dirt or birds, more de-flickering, and connecting the clips into the "flowmotion" style hyperlapse you see up top.
The final product—just shy of 3 minutes in its edited state—would have run an incredible 1h 43min long if they had simply stitched every clip back to back…
Fortunately, it seems that all the hiking, shooting, editing, and sleepless nights were worth it. They've added another exceptional production to this passion project. Check out "A Taste of Los Angeles" up top, and if you want to see more from FilmSpektakel be sure to follow them on Instagram or subscribe to their channel on YouTube.
---
Image credits: All photos by the FilmSpektakel team and used with permission.