DaVinci Resolve 18 Adds Collaboration Features and Proxy Enhancements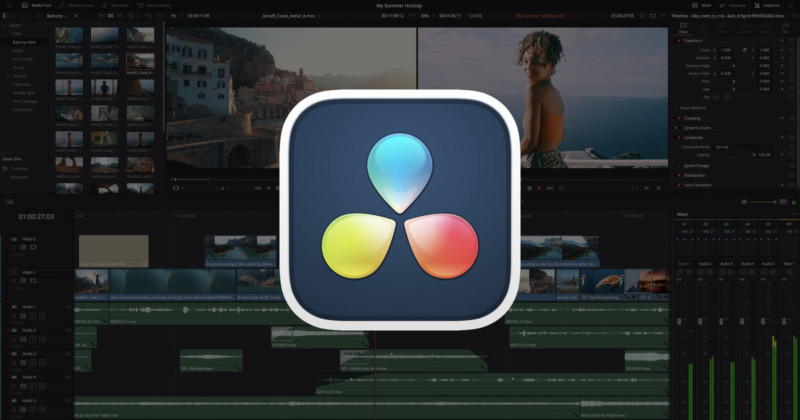 Blackmagic DaVinci Resolve 18 has officially been released, headlined by cloud collaboration features and multiple proxy workflow enhancements.
All told, there are over 129 new features, changes, and improvements, spread out amongst the editing pane, the color grading pane, the Resolve FX Pane, the Fairlight Audio pane, and the Fusion pane, codecs, and general housekeeping fixes.
Specifically, DaVinci 18 includes cloud collaboration features, intelligent mapping to relink files automatically, a new Proxy Generator app for automatically creating proxies within watch folders, and prioritizing camera originals over proxies automatically. Other improvements outlined in the software notes include improved subtitling, artificial intelligence (AI) image stabilization, Fairlight fixed to FlexBus, and more.
Blackmagic Cloud
The biggest development for DaVinci 18 is the introduction of Blackmagic Cloud (formerly DaVinci Resolve Cloud), a cloud collaboration interface that will host cloud-based project libraries and secure collaboration sessions using Blackmagic ID. Sessions will be managed via email as the main hub of communication while it also leans on a central data server to do all the heavy lifting. Additional team members can also be invited via email through the multiuser mode.
Meanwhile, as changes happen through the cloud interface, DaVinci 18 will manage the workflow, offering intelligent path mapping to relink files automatically as they are switched out or edited down. Resolve will show with an icon that there are changes being made with the user's name and color indicated for easy reference.
Blackmagic is also introducing a stand-alone Proxy Generator app, which will auto-create proxies to stand in for camera originals when conditions slow down the workflow to a crawl. Using lower resolution proxies can get the work done, especially when working via remote. Proxies can also be set with preferences and permissions of read-only, write, or both, with the timeline indicating when a proxy is being used instead of the camera original.
New Editing Features
The Video Editing pane can now use the camera gyro metadata of the Blackmagic Pocket Cinema Camera to stabilize footage and make it smoother. Resolve 18 can also be deployed during a live stream with on the fly editing features and a new Multicam mode with a 5×5 layout to support 25 separate camera feeds into the video timeline. Video subtitles can also be imported or exported while being embedded with multiple tracks via TTML.
The Color Grading Pane
Blackmagic has rolled out its own version of Adobe's content-aware fill feature. Dubbed "Magic Mask," the new tool analyzes the scene and detects objects to be tracked and keyed independently. The colorist can draw around what needs to be tracked, and Magic Mask will do the rest, providing complete control over color and shade.
Resolve FX
There's also an Ultra Beauty Mode which enables the colorist to make more natural changes to hair and skin color, plus eye shading, and even add a tattoo using a Surface Tracker. The tool can go the next step beyond blurring out uncleared images, by simply replacing them.
There is also a Depth Map Tool which can create an artificial depth of field and bokeh in the background, overlaying shades or removing artifacts and fringing. There's also support for HDR Vivid, Dolby Vision highlight clipping, and bypassing of color management through the Fusion pane.
Fairlight Audio
The Fairlight Audio Pane gets improved time-stretching of audio, FlexBus audio routing within multiple timelines, and expanded presets. There's also native support for Dolby Atmos for Apple Silicon and Linux users, and dozens of other new tools and fixes.
Fusion
Fusion also received several new tools including the ability to preview footage without pre-rendering, a multi-button mode selection feature in the inspector, multiple new composition blend modes, a faster GPU accelerated paint tool with smoother stroke, and improved performance for night vision, glitch, TV, and other effects.
Codecs and other Housekeeping Features
Blackmagic has also expanded codec support, chiefly focusing on improving Blackmagic RAW, offering support for RED Raw 8.3, but also rendering of compatible H.265 clips in Dolby Vision, and adding support for the ARRI Alexa 35 camera, to name a few.
There are also several general housekeeping fixes including support for 10-bit viewers in Windows and Linux, streaming video to remote monitoring stations, and support for the Apple Neural Engine. The entire list can be viewed on the Blackmagic Forums and at the company's support page.
Before installing, Blackmagic advises backing up existing libraries and then converting them to the new scheme. Once updated, users will no longer be able to use libraries in older versions of Resolve, so having a backup is a wise idea.
Existing users can download Blackmagic DaVinci Resolve 18 free from the Blackmagic Design website. A free version is also available, with "lite" versions of the Proxy Generator included.