Photo of Diving Gannet Wins $120,000, the World's Largest Cash Prize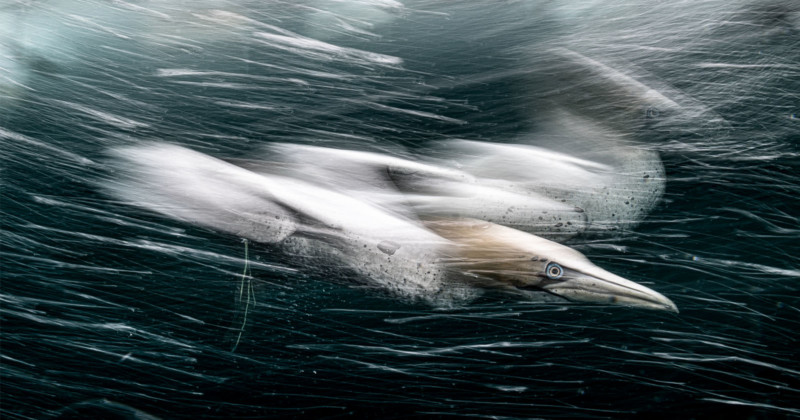 The Hamdan bin Mohammed bin Rashid Al Maktoum International Photography Award (HIPA) Nature competition has announced its winners with British photographer Henley Spiers taking home the coveted grand prize of $120,000.
Spiers took the top step with his incredible image of a gannet off Noss Island in 2021 moments after it had dived into the water at some 60 miles per hour.
"The photograph was captured on my very first day visiting Shetland, the northernmost location in the United Kingdom, a cold, harsh, and wild place of which I have grown extremely fond," he tells the Metro.
"This photograph is captured underwater, surrounded by diving gannets and I tried to display the controlled violence of the scene with a photograph which goes beyond what is seen by the naked eye.
"Dialling my shutter speed down, and moving my camera along with the movement of the seabirds, an artistic blurring occurred, eventually after many attempts, leading to the frame we see here."
HIPA was founded in 2011 by the crown prince of Dubai, Sheikh Hamdan bin Rashid bin Mohammed Al Maktoum. It offers the largest cash prizes of any photography competition in the world.
The award "demonstrates the commitment of Dubai to encouraging and supporting art, culture and innovation," the contest states.
"The Award appeals to all talented photographers across the globe and also nurtures national talent, which will, in turn, attract international art and cultural attention. The Award highlights how Dubai is fast developing into one of the most artistically conscious and established cities in the world."