Gorgeous Aerial Footage Showcases Greenland's Fragile Icebergs
Filmmaker and photographer Daniel Haussmann captured gorgeous footage of Greenland, including footage of an iceberg as it collapsed.
Through the lens of a drone, Haussmann manages to express his distinctive adventurous flare. His produced works also often induce the fluctuating feelings of dread, excitement, and awe that any thrill-seeking adventurer encounters.
In Haussmann's smartphone video footage, which is shown along with drone footage of the aftermath below, he is on a boat—joined by a few other companions—observing the massive structure. In what could be the most serendipitous of events, a portion of the iceberg suddenly starts to shatter and crumble. Voices in the video can be heard marveling at the sight, but swiftly change tone as a moderately-sized ripple wave heads their direction. The boat speeds away to avoid the oncoming waves, leaving the fractured structure in the distance.
Haussmann's aerial drone footage of the aftermath of the event resembles a sort of acrylic paint pour of white and azure waves marbling on top of a cerulean blue ocean canvas.
Obtaining the kinds of mesmerizing first-person footage that Haussmann produces isn't without its need for caution and preparation.
"I brought, in total, five drones to Greenland. Especially, [since] FPV is kind of an equipment killer, I wanted to make sure and brought two DJI FPV drones [as well as] one Nazgul5 V2 and for regular footage my DJI Mini 2 and the DJI Mavic 2 Pro." Haussman said, speaking with PetaPixel.
Considering the fate of his last piece of equipment that was knocked out of the sky by a flying chunk of lava, Haussmann has accepted the possibility of casualties and has cooled things down a bit with the footage from the Greenland tour.
"I think it's always good to come home with all equipment unharmed and great footage, then losing thousands of dollars to the ocean."
Haussmann was drawn to Greenland in order to document its current state. Given the effect that climate change is having on several wilderness fronts, he wanted to create a record of the breathtaking landscape of the Greenland ice sheet today.
"No one knows what these places are going to look like in a few years from now. Given that recently due to the relatively high temperatures record levels of ice [that] is melting in Greenland, this becomes even more important to document," he remarks.
Haussmann explains that although the collapse event his party witnessed was not any direct proof that climate change was the cause, there still was feelings of uneasiness surrounding the collapse.
"In any case for me, this was still an amazing but also scary experience. Seeing these mountains of ice slowly dissolve makes one sad in a way. But at the same time seeing the (relatively moderate) tsunami wave rolling towards you and the boat captain going full speed away was also a little nerve-wracking."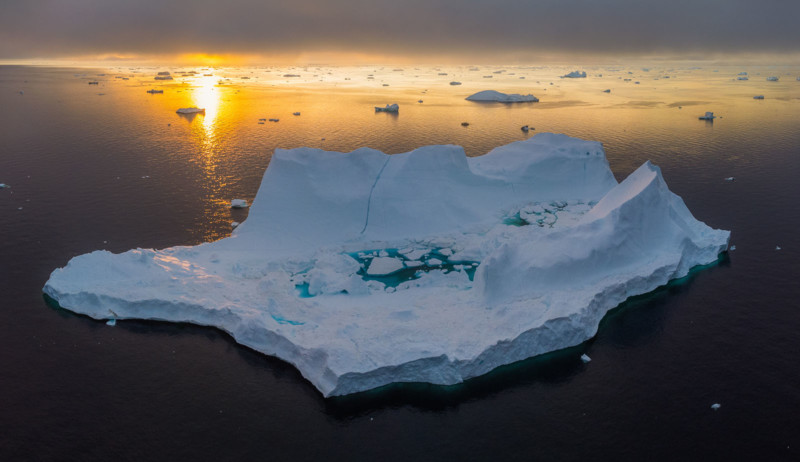 The Germany-based visual artist harnessed his drone piloting skills and continued his journey, capturing the various hues of blue and navigating labyrinths of massive chunks of ice.
"I had to adapt to the circumstances I found on site. Some things I did anticipate, but others one has to observe in person."
In a sort of iceberg surfing technique, Haussmann shows the sunkissed tips of icebergs, dipping into cool blue slopes and into the vast open ocean.
Hovering over waters with angles that mimic a kind of space flight, he then shows a series of icebergs that resemble pyramids basking in golden sunlight.
For more from Haussmann, make sure to follow him on Instagram.
---
Image credits: Photos by Daniel Haussmann.