Drone Photographer Captures the 'Loneliness' of the Icelandic Highlands
There is perhaps no other place in the world that is like the Icelandic Highlands: It is remote, hostile, and lonely.
In other words, it is a magnet for camera enthusiasts. Drone photographer Daniel Haussmann recently visited the unihabitable interior that covers most of the Nordic country.
"Ever since I had my very first trip to Iceland in 2014 I was fascinated by the Highlands in being that remote, but super beautiful place," Haussmann tells PetaPixel.
"Also what makes it interesting is that it is so remote and you can only go there during a certain time and with a proper car."
"What fascinates me is that you have so many colors and shapes and crazy landscapes that you (at least to my knowledge) do not find anywhere else," he continues.
"As it is remote, it is also a little more thrilling to travel to compared to the 'regular' hotspots like the waterfalls on the south coast where 'everyone' goes. You are remote, sometimes with no cellphone reception. There are no gas stations or any other infrastructure and you got to cross sometimes deep rivers"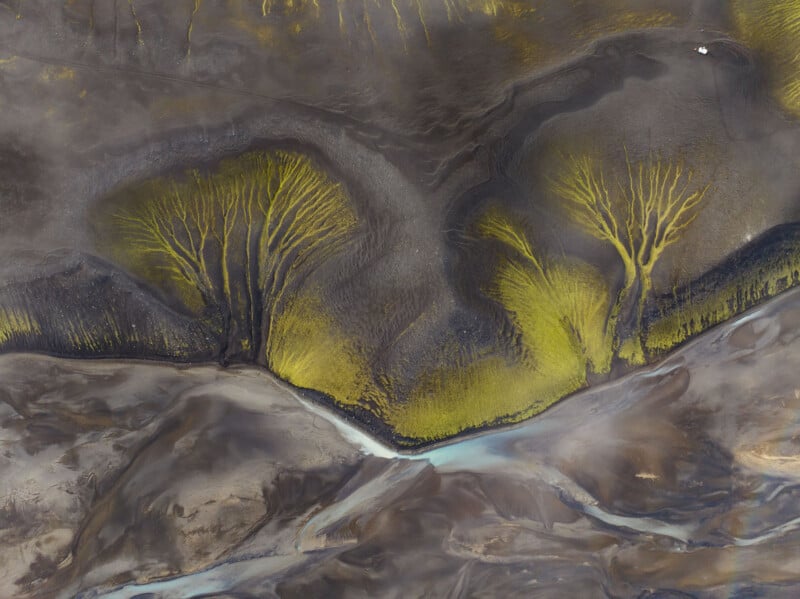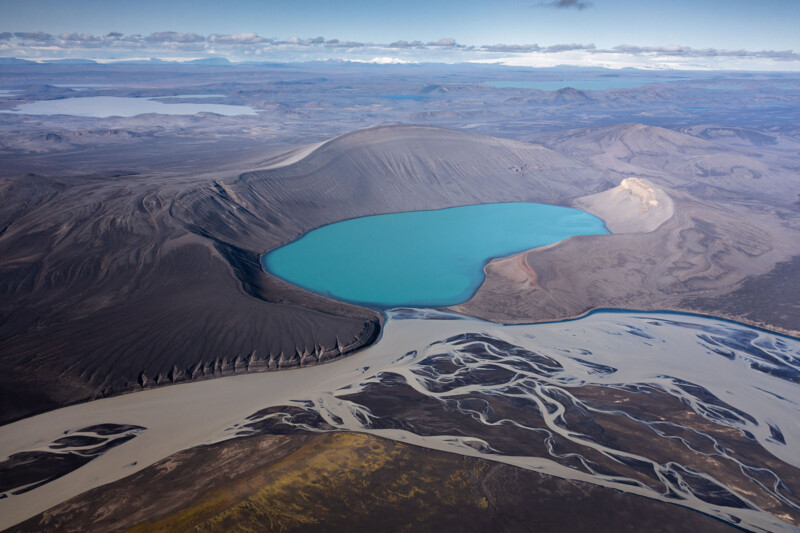 Haussmann flies a DJI FPV, a DJI Mavic 3 Cine, and a DJI Mavic 2 Pro along with the GoPro Hero 8 and 10. But despite all the equipment, it is still a challenge to shoot in the extreme climate of Iceland.
"It's very rewarding, but of course also challenging. Even the best planning cannot prepare you for all that nature throws at you," he explains.
"Strong winds or rain sometimes make it really hard or impossible to fly the drone. Rain on the lens can be quite annoying and at some point when the drone is 'soaking' wet, one also becomes a bit scared of short circuits in the electronics."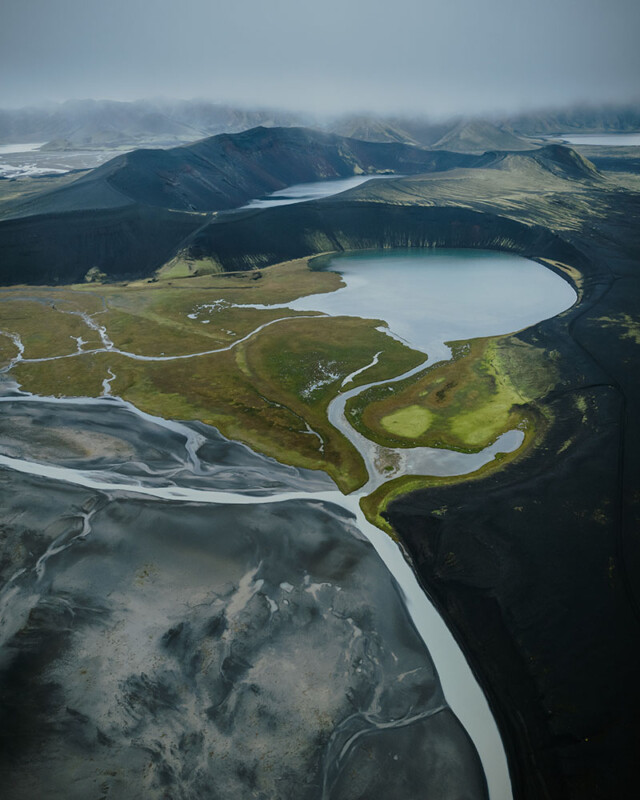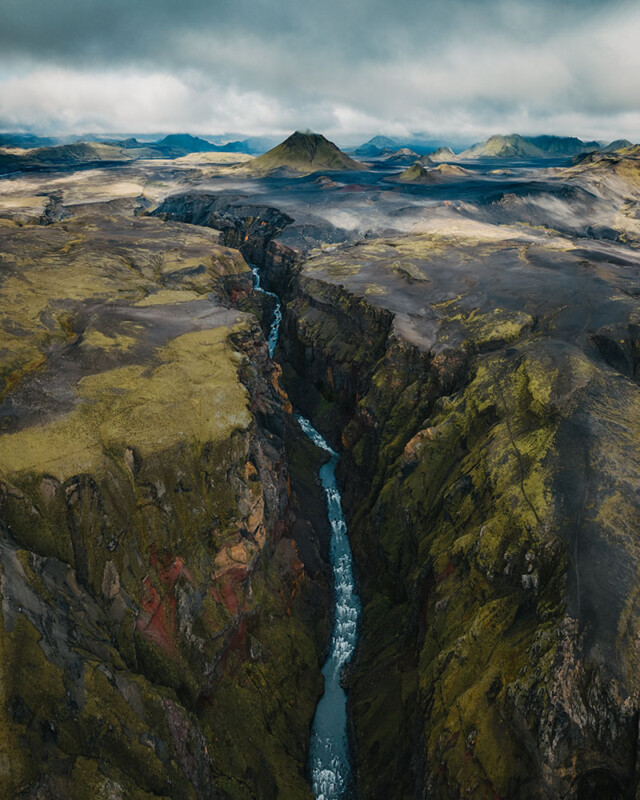 "Also one should not underestimate a cold night at 0 degree Celcius (32 degrees Fahrenheit) in a tent, or flying a drone in cold winds when your fingers start to hurt/freeze," he adds.
"Some roads on a map are just closed when you arrive. Light and weather changes very quickly."
Haussmann also took a Canon 5D IV with him for some land-based shots which included an amazing picture of the aurora lights with a shooting star in the sky as he camped out in the remote wilderness.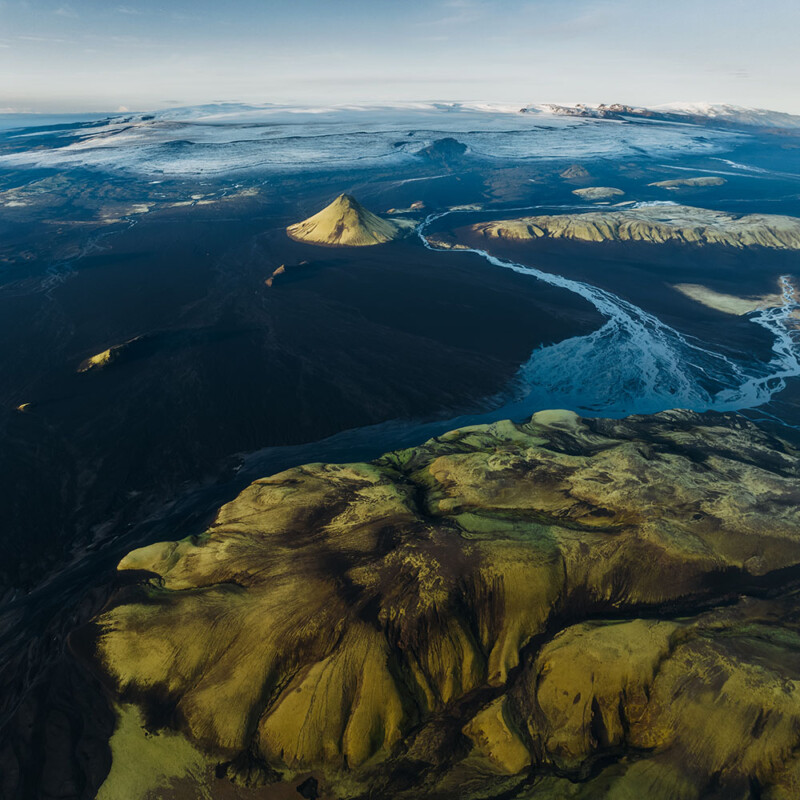 "What I like about the Highlands of Iceland is the loneliness in most places. Of course, there are a few 'hotspots' but even at those you see at maximum maybe four or five cars," he says.
"I think also the diversity of places you can see in one day is just mindblowing. You drive over a lush, green waterfall (there is a picture of our car on that waterfall, which is the actual official road) and 20 minutes later you are in a black volcanic 'desert' leading up to the green mountain of Maelifell."
Previously, Haussmann traveled to nearby Greenland to capture spellbinding footage of a glacier as it collapsed.
For more from Haussmann, check out his Instagram and website.
---
Image credits: Photos by Daniel Haussmann.