GameStop Pulls 'Tasteless' NFT Based on 9/11 'Falling Man' Photo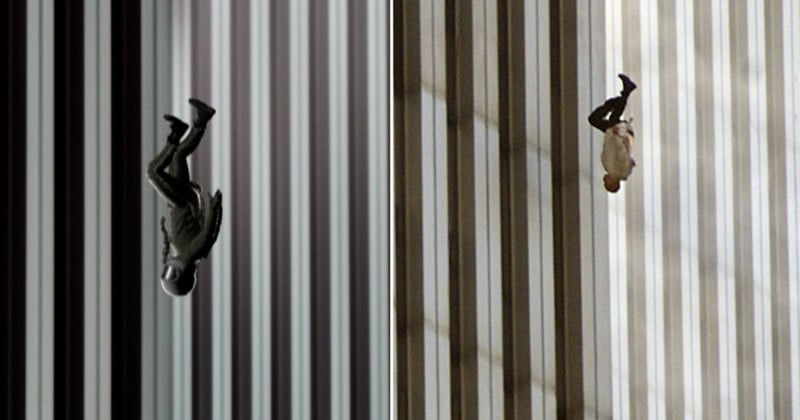 GameStop has removed an NFT from its marketplace that clearly resembles the "Falling Man" photograph taken during the 9/11 terrorist attacks on the World Trade Center.
The "tasteless" NFT features an astronaut falling in the same pose and with the same background as that of the picture taken by the Associated Press (AP) photographer Richard Drew on September 11, 2001.
But after it was flagged by internet sleuths and received some attention online, GameStop announced that the NFT has been taken out "entirely" from the marketplace and they had revoked the artist's ability to mint any future NFTs.
"This user has already had their minting ability removed from their account, and we have already been in direct contact with the creator about these actions," GameStop says in response to the outcry over the NFT.
A screenshot of a direct messaging conversation between GameStop and a Twitter user shows the person highlighting the issue: "Please don't let people profit off of a tragedy like that. It's tasteless and gross." GameStopNFT replied by saying it "will be removed from our marketplace entirely."
Found on Reddit: pic.twitter.com/zKycvmz67R

— Wandering Stranger (@WanderingStrngr) July 23, 2022
The NFT was reportedly minted 25 times and originally sold for .65 ETH ($990), although the price was later dropped to .029 ETH ($46).
Gizmodo reports that the NFT has been on sale for nearly two weeks with the image even appearing on Google if searchers typed in "GameStop."
GameStop takes a 2.25 percent cut from each NFT sale. At least eight people bought the artwork before it was taken down, those who did buy it will not be able to sell it but can still transfer it between wallets.
GameStop entered the NFT space back in May but only brought its beta marketplace online this month. The company requires users to become "approved" before they can mint an NFT on the platform.
The Falling Man Photograph
AP photographer Richard Drew took the horrifying image of an anonymous man jumping to his death after he was trapped on the upper floors of the North Tower on 9/11.
Media that ran the image were heavily criticized upon publication. It was included on page seven of the New York Times on September 12, 2001. However, the photo remains notorious and some even praise the pultizer prize-winning photographer's work as a "masterpiece."