Nothing's Phone 1 Has Unusual 'Glyph' Interface and Dual 50MP Cameras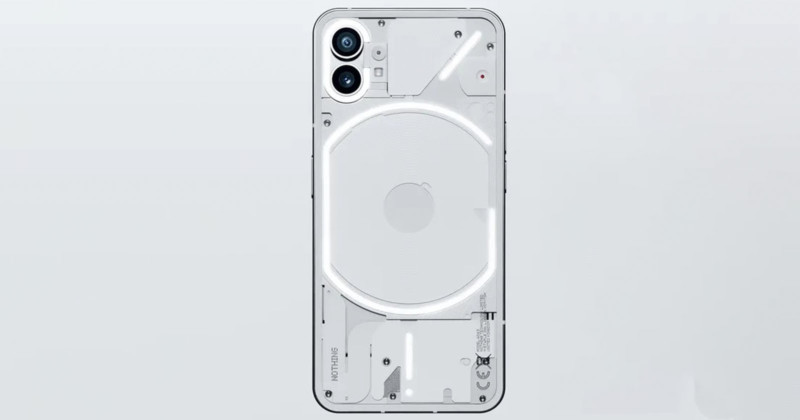 Nothing has announced its debut smartphone — the Nothing Phone 1 — which boasts a novel "glyph" interface and two 50-megapixel cameras.
The Nothing Phone 1 is only the company's second product and it has a modest starting price of £399 ($475). The reason the phone is listed in sterling, and not dollars, is because it is not yet getting a full release in the US. Instead, the Phone 1 will release across over 40 markets, including the UK, Japan, India, and European countries.
For £399 (about $475), buyers will get a model with 8GB of RAM and 128GB of storage, while the model above has 256GB of storage, with a price increase up to £449 (about $535), reports The Verge.
Most eye-catching is what the company calls, the glyph interface, which is a set of light strips on the rear of the device that lights up when receiving a notification. Carl Pei, CEO and co-founder of Nothing, demonstrated the phone's ringtones that synchronize with the lights in the launch video. The glyph also acts as a charging progress bar and even serves as a fill light for the phone's camera.
The Camera
On the rear of the phone, there are two 50-megapixel Sony IMX766 sensors with an f/1.88 aperture and 1/1.56 inch sensor size, one is ultrawide and one is standard. The standard camera supports both optical and electronic image stabilization and offers features such as night, portrait, and document scanning models. The ultrawide camera has a 114-degree field of view and can take macro shots up to a minimum focus distance of four centimeters.
A few days prior to the phone's release, the company released a series of unedited and unfiltered images, taken with the Nothing 1. The photographs display a good dynamic range, with crisp colors, and even a decent performance in low light.
At the front of the phone, there is a 6.55-inch 1080p OLED display that has a peak brightness of 1,200 nits and a maximum refresh rate of 120Hz, but that can be dropped down depending on what the screen's displaying.
The hyped Nothing Phone 1 is powered by a Qualcomm Snapdragon 778G Plus processor, and that runs Nothing OS, which sits atop Android. It has a 4,5000mAh battery that can be charged at up to 33W with a cable or 15W wirelessly and has an IP53 rating for dust and water resistance, which means it should be ok in light rain but not dunked in a pool.
As mentioned, the Nothing Phone 1 starts £399 (about $475) and will be available on July 16 in a limited capacity outside of those who pre-ordered it. At the time of publication, there were no plans to release it in the United States.