How 21st-Century Tech Relaunched a 19th-Century Photo Studio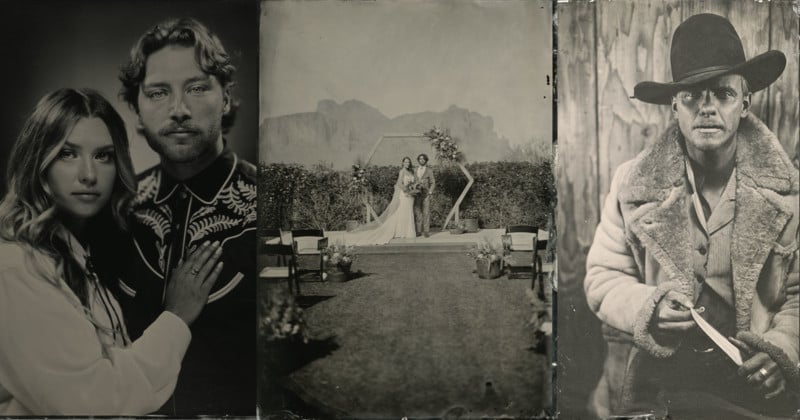 Tintype Photographic Studio, Silver and Cedar, has exploded in popularity over the last three years, largely thanks to an enthralled TikTok audience.
Matt and Katie run their wet plate studio from Phoenix, Arizona, that employs technology that was popular almost 200 years ago in the 1860s, to give their clients a truly unique photography product.
But despite the couple making use of 19th-century instruments, the couple tells PetaPixel that it's a very 21st-century tool they utilize to grow their business.
"Right now, every portrait commission from the last three months has all come from TikTok," explains Katie.
"As soon as the TikTok videos were going viral, we were booked out months in advance. It was going further than that, and we can't book any further than two months ahead otherwise we wouldn't have life."
The couple estimate they have shot over 2,000 tintype portraits, and the success has allowed Katie to quit her corporate job, and Matt, who is a tattoo artist as well as a photographer, has cut down the number of days he's inking skin.
A Surprise Success
Initially, Matt and Katie were skeptical that such an old-school business would work in modern-day America. Matt was offered the opportunity to shoot photos live at a tattoo convention and wanted to do something different.
"I didn't want to do anything too simple like polaroids or instant film, I wanted to do something more hands-on and make the experience a little bigger," explains Matt.
"I've always known about tintype and I said, 'screw it,' and bought everything I needed. I bought pretty much all the wrong stuff initially, there was not much information at that time."
Things looked ominous for the first two days at the tattoo convention as the pair "were sat on their butt."
"But then a couple of tattooers got their photos done and by the third day, they all wanted their photo done. We met a ton of business owners and I emailed them to set up pop-ups," explains Matt.
Why Tintype?
In today's oversaturated and endless digital media, Katie says that people really miss the "tangible aspect of something they can pass down in their family."
"It's not on their phones or laptops, everyone can look at their old pictures, they have an outlet to make a family heirloom that they can pass down.
"A lot of people will tell us 'we don't have any family photos in the house' or we don't take photos as a family.'"
"They don't have to do a million different poses or try a style they don't want to, they can just sit there and be themselves," says Matt.
"We don't even encourage smiling because it's more authentic, it's more of an experience than getting 200 photos done," adds Katie.
"People are nervous about the 'one-and-done' thing but we have it down to a science," says Matt.
"It's very difficult not to like them because they look so cool no matter what, we've shot over 2,000 portraits, but we've only had five people blink."
Tintype Kit and Method
Matt uses a Deardorff V8, 8×10 camera, with an old Petzval lens attached. The Deardorff can also shoot 5×7 and 4×5. He will sometimes switch to a Kodak Eastman D2, that's 5×7.
Matt's wet plates are made of aluminum, whereas in the 1800s, the plates were made out of steel. Remarkably, Matt has just eight minutes to shoot the picture, and process it, from when he takes the plate out of the silver nitrate, otherwise the plate dries.
"So when we're outside and I can't park my truck close enough, I literally have to sprint from the location to the truck," says Matt.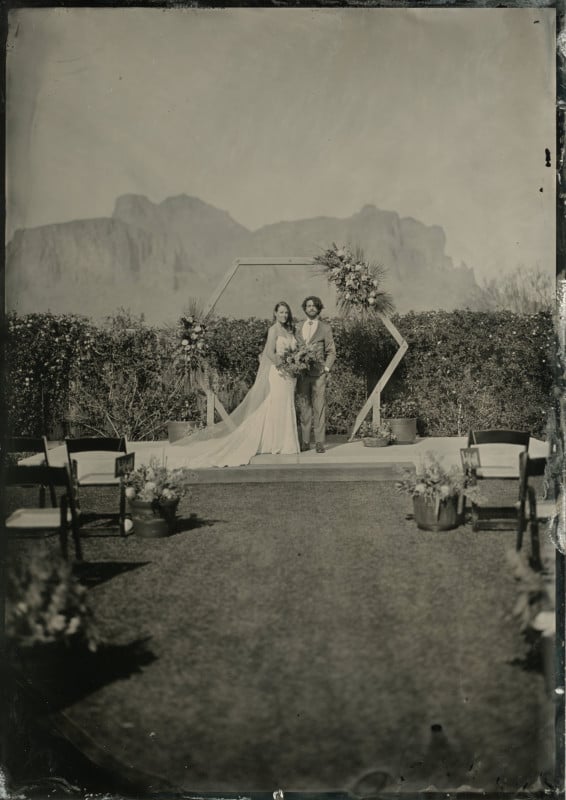 The couple drags the large, ancient camera around with them on location. In fact, during Covid, they had a driveway portraits campaign where they would arrive at a client's front yard, and shoot the photo from their truck.
In their Silver and Cedar studio, Matt uses a massive amount of strobe lighting, around 3600 watts of strobe power to expose the plate. For comparison, an average Speedlite is around 200 watts.
"The ISO is about 0-1, there's virtually no film grain, you can't meter for the light, it's a lot of trial and error," explains Matt.
The chemicals that Matt uses are critical, the age of the chemicals and the temperatures they're exposed to, is extremely important to the overall image.
"My silver nitrate is my main focus, if that's off in any way you're gonna get weird images," says Matt.
TikTok Tintype
The couple joke that they argued about using TikTok before they generated three and a half million likes on their videos.
"We thought we'd have to do dances. The first video we ever posted got over 80,000 views and we didn't know what was good on there, we were like 'is this good?'" Says Katie.
Now the couple consistently has four portraits a day booked, for three days of the week, so at least 12 appointments every weekend.
"A lot of the younger generation they've never experienced film-processing, so when they see it in their hand there like 'what is this magic?'
More of their works can be seen on their website, TikTok, and Instagram.